MMA Fanatic
Join Date: May 2009
Posts: 100
FIghters in the UFC LHW and HW division that Chuck could beat.
---
Good matchups for chuck at both weight classes.

Chuck vs. Stephan Bonnar- CHUCK by UD
Chuck vs. Forrest Griffin- CHuck by ko or ud
Chuck vs Coleman/Couture winner- Chuck by ko.. unless they can gnp him... which i dont seeing
Chuck vs Wand II- Tossup
Chuck vs Rich- tossup..edge to rich
Chuck vs Tito II (happening)lame rematch..-Chuck
Chuck vs Kimbo!- as much as i wanna say chuck ill say tossup..Big edge to Chuck
Chuck vs Thiago Silva (tough fight I think Chuck has a chance though)
Chuck vs Paul Buentello!!! God i love that fight! would be epic!
Also I would love to see Kimbo stand and trade with Buentello...
Banned
Join Date: Aug 2009
Posts: 79
chuck would not beat forrest.
Banned
Join Date: Jun 2007
Posts: 126
1. maybe, Bonnar is smart and I could see this ending up like the Jardine fight
2. agree, Forrest likes to dance and Chuck has way more power
3. Disagree, I think Randy would beat Chuck now, Liddell has lost a lot more than Couture has, and IDK about Coleman, I will go with a "maybe" for him
4. Agree
5. Disagree, Rich would KO Chuck
6. Agree, but its not lame I am actually looking forward to chuck beating him again
7. disagree, Chuck by murder
8. maybe
9. good fight, Chuck ftw though
10. very boring
I think that Chuck could possibly have 3 fights in him, as long as he doesn't fight someone with KO power. Obviously his first fight is Tito and I would love to see Chuck spank Tito, literally and have Randy calling the fight and just start to laugh his arse off. Next fight IMO should be Jardine. I really don't think Jardine would stand a chance in a rematch. Than Chuck's third fight would be Griffin. He could definitely beat Griffin.
---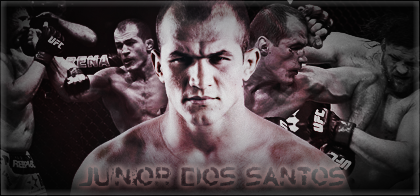 OP doesn't have a lot of insight I think.



I'd honestly like to see a prime Chuck vs prime Anderson Silva. Chuck was knockin' out the big dogs when Anderson was getting beat at 170ish.
---
WAR CIGANO
sig credit to
Limba
lobster train.
MMA Fanatic
Join Date: May 2009
Location: Pensacola, Fl
Posts: 78
Quote:
Originally Posted by
MarkHuntsNoggin
View Post
Chuck vs Tito II (happening)lame rematch..-Chuck
Umm yeahhh, no. That fight already took place back on Dec. 30, 2006.
This will be Chuck vs Tito III.
Thiago Silva really? I think that would be a terrible fight for Chuck right now.
I don't think Chuck is so past his prime that we need a list of fighters that he could beat.

When an average fighter kicks Chuck's ass then ill feel he's done. Until that happens, Chuck is still well above an average fighter... just no longer among the elite.

To answer your list, the only fighters i think Chuck wouldn't KO are Silva and Buentello .
i know my opion is biased but i dont see chuck beating forrest and u left out an easy ko match up with houston alexander
---
I'd like to see chuck fight tito, actually not really tito, imagine if tito KOs chuck. Goddamn.. I might actually break down and cry. I'd like to see chuck fight bonnar, kimbo slice and mark coleman. Because I see him winning all those fights, and they'd be somewhat entertaining.
---
If a law is unjust, a man is not only right to disobey it, he is obligated to do so. ~ Thomas Jefferson
Sig by D.P.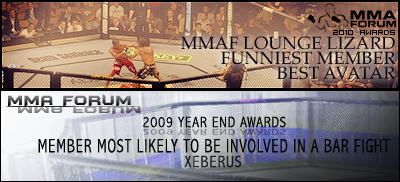 Currently Active Users Viewing This Thread: 1

(0 members and 1 guests)
Posting Rules

You may post new threads

You may post replies

You may not post attachments

You may not edit your posts

---

HTML code is Off

---