rampage vs vitor at 109 (Wiki source)
---
My friend told me about this as well and while looking on wiki It showed it on there as well. What do you feel about this matchup
---
Last edited by Xerxes; 12-19-2009 at

04:47 AM

. Reason: edited thread title
Wiki and your friend aren't sources.
Rampage won't fight on 109, it's too soon.
no way this is true.
---

Fedor, Mir, Lytle, Serra, Hendo, Chuck, Minowaman, Maynard, Forrest, Hunt
Pickett, Cerrone, Matt Brown, Bisping, Weidman, Barnett, Lawler


Flyweight
Join Date: Mar 2009
Posts: 367
Wow, this source is very credible. I think I'll get my hopes up for this
Amatuer
Join Date: Oct 2009
Posts: 185
what if your friend put it on wiki just to **** with you?
---
Fav Fighters

HW: Arlovski, CroCop, Mir
LHW: Wandy, Rampage, Liddell
MW: Marquardt, Silva, Franklin
WW: GSP, Hughes
LW: Penn

ALWAYS backin my boy Matt Hammill, BISPING IS A TOOL, WAR HAMMILL!
while im jacking off might as well


---
If a law is unjust, a man is not only right to disobey it, he is obligated to do so. ~ Thomas Jefferson
Sig by D.P.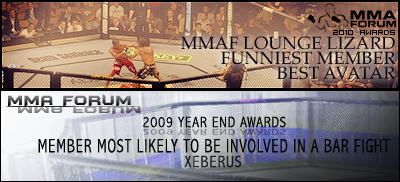 Every time you check upcoming fights on Wikipedia, you look for a tiny little superscripted number inside a parenthesis after the names of the fighters. If it's not there, it means someone made it up. Wikipedia works fine if you know that all information is exactly as believable as its original source.
Flyweight
Join Date: Aug 2007
Posts: 436
You really should of set this up as a hypothetical matchup rather than a possible one. Its a very interesting fight, would be ridiculously exciting, and almost impossible to predict accurately because nobody really knows where rampage is at.
very good vitor vs very good quinton i give it to rampage, but right now probaly vitor.
Currently Active Users Viewing This Thread: 1

(0 members and 1 guests)
Posting Rules

You may post new threads

You may post replies

You may not post attachments

You may not edit your posts

---

HTML code is Off

---