Hendo takes a jab at Dana via Twitter
---
Quote:
"Went out with this boxercise instructor a few times. She was super needy & then gained a bunch of weight. So, I dumped her. Now, she won't leave me alone. Creepy."
Hahahaha nice
Wow, what a comeback.
Can't wait for Dana's response, this is getting quite interesting.
hahaha owned
---
If a law is unjust, a man is not only right to disobey it, he is obligated to do so. ~ Thomas Jefferson
Sig by D.P.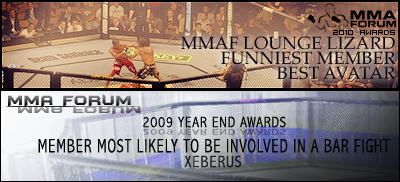 Simply awesome!
---
Quote:
The true soldier fights not because he hates what is in front of him, but because he loves what is behind him.
- Gilbert Keith Chesterton
I wouldn't expect too much of a response from Dana, Dan "The Walking Dead" Henderson really isn't worth much time in that respect. The man's a hell of a fighter, but has personality that will carry him about half way through most 15 inch runs.
lol @ super needy.
---
_RIVALS TOP 10

ANDERSON "THE SPIDER" SILVA
JAKE SHIELDS
NICK DIAZ
EDDIE ALVAREZ
JUNIOR "CIGANO" DOS SANTOS
GILBERT MELENDEZ
MAMED "THE CANNIBAL" KHALIDOV
HECTOR "SHANGO" LOMBARD
CAIN VELASQUEZ
GEGARD "THE DREAM CATCHER" MOUSASI

Middleweight
Join Date: Jul 2008
Location: Iowa
Posts: 2,615
Anyone else kinda think twitter is gay. whats the world coming too. Member when we were kids and playing outside having a good ol time now its homo facebook this dumbass myspace that. Let me play with my twitter box. I hate this technology crap. It would be ok if people could live with out it. "oh no let me turn around I forgot my fn cellphone. I hope I never missed a text or pic message" NOw that I got that off my chest, yes that twitt was funny....hold on im vibrating....sweet someone just sent me some boobies.
---
Grinding Gears
Quote:
lol @ super needy.
Especially considering the fact it was Dan that was let go from the UFC for being too demanding and wanting too much cash......
Nice comeback though tbf, the first part and the picture anyway.
---
Proudly Supporting
Dan Hardy
Conor McGregor
Michael Bisping
Donald Cerrone
Chael Sonnen
Demetrious Johnson
Joe Lauzon
Nick Diaz

Flyweight
Join Date: Dec 2006
Posts: 319
Yes, tweeting is gay, so is facebook, msn and the likes. Should i send out a tweet that I'am taking a crap as I write this post?
Currently Active Users Viewing This Thread: 1

(0 members and 1 guests)
Posting Rules

You may post new threads

You may post replies

You may not post attachments

You may not edit your posts

---

HTML code is Off

---