Amatuer
Join Date: Dec 2009
Posts: 142
[RUMOR]Update: Brock Lesnar Likely Out All of 2010
---
Rumor: Brock Lesnar Likely Out All of 2010
UFC heavyweight champion Brock Lesnar, sidelined since falling ill in September, is unlikely to return to the Octagon in 2010 due to more undisclosed health problems, according to an update posted on an unofficial Lesnar Facebook page.
"Brock has had more problems (we can't say what they are) and could be out all year if things don't get better," read the update.
Lesnar had been targeted to return this summer, but UFC President Dana White said a follow-up with doctors this week would determine when, or if, Lesnar could resume his fighting career and it has apparently been determined that he won't be able to do so until 2011 at the earliest.
The biggest question now is whether Lesnar will be stripped of his title and, if so, whether the upcoming interim championship matchup between Frank Mir and Shane Carwin, slated for UFC 111 in March, will be for the vacant title.
Source :MMAFRENZY
Heavyweight

Join Date: Sep 2007
Posts: 3,705
thats not good at all, I hope its not true and if it is, I hope he gets back to his old self.
UFC does NOT need an Alistair Overeem situation. If Brock cannot fight then he must be stripped of the title. They did it to Frank when he was injured. It's only fair. Giving him a title shot when he's back or even a shot after one fight sounds fair in this situation.
How is an unofficial facebook page a credible source???

That's right up there with fake twitter accounts...
---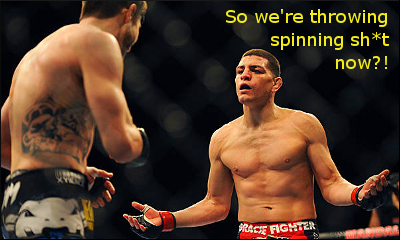 Until it's confirmed by a credible source I'm not going to believe it, or make any comments regarding the title.
---
Proudly Supporting
Dan Hardy
Conor McGregor
Michael Bisping
Donald Cerrone
Chael Sonnen
Demetrious Johnson
Joe Lauzon
Nick Diaz

If he's really out of all 2010, I'd understand if they stripped him of the title. If he's ready to fight by summer time, I don't see the need to.
---
Rookie Hammer Squad 2015
Frankie Edgar - Dominick Cruz - Jorge Masvidal - Cat Zingano - Holly Holm
They stripped Mir of his title, time to strip Brock (assuming this is true).
---
Lightweight
Join Date: Dec 2009
Location: Chicago in my heart, Mabank Texas under my feet.
Posts: 1,828
Dana has already said if Brock isnt healthy by july then they are stripping him of the belt.
Sucks if true. But I will wait until we hear this from a credible source before I go into mourning.
this really sucks, hopefully he gets better and comes back and smashes Mirs face again. But ya if hes out all year they should strip him of the title its only fair to the other fighters.
Currently Active Users Viewing This Thread: 1

(0 members and 1 guests)
Posting Rules

You may post new threads

You may post replies

You may not post attachments

You may not edit your posts

---

HTML code is Off

---