LHW Champ
Join Date: Dec 2006
Location: North Carolina
Posts: 1,377
Quote:
Originally Posted by Ghizman
Your joking right? Monson couldn't take Sylvia down effectively but Ortiz could? Thats his only chance is taking Sylvia down. The way Sylvia fights by keeping distance with jabs and a 265lb sprawl would be Tito's demise. Liddell couter-punches and thats why Tito could throw hands and be somewhat effective, Liddell wanted him too. Sylvia would drop him, hard. I don't love Sylvia, but he is definetly not a bad fighter and gets a really reall ****ed up rap. He fights boring ya, but he CAN fight, and fight well.
I think it would still be a great fight to watch. I would definatley pay to see it...I see what you are saying though...You are probably right. Tim would probably would beat him after seeing your point.
---
"Believe In The Power Of One"
Evan Tanner 1971 - 2008
---
Last edited by Sterling; 01-08-2007 at

03:04 PM

.
1. Hughes up to MW to fight Silva
2. Liddell to HW vs. Sylvia / AA (I'm very curious about this)
3. Monson down to LHW (or even MW).
I'd like to see what Matt Hughes could do at 155, if he could lose that much.

I'd also like to see Rashad at 185.
Diego to win the WW title then go back up to MW where he fought on TUF.

Bisping at MW. Chuck to HW
---
A groan of tedium escapes me...
penn down
bisbing down
vera down = people die ...vera vs. tito
sylvia to lhw because hes fat and doeserves to be beaten up by smaller people
AA down
a.silva up...just cuz hes exciting
Megaweight

Join Date: Apr 2006
Location: Everett, MA
Posts: 5,961
Quote:
Originally Posted by speedythief
I'd like to see what Matt Hughes could do at 155, if he could lose that much.

I'd also like to see Rashad at 185.
neither of those could happen
---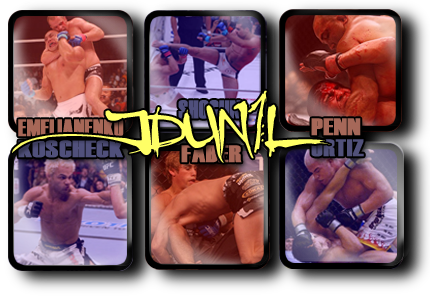 Mancrushes
1.Shogun
2.BJ
3.Fedor
4.Kos
5.GSP
Im in Porno's
Tim Sylvia to Light Heavyweight. That would be funny seeing as how he has to cut to make it in the Heavyweight division. It would just be funny to see him take a light heavyweight fight and when weigh ins come hes over by about 40 pounds.
BJ Penn to LW.
---
"I was not imbressed by your berformance!"
so many.......

CroCop to LHW after Tim
BJ Penn to LW
Bisping to MW
GSP to MW
Serra to LW
---
[SIGPIC][/SIGPIC]
Cripple Fighttttttttt
BJPenn to 155 would be awesome
---
You can't have everything. Where would you put it?
Favorite Fighters:

Chuck Liddell
Rich Franklin
Diego Sanchez
Currently Active Users Viewing This Thread: 1

(0 members and 1 guests)
Posting Rules

You may post new threads

You may post replies

You may not post attachments

You may not edit your posts

---

HTML code is Off

---