Quote:
Wow, James Irvin has fought in over two years. Weird.


His career is so strange. He fought in WEC and UFC early on but got dropped from both after one loss in each. He fought in a no name organization, had one absolutely bizarre fight in SF (if you guys haven't seen it, look it up), then a fight in a no name organization again. Re-signed by the UFC, had one convincing win... then had an injury loss to Thiago Silva, then a DQ win to Luiz Cane... then the long-standing fastest KO in UFC history, followed by a loss to Anderson Silva... then a two year hiatus from fighting?

Wtf have you been James?
Heard he was battling a drug addiction?
---
''You probably thought this was a bright idea, who hit the light switch? Hype shift, this is where it looks like the fight's fixed, tight fist, beat you with the hand that I write with, punchlines that remind Rodney King of the night sticks...''
He's like the Grant Hill of MMA. Lotta injuries and setbacks, but always has electric fights. Going with him for the KO. If he can somehow retain most of his power he can make quick work of anybody. He does need a ground game though. Him vs Mcfedries, Cote, Belcher, Wand, and especially Bisping would be fun to watch!
Heavyweight
Join Date: Apr 2007
Posts: 3,709
Quote:
agreed. He looks shredded up as always, a little thin but its weigh ins. His face on the other hand pretty sunken in but whatever, thats weight cutting. He made it, now he is pigging out and hydrating he will be fine.
yeah, when guys cut too much they usually look really pale and veiny and kind of gaunt. Irvin looks like a guy in great shape who has lead a really hard life.
They're probably two of the most tatted fighters in MMA. Great show of respect by both though.
He looks horrible in that picture, hope he's ready to fight. I have confidence he can knock alessio out...
---
If a law is unjust, a man is not only right to disobey it, he is obligated to do so. ~ Thomas Jefferson
Sig by D.P.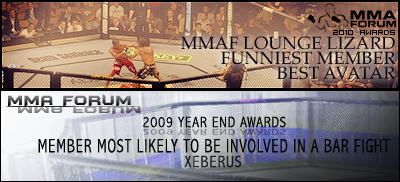 If he didn't have such prominent cheek bones he'd look fine. Anyone that ripped couldn't possibly be considered unhealthy.
Rooting for Irvin. He's been through some hard times. He needs to reinvent himself again although he's built for LHW or even HW. If he can retain his power he'll be a force. Question is how is his cardio and chin right now...
Throw back video.
Irvin vs Scott Smith
http://www.youtube.com/watch?v=Ev89gLayPNA
TBH, the pic isn't alarming to me, I thought he'd look a lot worse making the cut to 185 because he was an above average LHW.

The picture looks so bad because of a combination of the lighting and his prominant cheekbones, thats all.
---
Quote:
The true soldier fights not because he hates what is in front of him, but because he loves what is behind him.
- Gilbert Keith Chesterton
Banned
Join Date: Sep 2009
Posts: 525
Maybe the cut to 185 isn't working for this guy? WAR SKELETOR!!!
Currently Active Users Viewing This Thread: 1

(0 members and 1 guests)
Posting Rules

You may post new threads

You may post replies

You may not post attachments

You may not edit your posts

---

HTML code is Off

---