Amatuer
Join Date: Mar 2010
Posts: 118
Quote:
Originally Posted by
KittenStrangler
View Post
Quite a stupid thread actually.
uh puhleaze. someone ban this rude troll
Quote:
Penn 1/10
GSP 3/10
Slva 1/10

Size matters.
I'm with ya Jimmy, though i'd give GSP 1/10 too
---
Last edited by TraMaI; 03-26-2010 at

07:08 PM

. Reason: EDIT BUTTON, DO YOU USE IT!?
Banned
Join Date: Nov 2009
Posts: 27
Penn I actually give him a better chance than last fight, just because he has applied himself for a long time now. And if he bulked up properly for the weight class and trained accordingly I think he would do better than last time.

GSP – although he outstrikes fighters who would supposedly outstrike him, it's probably not in Silva's class. Weight gain or not, he would have a disadvantage there, but his solid takedowns could give Silva a hard time. And GSP has said he walks around at 184, but might be hard to bulk up. Even so, this i think because of GSP's well rounded skills this could be a closer match for Silva than his previous fights.

Silva- hmm how about 0 chance, at best. Brock is to fast, strong, big, powerful and would just steamroll over Silva at the opening and hammerfist it out. Size makes a difference and this is a HUGE gap, 2+ weightclasses (i say 2+ because brock fights at well over 265, reportedly at 285).
BJ 1/10
GSP 7/10
Anderson 6/10
Quote:
uh puhleaze. someone ban this rude troll
How dare you, ungrateful swine.
I'm thinking something like

Penn- I don't think Penn's new found dedication would help 1.5/10
GSP- really hard to say I'll guess 4/10
Silva- would have to knock Brock out within 5 seconds 2/10
---
The Reigning, Defending, Undisputed MMAFNPFFL Grand Master Champion of The Universe!!!
Super Heavyweight

Join Date: Sep 2008
Posts: 4,364
2/10
6/10
0/10

I can't believe some people think Silva would stand a chance against Lesnar. Lesnar would grab him, throw him to the mat and pound him unconcious.
2/10
4/10
0/10
---
If a law is unjust, a man is not only right to disobey it, he is obligated to do so. ~ Thomas Jefferson
Sig by D.P.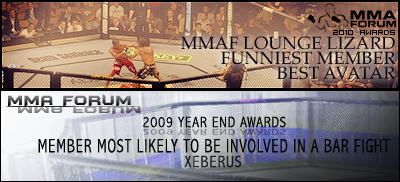 Penn Vs Gsp 5/10
GSP vs Anderson Silva 0/10
Anderson Silva vs Brock 5/10
---
I only live by 3 rules: Eat Twat, Smoke Pot, and Smile Alot
Currently Active Users Viewing This Thread: 1

(0 members and 1 guests)
Posting Rules

You may post new threads

You may post replies

You may not post attachments

You may not edit your posts

---

HTML code is Off

---