Phil Davis Calls Out Chandella
---
---
20 seconds in ><
take out the goddamn mouth piece... and id like a moment or two with chandella without my wife in the area
edit: and damn he is ripped
---
If a law is unjust, a man is not only right to disobey it, he is obligated to do so. ~ Thomas Jefferson
Sig by D.P.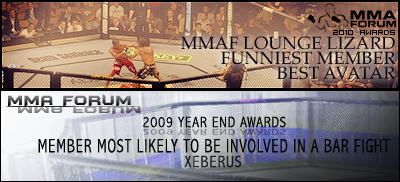 Quote:
20 seconds in ><
take out the goddamn mouth piece... and id like a moment or two with chandella without my wife in the area
He can't take it out because it says "Love U Mom" on it hahaha
---
haha i like this guy. And I never would have predicted that choke
Bantamweight
Join Date: Apr 2010
Posts: 703
Phil is awesome. I cant wait until he finally gets paired with another wrestler so he can knock them the *** out. Dude has serious power in his hands, technique will come.
Quote:
haha i like this guy. And I never would have predicted that choke
Dude showed good progression in the submission game in his last fight... That's why I called Phil via submission in the pick em league.
He's coming along nicely. Still a way to go but loads of potential with this guy.
edit: Davis seems like a nice cat too with the mom mouth guard. Articulate and has some personality too. Headliner in the making perhaps. And I bet he's gonna get Chandella in a rear naked, if ya know what I'm sayin... ;p
---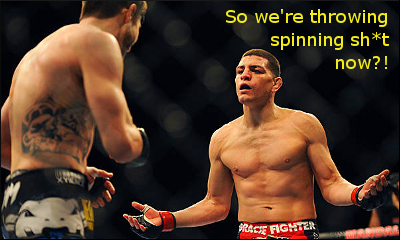 ---
Last edited by SigFig; 04-10-2010 at

09:21 PM

.
Mr. Wonderful speaks so well, even with a mouthpiece in. Anything I say with a mouthpiece sounds like mumbled noises.

This dude is fully of character too, I love this guy the more I see and hear him. I hope he continues to improve, I haven't seen the fight yet but hearing that he got a submission finish makes me think he's going to become a big threat when he fully develops his skills.
Davis/Bader or Davis/Vera would be cool @ this point.
---
''You probably thought this was a bright idea, who hit the light switch? Hype shift, this is where it looks like the fight's fixed, tight fist, beat you with the hand that I write with, punchlines that remind Rodney King of the night sticks...''
Curitiba Food and Liquor

Join Date: Dec 2006
Location: NY
Posts: 16,176
I want to see the wonderful robe!!

Ariel was almost as wonderful, in his simple but stylin suit. PIMP!
---

Sig Credit to Toxic

Haha that was great, love when people are able to not take things too serious and enjoy the moment.
---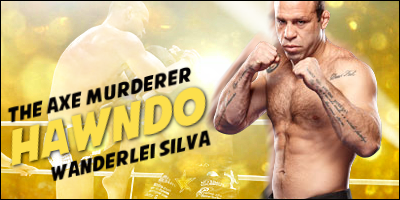 Thanks to Leakler for the sig
Currently Active Users Viewing This Thread: 1

(0 members and 1 guests)
Posting Rules

You may post new threads

You may post replies

You may not post attachments

You may not edit your posts

---

HTML code is Off

---