Quote:
Originally Posted by Bonnar426
Well, I think Tim will back off and throw some punches and Randy will stock him. As soon as Tim realizes that backing off won't help him win the fight, he'll start to get aggressive and go on the offensive. He throw some good punches and land that one punch that will knock Randy out!
Tim Sylvia? aggressive? Can you even use those two phrases in a sentence after watching his last two fights? I can't. It's just like Randy said, he's fighting not to lose, and Randy is the kind of fighter that can make him pay for it.
---
Sig by Toxic

Barnett - Toquinho -Werdum - "Nurmie"
Z. Gurgel - Morango - Rocha - Tiequan
I'd say your predictions are quite accurate, but I see Couture having a very hard time taking Sylvia down just because he is so f*cking huge.
---
---
"Obviously Today is a great day in MMA.....Pro Elite is dead" - Dana White
I hope Randy beats Sylvia down, but he better gain some weight. Even if he's physically strong, he needs a body weight that is not too far below Sylvia's or Tim can just get up. Anyone know how much Randy weighs and plans to weigh as a heavyweight? Someone said he gained 25 lbs so far, so maybe he's 240 now assuming he was walking around at 215 as LHW before cutting to make weight. Or maybe he's talking 25 lbs above 205, so 230. I think he wants to be as heavy as he can without making the extra weight pure fat.

Oops Tim is 280 now but I just was reminded about the 265 lb limit. So I guess the fat tub o lard would have to come down to 265. Nevertheless Randy better eat his wheaties!
---
Last edited by AnMMAFan; 01-20-2007 at

02:46 PM

.
MMA Fanatic
Join Date: Jan 2007
Posts: 9
Yes Randy is old but he is a smart boxer, if he can get pass tim's reach and set up a shoot he can take that big mother f*cker down and beat the sh*t out of em, well in theory....
I really do not think that Randy has a very strong chance, but it would not be the first time he has supprised me in the ring. I just am not sure how Randy is going to clinch with Tim, and most of Randy's game comes from there.

I forsee a 5 round battle with Tim winning the desion, he is a smart fighter that know how to use the Freakish body that god gave him.
I really want to see Couture detroy Sylvia, but unfortunately the man is growing old and he just might (MIGHT!!!) go down to Sylvia's punches.
Beenofalus FTW
Join Date: Jul 2006
Location: Omaha, NE
Posts: 628
I'm not saying who will win, but I don't think Sylvia's stand up is threatening enough. I mean he knocked out Arlovski... but everybody said his chin was his weakness. And it was if you watch his other losses. If Tim's standup was so good why couldn't he knock him out again in the 5 rounds of their 3rd fight? Or knock out Monson?

I think Randy needs to be more worried about Tim's kicks than punches. The kick on Telligman seemed like he has more KO threat from there than a punch. Randy got knocked out by chuck, but chuck is a bomb thrower, not a backwards jabber than KO'd one guy recently.
Quote:
Originally Posted by Beeno
If Tim's standup was so good why couldn't he knock him out again in the 5 rounds of their 3rd fight? Or knock out Monson?
His stand up is so good because he is 6'8", and he knows how to use it. He defanitly does not have the KO power that Chuck has but then again who does. Tim does not take alot of chances when he fights because he know he does not have to. I would love to see Randy win but he will have to pull something great off, and if anybody can Randy will.
Good luck Randy.
Megaweight

Join Date: Apr 2006
Location: Everett, MA
Posts: 5,961
you guys are CRAZY!!!! I would love to see Randy win but lets be serious, he has a very slim chance. This is his first fight in a year, and he is going up in weight and fighting the champ. That is crazy, and Sylvia is a bad match up for him. Did you guys see what Ricco did to Randy?? Look what Tim did to Ricco one fight later. Thats what will happen to Randy. Sorry guys
---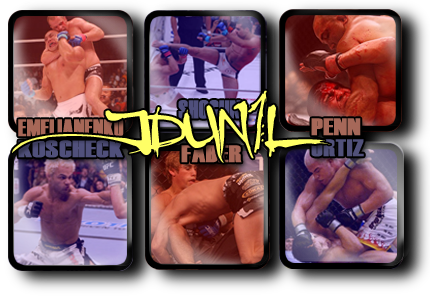 Mancrushes
1.Shogun
2.BJ
3.Fedor
4.Kos
5.GSP
Im in Porno's
Currently Active Users Viewing This Thread: 1

(0 members and 1 guests)
Posting Rules

You may post new threads

You may post replies

You may not post attachments

You may not edit your posts

---

HTML code is Off

---