Flyweight
Join Date: Jun 2008
Posts: 315
Why would you want Cerrone and Henderson (god don't even think about Varner) these dudes suck. Cerrone is a decent "natural" fighter and will lose to better technicians, as well as benhen, who has a penchant for surviving strangleholds but nothing really else.
Quote:
WEC/UFC unification Lightweight title fight between BJ Penn (future champ) and Ben Henderson.
I think you mean Penn and Cerrone.
I cannot WAIT to see Cerrone clown fools in the UFC.
Quote:
I think you mean Penn and Cerrone.


I cannot WAIT to see Cerrone clown fools in the UFC.
Yeah he instantly becomes one of the best strikers in that division. I think Henderson will wash out because so many better wrestlers than him are in the UFC at 155.
Yippee we get to see more little guys filing up UFC cards.
On a Rampage

Join Date: May 2007
Posts: 1,845
I don't see why the UFC can't fold in all the divisions. People always want to see title fights on PPV. Add two more titles to the mix. Give the guys like Aldo, Faber, Brown, Cruz , Bowles, Torres, and Benadvidez a chance for the UFC publicity and UFC money. The light guys put on great fights anyway. So what do you do with WEC? Forget WEC PPVs. Do only free shows on VS or Spike. Then use it as a minor league to the UFC or up and comers, similar to Shomma shows Instead of completely cutting a guy, let him go to the WEC, and have a chance to earn his way back.
I'm a big Cerrone fan, but with his poor TDD, he might get ragdolled by the UFC LWs. And he'll need to keep them hands up.

But regardless, War Cowboy!

(and Bendo is no slouch either; and I wouldn't mind seeing Varner get smashed a bit)
---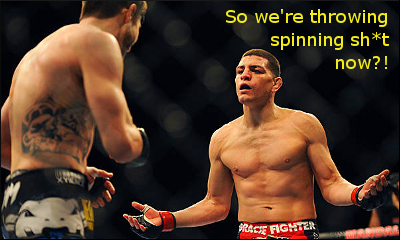 Lightweight
Join Date: Oct 2008
Location: Trinidad and Tobago
Posts: 1,738
Ben Henderson would be a force in the UFC
I said this a while ago, it needs to happen, even so the WEC can grow as promotion. Plus I think the top fighters in the LW division in WEC will fare well with the best in the UFC too, certainly the likes of Bendo and Cerrone anyway. Then, with the belts unified, you could also see the likes of your Faber's and Aldo's and Brown's trying out moving up. Although some of them are way to small, Alod could certainly move up a weight.
---
Sjung för gamla Djurgår'n
Lock the gates, make them watch...
I love this idea: first of all for myself because there are some great potential fights - Henderson v Edgar/Kenny/BJ etc. same with Cowboy. Also, I wanna see Varner get destroyed by BJ. Secondly, these guys deserve bigger pay packets - so I hope they all come under the UFC umbrella for that reason.
---
Thanks to limba for this AWESOME sig
Currently Active Users Viewing This Thread: 1

(0 members and 1 guests)
Posting Rules

You may post new threads

You may post replies

You may not post attachments

You may not edit your posts

---

HTML code is Off

---