Arlovski Underrated
---
Why does everyone rule him out so quickly when considering the HW division? I think he's a far better fighter than Sylvia and would do a number on Couture. I also think he'd have the best chance vs Cro Cop due to his amazing speed and good striking ability. I think his 2 losses to Sylvia made everyone think he was a sub par fighter
i think most people know he is a very good fighter but bottom line is when you lose 2 times in 6 months to sylvia you have to question if he is really as good as everyone thought. I enjoy watching him fight but i was just really dissapointed with his last few fights. i mean in the 3rd sylvia fight he let big tim win a 5 rd decision. He had nothing to lose. AA should of gone in there like a psycho and just forced the action and ko big tim but he was scared of his power after the 2nd fight and didnt go balls out like he use to before the fear of ko got in his head.
---
lfaris fantasy team
1. BJ Penn
2. Rich Franklin
3. Randy Couture
4. Melvin Guillard
5. Marcus Davis

2007 Record

2-0
I don't rule Arlovski out, he's a good fighter, but it's his results that make people feel that way. I agree he "should" be a better fighter than Tim Sylvia and he "should" have beaten him, but he didn't. The talent is there, the skills are there, the results... nope. It's a similar situation with BJ Penn. Recently we had a top 10 pound for pound thread. When making my list I so badly wanted to put BJ on that list. If it was on talent alone, he would easily have made it, not just top 10, but top 5, maybe even top 3. But he wasn't on my list because the results weren't there. It's the same with Arlovski. I so badly want to rank him ahead of Sylvia. On talent alone he easily surpasses "The Maine-iac", but talent alone doesn't win fights. He "could and should" beat Tim. He "could" beat Couture. He would get KTFO by Cro Cop any way you look at it, his chin can't take that kind of power.
---

Self-proclaimed leader of the Bao Quach bandwagon
On the Handsome bandwagon
It's Hellga time!

AA is very talented & technically sound, but his biggest liability is his chin. Plus he needs to be more focused and not party too much.
I feel AA has kept a pretty strong rep considering the fact that he lost not once but twice to Sylvia. Most ppl including myself still look at AA like the best HW in UFC. I think it has been interesting to watch how strong his name has kept after back to back losses.
even after 2 losses to sylvia i still think arlovski is awesome and that's because of how dominant he was before them 2 losses, i've still got the old arlovski stuck in my mind and i do believe he could recapture that form when people thought he was unbeatable. he is a great striker maybe he could stand with crocop but his chin is questionable.
---
][/IMG]
if you never lose how do you know when you've won
Arlovski is a good fighter but he could have done alot more with his fight against Sylvia the third time around. 3rd or fourth he should have realized he had nothing to lose, with or without a broken foot!
---
You forget that this isn't just some brutal sport where everyones out to kill each other. Its much more like a game of physical chess.-looney liam
Flyweight
Join Date: Jul 2006
Posts: 464
Arlovski is the man. People who should really be WWE fans have forgot about him because of his two losses. True MMA fans have stopped mentioning him because Cro Cop is now in the UFC, that leaves AA with a very tiny chance of regaining the title. He will likely have to beat Heath Herring, Sylvia and Cro Cop to take the title back...Such a feat is HIGHLY unlikely.
---
My Top 5

(0. Fedor)
1. Cro Cop
2. GSP
3. Mauricio RuA
4. Quinton Jackson
5. BJ Penn
Megaweight

Join Date: Apr 2006
Location: Everett, MA
Posts: 5,961
underrated???if anything the guy is overrated!! he is the #6 ranked HW in the world and thats a joke..he doesnt have a good record, he gets KO'd way too easily and his only quality win was against that sloth Sylvia. He has all the tools but it doesnt seem like he can get it together. I like AA, but people think he is better than he is. IMO he is at best the 10th best HW in the world
---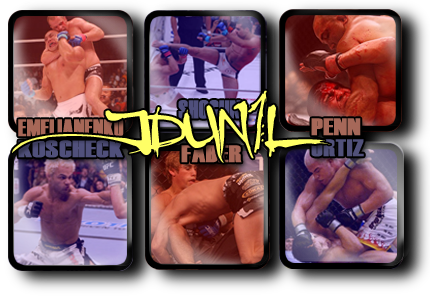 Mancrushes
1.Shogun
2.BJ
3.Fedor
4.Kos
5.GSP
Im in Porno's
Bantamweight
Join Date: Nov 2006
Posts: 539
He's great and talented,but the results weren't good last year. Like others have said despite those losses people still think high of him and alot of people are respectful of him.

This will be a big year for him. If he doenst prove himself,he very well could fall off main event cards.
Currently Active Users Viewing This Thread: 1

(0 members and 1 guests)
Posting Rules

You may post new threads

You may post replies

You may not post attachments

You may not edit your posts

---

HTML code is Off

---