Megaweight

Join Date: Apr 2006
Location: Everett, MA
Posts: 5,961
Off the Hook Video!!!
---
---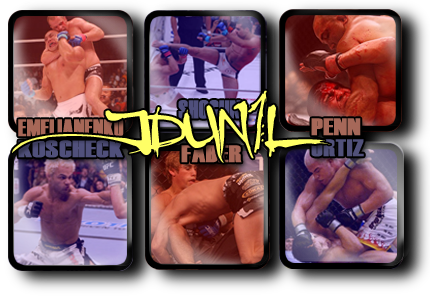 Mancrushes
1.Shogun
2.BJ
3.Fedor
4.Kos
5.GSP
Im in Porno's
MMA Fanatic
Join Date: Nov 2006
Posts: 39
Damn kick ass vid , gotta love Melvin guillard's over hand right
That was awesome!
---
A groan of tedium escapes me...
Yeah I liked that second song too, oh so epic!

Really cool vid
Amatuer
Join Date: Nov 2006
Posts: 123
greatest mma vid that ive seen in a while, only thing its missing is the KO win by lidell over sobral...the flurry of punches he gave sobral was nuts, im surprised they didnt put it in there....

i think its safe to say that GSP's win over hughes was the KO/TKO victory of the year, followed by crop crops KO over silva
Amatuer
Join Date: Dec 2006
Location: Parts Unknown
Posts: 166
Great Vid
---
Thanks for sharing, good job!!
MMA Fanatic
Join Date: Sep 2006
Posts: 5
song
---
Quote:
Originally Posted by j.farrell
thats my new favorate mma vid. good find. i really like to second song on there. i gotta find out what it is.
not sure what the name of the song is but it is the theme from the movie "Last of the Mohicans", could probly find it on the soundtrack....Also Andre Nickatina did a remake of the song called "Blood in my hair" so maybe thats what the original is called
Awesome vid...enough said
---
You can't have everything. Where would you put it?
Favorite Fighters:

Chuck Liddell
Rich Franklin
Diego Sanchez
Great vid, Crocop over Silva at the end was a perfect finisher.
Currently Active Users Viewing This Thread: 1

(0 members and 1 guests)
Posting Rules

You may post new threads

You may post replies

You may not post attachments

You may not edit your posts

---

HTML code is Off

---