Banned
Join Date: Aug 2010
Posts: 911
would be a good fight if Matt wants it.

I honestly found it insulting to the sport, his opponent and himself when Alves was 8 pounds overweight.

I just want him to move up to MW already and stop trying to be the biggest fish in the pond when it doesnt even help vs the wrestlers anyways.
id like to see him just cut down on some of his weight training and walk around a bit smaller.

he was actually just 3lbs overweight for that fight, fought at a catchweight for 174lbs.
---
If a law is unjust, a man is not only right to disobey it, he is obligated to do so. ~ Thomas Jefferson
Sig by D.P.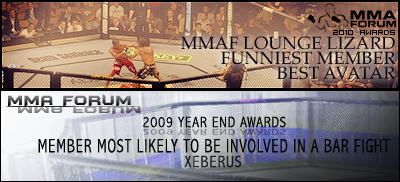 While we're on topic, I would pay damn good money to see hughes fight diaz. Diaz wants a top guy, Hughes wants a title run. Perfect fight imo.
We are talking about Nate Diaz right?
---
The Emoticon Guy
Quote:
We are talking about Nate Diaz right?
Yes. Prefect matchup. Winner would get another fight against top 3 guy for a possible title fight. Makes sense.
Lightweight
Join Date: Nov 2006
Posts: 1,916
Quote:
Originally Posted by
Terror Kovenant
View Post
I don't think Kos would beat Matt. I definitely feel that Matt is the better fighter when it comes to grappling. Standing up Kos does definitely have an advantage. Fitch I guess would just dry hump him to sleep or something. So that really only gives about two guys in the division that can beat Matt, yet everyone tries to spin him as washed up
Way more than 2 guys can beat Hughes. GSP, Kos, Fitch, Shields, and Alves are givens. I don't know why you think Kos would get outgrappled by Hughes, I think their wrestling is about the same level but Kos is younger, stronger, faster so he has the edge there as well as a large edge standing.
Hughes stand up has improved, I'll give him that but let's not forget how bad it was. Even in it's improved state it still lags badly compared to the rest of the division. Hughes is not terrible, his win over Almeida was impressive but he is definitely not top 5 so a title shot SHOULD be out of the question. I say "should" because the UFC knows he is a draw so if he peeled off one more win it wouldn't shock me to see them give him another shot even though I think it would be a complete waste of time.
Naa. What can Hughes do against the upper tier? GSP, Kos, Alves and Fitch will all crush him in his current state.

Really though, is it just me or does Hughes look like he has less and less muscle mass every time he fights?
---
mad props: Toxic
Banned
Join Date: Aug 2010
Posts: 911
nah, just more chest hair.
No Hughes does not have another run in him. Sorry to say. He will never beat GSP again much less the other recent contenders.
---
Everybody good, plenty of slaves for my robot colony?
Featherweight
Join Date: Aug 2010
Location: Sydney
Posts: 1,099
If he is matched up against other top guys in the division like Fitch or Koscheck, BTW, why has he never fought them before? Dana afraid of a snoozefest? None of these 3 have ever fought eachother, yet they are all top guys in the division and have been for some time!
Currently Active Users Viewing This Thread: 1

(0 members and 1 guests)
Posting Rules

You may post new threads

You may post replies

You may not post attachments

You may not edit your posts

---

HTML code is Off

---