Megaweight
Join Date: Mar 2007
Posts: 5,499
I actually think Condit is the type of fighter that will give Hardy an extremely hard time. I think Hardy is given way more hype than he deserves. Lets just look at his UFC Career as prior to that he fought mostly nobodies.

Loss 23-7 (1) Georges St. Pierre Decision (Unanimous) UFC 111: St.Pierre vs. Hardy
Win 23-6 (1) Mike Swick Decision (Unanimous) UFC 105: Couture vs. Vera
Win 22-6 (1) Marcus Davis Decision (Split) UFC 99: The Comeback
Win 21-6 (1) Rory Markham KO (Punch) UFC 95: Sanchez vs. Stevenson
Win 20-6 (1) Akihiro Gono Decision (Split) UFC 89: Bisping vs. Leben

Now lets look at Carlos Condit's. I included WEC as most of us know who he fought.

Win 25-5 Rory MacDonald TKO (Strikes) UFC 115: Liddell vs. Franklin (FOTN)
Win 24–5 Jake Ellenberger Decision (Split) UFC Fight Night: Diaz vs. Guillard
Loss 23–5 Martin Kampmann Decision (Split) UFC Fight Night: Condit vs. Kampmann
Win 23–4 Hiromitsu Miura TKO (Punches) WEC 35: Condit vs. Miura (FOTN)
Win 22–4 Carlo Prater Submission (Guillotine Choke) WEC 32: New Mexico
Win 21–4 Brock Larson Submission (Armbar) WEC 29: Condit vs. Larson
Win 20–4 John Alessio Submission (Rear Naked Choke) WEC 26: Condit vs. Alessio
Win 19–4 Kyle Jensen Submission (Rear Naked Choke) WEC 25: McCullough vs. Cope

So in the UFC they are both pretty much the same, and I see this as a fight where one of them will have a chance to change their path. Dan Hardy was gifted the title shot, it happens all the time so I am not complaining, but it is why he is usually ranked higher than he probably deserves. I think both of these guys right now are in the middle of the WW division and it is this fight that will give one of them the legitimate opportunity to move, or at least start the path, to the upper levels of WW.

I think Hardy's power is overrated and Condit's ground game is overrated. They have been both given fights that should have been easy for them to finish as the other guy played to their strength and neither of them could. This is the UFC, the big leagues, if you can finish here then you are legit. If not then don't be surprised if it takes you a lot longer to get bigger fights and/or title fights, a la Fitch.
Flyweight
Join Date: Dec 2008
Location: NC
Posts: 329
Quote:
And why do you figure that? Hardy has only put 1 of his opponents away since he joined the UFC. It seems everyone still believes the UFC hype that he has amazing striking along with 1 punch KO power.
Well, that's just my opinion. I was surprised at how much he got tagged in the last two fights, as I expected more of Condit...believed him to be head and shoulders above Ellenberger and MacDonald... but those fights didn't look so good for Condit.
I think Hardy is quite a bit stronger and packs a better punch.
I could certainly be wrong... and like said, I'm a Condit fan. I loved watching him WEC..but it seems he's not had the same level of success in UFC.
And to whomever neg repped me for saying I'm a Condit fan.. you're a schmuck.
---
"He's just a regular guy, just another guy, we both weigh the same......but he finds a way to win, and I admire it." - Chael Sonnen 07/07/12
Meh, no idea who's gonna win this one, but I'm pretty sure it'll be awesome.
Lightweight
Join Date: May 2010
Location: Philippines
Posts: 1,669
When I saw the line as Condit being a dog, I didn't hesitate to put money and VBookie points on him.
id have to go with hardy to win
---
If a law is unjust, a man is not only right to disobey it, he is obligated to do so. ~ Thomas Jefferson
Sig by D.P.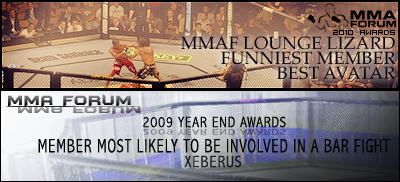 Join Date: Oct 2009
Location: Ohio
Posts: 2,719
Quote:
Its gonna be a good fight, this.

I *want* Hardy to win, but who knows. Carlos is pretty shit hot also.

I will say this: using terms like "panic" when talking about Hardy? I dunno about that. If there's one thing we can attribute to Hardy, is that mentally hes pretty damn solid. I'm not sure that pressuring Dan will do Carlos any favours. Its all very well trying to get up from under GSP or Fitch, but the rest of the division have nowhere near the skills those two do.

Whatever. I love both these guys. I will be very surprised if this is anything other than full on pain.
I was thinking the same thing. If Hardy didn't panic with GSP wrenching his arm in an armbar, he won't panic if Condit gets in his face or puts him on the ground.
---
Sig courtesy of that photo-matic magician limba
Quote:
I went out the way that I fight. I went out on my shield. That's it. Done. --Chuck Liddell
Quote:
My goal is to end my opponent --Carlos Condit
Condit doesn't have the power to knock Dan out, doesn't have the jiu jitsu to submit him or the wrestling to control him, so his only hope of winning is to out-point Dan. It's possible, but I'd say Dan has more tools to finish this fight. His power may be slightly over-rated, but if Dan lands a punch similar to the one he landed on Markham, it's lights out. He's notably stronger and bigger than he was early in his UFC career too, have you seen pictures of him recently? He looks massive, seemed to out-size Bisping in a picture of the 2 of them recently. Maybe I'm just a fanboy, but I see Dan Hardy winning this fight, and doing it convincingly.
---
Proudly Supporting
Dan Hardy
Conor McGregor
Michael Bisping
Donald Cerrone
Demetrious Johnson
Joe Lauzon
Nick Diaz

Lightweight
Join Date: May 2010
Location: Philippines
Posts: 1,669
Quote:
He looks massive, seemed to out-size Bisping in a picture of the 2 of them recently. Maybe I'm just a fanboy, but I see Dan Hardy winning this fight, and doing it convincingly.
Looked like he was kind of out of shape, looked more like chub than lean muscle and a double chin. I don't think his frame has broadened, he still has to weigh in at 170.
You're joking, right? Out of shape? Chub?
---
Proudly Supporting
Dan Hardy
Conor McGregor
Michael Bisping
Donald Cerrone
Demetrious Johnson
Joe Lauzon
Nick Diaz

Will be intresteing to see what Hardy has worked on since the GSP fight
---
Dan 'THE OUTLAW' Hardy
Mauricio 'SHOGUN' Rua
Alexander 'THE MAULER' Gustafsson
Brad 'ONE PUNCH' Pickett
John 'THE HITMAN' Hathaway
Frankie 'THE ANSWER' Edgar


Currently Active Users Viewing This Thread: 1

(0 members and 1 guests)
Posting Rules

You may post new threads

You may post replies

You may not post attachments

You may not edit your posts

---

HTML code is Off

---