Quote:
Originally Posted by AtomDanger
I just thought this was funny, what are you looking at Rogan???
Rogan: The japanese are right. Those are some meaty thighs. Wow!
Crocop: Man, this is so uncomfortable.
Quote:
Originally Posted by HowWePlay_77
DAMN. Its still so hard for me to believe that CroCop is in the UFC. CroCop in an octagon. CroCop wearing black gloves. This is still crazy to me. Can't wait for tomorrow night!!
I can handle the black gloves as long as he still wears the checkered shorts
Man I'm so excited to see Mirko begin to wage his path of destruction. I'm like teenage girl about to go backstage at a boy-band concert. Damn my panties are getting wet...
---

Self-proclaimed leader of the Bao Quach bandwagon
On the Handsome bandwagon
It's Hellga time!

I know I can't wait for this fight CroCop looks better than ever and I can't believe it is almost here
attention whore
Join Date: Oct 2006
Location: Branson, Missouri
Posts: 14,445
Rogan is in awe, and who can blame him? Hell, the girl on the right is in awe. Everyone is in awe of Mirko.

Also, Sam's sausage tits were in rare form.
---
That octagon girl looks more jacked than Cro Cop. She's got muscles between her titties.
Megaweight
Join Date: Nov 2006
Location: Kansas City, Missouri
Posts: 5,148
it looks like the octagon girl is dreaming of what her and mirko are gonna do when they get back to the hotel room.
---
Bantamweight
Join Date: Jul 2006
Location: Boston
Posts: 612
this is great
i cant wait.
---
Steve-d
www.steved-mma.com
// My Training Blog!
Megaweight

Join Date: Apr 2006
Location: Everett, MA
Posts: 5,961
Quote:
Originally Posted by Alex_DeLarge
I hate to be the one to bring it up but CC looked a bit chubby around the midsection....hope he's not out of shape.
I agree, he looks a little heavier than usual.
---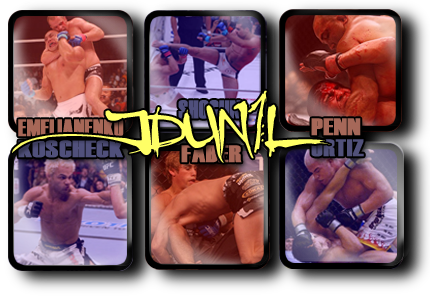 Mancrushes
1.Shogun
2.BJ
3.Fedor
4.Kos
5.GSP
Im in Porno's
Quote:
Originally Posted by kds13
he's just checking out the "weight". on a side note, cro cop looks damn ready to fight. just no expression on his face? oh man, i cant wait to see this fight.
The weight of what?
---
You can't have everything. Where would you put it?
Favorite Fighters:

Chuck Liddell
Rich Franklin
Diego Sanchez
Quote:
Originally Posted by jdun11
I agree, he looks a little heavier than usual.
I don't think so, He looks good.
Currently Active Users Viewing This Thread: 1

(0 members and 1 guests)
Posting Rules

You may post new threads

You may post replies

You may not post attachments

You may not edit your posts

---

HTML code is Off

---