View Poll Results

: What would you be thinking?

Is it too late to get a flight out of the country?
1
5.26%
Any loopholes in the contract that I signed?
0
0%
What should my obituary say?
9
47.37%
I could go for some pizza right now.
9
47.37%
Voters: 19. You may not vote on this poll
If you were Eddie Sanchez....
---
If you were Eddie Sanchez, what would be going through your mind right now? You're just hours away from stepping into the cage with the deadliest striker on the planet. You just saw Sean Salmon brutually knocked out by a high kick a week and a half prior, and you know that was a love tap compared to what your opponent can do! You also know that your chances of leaving in a body bag are greater than your chances of winning. What would you be thinking?
I'm thinking yeah what hell, it's not like I'm fighting Tim Sylvia or something , this is Mirko "Cro Cop", I have melons the size of basketballs and all the chicks will dig me if I win and they will feel bad for me if I lose...Win Win situation if you ask me.
---
You can't have everything. Where would you put it?
Favorite Fighters:

Chuck Liddell
Rich Franklin
Diego Sanchez
Megaweight

Join Date: Apr 2006
Location: Everett, MA
Posts: 5,961
is it me or are there a sh!t load of gay threads lately
---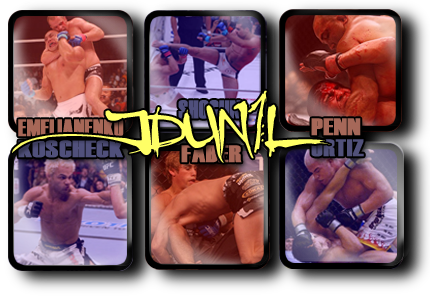 Mancrushes
1.Shogun
2.BJ
3.Fedor
4.Kos
5.GSP
Im in Porno's
If I was him, I'll reconsider Rich Franklin's strategy of starting the fight kneeling down on one knee.
Flyweight
Join Date: Oct 2006
Posts: 435
heh, i think the pizza one is popular just because it's funny. the others are much more realistic. poor guy, but no one can say he doesn't have balls. sorry, but crocop didn't get GNPed to TKO by even fedor, and he only lost in submission to NOG, so i can't see him losing to this guy.
I imagine he is running his gameplan through his mind and visualizing the fight with crocop.
He's wondering if headbutting crocops legs out from under him will be a good idea.
Lol it has to suck to be eddie sanchez right now, Not only is his head about to be kicked into the stands were a ufc fan will take it home and feed it to his dog he will also be a highlight reel for the rest of his life. He will then retire from fighting forever and be one of those Walmart people that stand at the entrance and say hello to all the passing customers occasionaly stopping to help an old lady pick up her dropped vegetables.
If i were eddie sanchez id be thinking about how much a ko or a win over cc would boost my career
Flyweight
Join Date: Jul 2006
Posts: 379
Quote:
Originally Posted by buo
If I was him, I'll reconsider Rich Franklin's strategy of starting the fight kneeling down on one knee.
LMFAO
In a side note... HE STILL HAS a strikers chance... dont count him out until its over... that being said I like my chances of fighting a pack of wolves better than crocop.
---
Last edited by kyle1; 02-03-2007 at

06:24 PM

.
Currently Active Users Viewing This Thread: 1

(0 members and 1 guests)
Posting Rules

You may post new threads

You may post replies

You may not post attachments

You may not edit your posts

---

HTML code is Off

---