I pretty high on Phil Davis (as you can see)....can't wait to see him fight some higher level LHWs.
---
Mr. Wonderful
Join Date: Jun 2009
Posts: 20,898
Davis is definitely making some waves and I expect him to be making bigger ones soon.
Until he hits JBJ, then th eDavis hype train ends.

Although I love Phil davis.
---
Join Date: Jun 2009
Posts: 20,898
I think that Jones will wreck a lot of hype trains in the future.
Quote:
Until he hits JBJ, then th eDavis hype train ends.

Although I love Phil davis.
IDK what to think of Davis/JBJ in all honesty, Davis is a very, very good wrestler with fantastic technique. Then JBJ is a sort of "freestyle" Greco wrestler that threw around Matt Hammill like he was a 12 year old child. Davis I think is more well versed in the submission game as far as offense goes, but JBJ's ground and pound is second to none. The stand up obviously goes to JBJ as he's much more diverse and unorthodox without being sloppy. He also has a huge reach.
Featherweight
Join Date: Aug 2009
Posts: 1,297
Falcao impressed the shit out of me at 123. I predict that guy will be a beast.
HW - Christian Morecraft - Dominated Struve and nearly tko'd him til Struve bitched out with his kick in the 2nd and Morecraft lost focus.

LHW - Phil Davis - Need i say more?

MW - Kyle Noke - Really liked him on TUF. He is another guy who is good on the feet and on the ground.

WW - Rory MacDonald - Carlos Condit is considered one of the best at 170lb and this guy put a beating on him for 2 1/2 rounds. Good boxing, Knockout power, good subs and a hell of a lot of heart. This kid will go far.

LW - So many to chose from but i'm gonna pick firstly Anthony Pettis - can't wait for his fight with Bendo - always looks to finish and succeeds most of the time!
Secondly i wanna mention Edson Barbosa - brutal debut at UFC 123 and only 24 - i think he could destroy the legs of a lot of LWs before he is done.
---
HW: In the UFC? Probably Schaub, but that's not saying much. I think he's a fringe top 10 guy at best. In MMA as a whole, Konrad has top 5 potential with his elite wrestling and smothering top game.

LHW: Phil Davis by a long mile. He's already beaten the 3rd best prospect quickly in Alexander Gustaffson. He's almost a sure-thing top 3 title contender down the road. The only guy that comes close to him is Roger Gracie, but there are questions about his committment and his ability to take the fight down to the ground.

MW: Very weak division for prospects. The best in the UFC is probably Brad Tavares, and I'm not even sure he's a long term UFC fighter to be honest. I think if he puts everything together he can be in the 7-10 range of the weak MW division. Overall, Chris Weidman is clearly the best prospect. A near can't miss. I think he's one of the most sure-fire future champions in the sport simply because of the division he fights in.

WW: Rory McDonald is the best WW prospect in the world right now. To think, that this guy as pretty much a kid was probably 10 seconds away from being a Carlos Condit who could be challenging for the title in the near future is astounding. Slick ground game, good chin, cardio, and respectable stand-up and wrestling skills give this youngster top 3 potential at the weight.

LW: Narrowly eeking out Mr.Barbosa is Charles Oliveira. Guy is a fearless striker and a slick, lightning quick ground game that can only get better as he ages. At only 20, this guy will improve by leaps and bounds and as all the physical tools, including lighting speed and agility and a neverending gas tank(a quite hyperactive one at that) to be a future champion, possibly a dominant one.

FW: Tough, tough, tough, but have to go with Chad Mendes. He's so inexperienced but beating all the top guys in the WEC/UFC with simply his stupifying top control and improving striking. He's a top 3 guy in the near future, but I don't think he gets by Jose Aldo.

BW: This is pretty clearly Michael McDonald. This guy is SUPER impressive, and like Oliveira and his fellow McDonald, Rory, he's still a baby in age terms. However, mentally, this guy is a 30 year old contender in his prime. He's THAT confident, THAT mean, and THAT cerebral. He'll take your punches, knock you out, or sub you, but at any rate you are going to get finished, and Michael prefers it quickly.
This guy is a sure-fire thing to fight for a title one day.
---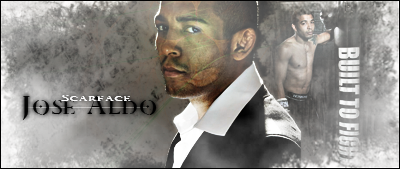 I don't think Jones and Schaub can be considered prospects, Jones is in the top ten and Schaub is the UFC's 8th best HW at the moment.
Banned
Join Date: Oct 2009
Posts: 7,811
Quote:
Falcao impressed the shit out of me at 123. I predict that guy will be a beast.
I would throw him right in there with the top 5 guy. Maybe Maia if he wins his next one or Bisping.
Currently Active Users Viewing This Thread: 1

(0 members and 1 guests)
Posting Rules

You may post new threads

You may post replies

You may not post attachments

You may not edit your posts

---

HTML code is Off

---