They were illegal.


Watch Royce Gracie-Keith Hackney from UFC 4. Kieth was in Gracies gaurd and Royce was delivering the same type of elbows on the base of Hackney head. Now that was legal in those days but when they showed that fight on UFC Unleashed it was explained that those where now illegal.


So yes, Lutter was screwed. A real shame just as he was starting to get out of the triangle.


Pogo
Megaweight

Join Date: Apr 2006
Location: Everett, MA
Posts: 5,961
Personally I think that they might have been illegal but its too close to call. I think that is a stupid rule any way. You can mount someone and crush them with elbows to the face but you cant elbow on the top of the head with a downward motion...that is pretty stupid if you ask me. The win wasnt sketchy, but 80% of pro mma fighters would have finished Silva if they had him mounted like that.. I give a big
to Lutter
---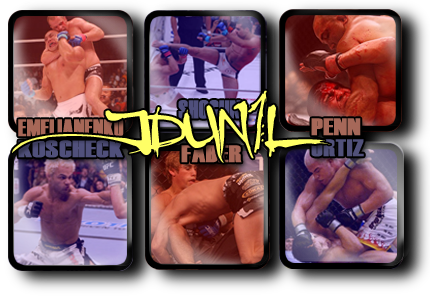 Mancrushes
1.Shogun
2.BJ
3.Fedor
4.Kos
5.GSP
Im in Porno's
Quote:
Originally Posted by baz00ca
the rule is open to interpretation. when i look at the rule I see it as saying you cannot strike North-South with the point of the elbow. interpreted in this way Silva's elbows were legal as they were going parallel to the mat.

It's really a rule that has to be clarified and/or rewritten by the NSAC
That's for sure. In the Royce Gracie special they put on a while back, Gracie had Keith Hackney in full guard and was driving elbows straight down onto the top of his head. One of the announcers mentioned that this would be illegal under today's rules which is consistent with what you've said.
Applying it to what Silva did, his elbows would technically be legal as he is swinging them across Lutter's head and not straight down into it.
But you're right, the rule needs some clearing up.
Outta My Head
Join Date: May 2006
Location: Paramount, CA
Posts: 1,220
The elbow thing has been done to death. In the interview with John McArthy after the Hughes Vs. Gracie match, he was asked about the elbows that Hughes threw and if they were legal. He noted that they were legal. His words were that the elbow has to be thrown vertically downward, with the hand at 12 o'clock and the elbow at 6 o'clock. He's given the Paul Varelans vs Cal Worsham match at UFC 6 as his example of an illegal elbow (you can see that at 3 minutes and 24 seconds of this clip
here
). So, no the elbows Silva threw were fine. If he wasn't going to be throwing elbows that way, he could have done them in a cross or rotating syle, or used hammer fists or punches. Lutter was not getting out of there as he was too concerned about about being put to sleep by that triangle.
---
It doesn't matter if you agree or disagree
... As long as I don't bore you and I spark a moment of thought,
my goal is achieved
.
Queng leon queng tigre ecu tacacut, queca pa? - Pampangan Mandarigma Motto

Megaweight
Join Date: Nov 2006
Location: Kansas City, Missouri
Posts: 5,148
Quote:
Originally Posted by Onganju
the elbow has to be thrown vertically downward, with the hand at 12 o'clock and the elbow at 6 o'clock.
thank you! his elbows weren't coming straight down. his arm was cocked. and to whoever said follow through wasnt important, here's why it is. if you throw a downward elbow, it would hit the top of the head and stop and then to throw another one you'd have to bring your hand up to throw another one.
silva's elbows went down at an angle and followed through past lutters head and he then brought them back up in a circle to do it again. thus, they werent illegal or thrown at a downward angle.
case closed.
---
MMA Fanatic
Join Date: Sep 2006
Posts: 46
Quote:
Originally Posted by pt447
Silva's win was not sketchy... my freakin god... will there ever be a PPV or a single fight that isn't disputed?
Have you seen some of the posts on this forum lol? That will never happen.
If you guys want to know what happened here it is: I have the fight on right now and I am watching the exact moment in question here for the third time.
Silva lands the up kick and lutter falls into the triangle. As lutter is defending and Silva is trying to secure the triangle Silva does throw a quick elbow straight down to the top of Lutters head. It didn't look very damaging. Silva would then take a look at the ref every now and then (its possible the ref might have said something but I have no idea). In between punches to Lutters head Silva raised up his elbow to strike on THREE different occasions and each time he put his arm back down without striking. After another second or so of struggling Lutter quickly turned to his right side to try for another escape and that is when Silva started using the elbows again. Because of the angle Lutter/Silva are at during this time the elbows can look illegal, but if you watch close all four elbows are going sideways and hitting the side of the head (for the most part).
Yes it is close but they are definitely NOT straight down elbows to the top of his head. It only looks that way because of the angle of their bodies. Go back and watch for yourself. Silva is striking with his right elbow and if you watch closely he starts the strike with his RIGHT arm/elbow on the LEFT side of his own face and uses a swooping motion. Each time his RIGHT hand/arm/elbow starts on the LEFT side of his own head and ends up on the right side at the end. His right arm/elbow did NOT stay on the right side of his body and go up and down. Even though he is striking with his elbow just watch his hand. It clearly shows how he is going from side to side.
So can we please, for the love of all things sacred in MMA, just ENJOY the fights and focus on their technique instead of focusing on something so stupid as this? Save your crying for when a fighter actually blatantly breaks a rule on purpose to try and win a fight he is loosing.
Lutter lost, get it threw your small head. Anderson has learned a LOT from when he got DQ from an illigal kick, it takes an EXPERT to walk the line DQ and submission, just because you nubs on a forum think it was illigal doesn't make it so. They were parallel to the ground, and as a matter of fact, you can see when Anderson has him in the triangle, you can see him working out strikes that are leagl. So you can beat this all day long, but anyone whos says "ooohh it's illegal" clearly needs to A) look at the rules more, and B) Watch the fight better, because he clearly came across and not down.

Lutter is a nobody, he has some skills in BJJ, but to say that he is even anywhere NEAR Silva is just a stupid comment, Silva was TICKED before the fight, that Lutter couldn't make weight. So Silva had to show why you don't bite off more then you can chew. Silva took care of Lutter with ease, it may have been longer then any of his other UFC fights Lutter did less damage then any other fighter.

So please, Lutter isn't that great, just because you saw him on TUF - The Comeback, doesn't mean SHIT. How much more does Anderson Silva have to do before he gets your attention.

A) Chris - KO 47 seconds.
B) Rich - TKO 2:59 seconds
C) Travis - Sub 2:11 of the second round.

Silva hasn't even fought a full fight yet, and you give him no respect. He has KILLED EVERYONE that the UFC has put infront of him with ease. Even when "styles make fights" but when Lutter's Style isn't NEARLY as good as Silva's it makes it real easy for Silva to keep his belt.

So just drop it, if you watch the reply Herd was RIGHT in there watching thoes elbows, he was closer then ANY of you, and he's a PRO at what he does so your inexperianced eyes didn't like what it saw, doesn't make it illegal.
---
For most of you, ignorance is bliss, but for me it's about the truth.

Bets won:
4-0, Admins taken down in bets 2 (asskicker, Jdun11)
---
Last edited by daman5; 02-04-2007 at

11:31 PM

.
Legal or Illegal I couldn't really care less.

Lutter insulted the sport, the fans and the champ by not making weight for the belt, I mean what kind of idiot would make that mistake?

anyways... a fight is a fight, a few elbows to the head and you guys are crying about it? silva was awesome in that fight. Not only did he win decisvely but he won by submission.
I bet it would have been less sketchy to you if he was a god ol'boy from butt fcuk small town america. I bet then you would have broken out into the national anthem and wept.

He won the fight...get over it.
Amatuer
Join Date: Oct 2006
Posts: 128
wheh, wheh, wheh...
---
Quote:
Originally Posted by Omaplata
...Lutter wouldn't have argued because he wouldn't have seen them.
You are right Lutter would not have whined about it. He would have left that for people like you. Get over it! What did you want, that they should have stood them both up and let Lutter recover. If the ref did not make the call, let it go. Next time why don't we just introduce instant replay and let Lutter throw a red challenge flag, so the refs can review the reel.
It's a fight with rules and a ref. Let them do their part and you can do yours. Fighters fight, referees ref, b!tches b!tch.
Currently Active Users Viewing This Thread: 1

(0 members and 1 guests)
Posting Rules

You may post new threads

You may post replies

You may not post attachments

You may not edit your posts

---

HTML code is Off

---