Rate [1-10]: UFC 67
---
what did ya'll think of this PPV?.... i was actually impressed for UFC...

8/10 for a UFC PPV..

try to look beyond the hype of mirko cro cop and rampage comin in to fight...
7/10. was a decent ppv but im tired of the tuf fighter's.
ill give it a 6.5/7
---
My 12 fighter army is as follows:

Dan Henderson
Mac Danzig
Mirko "the man" Filipovic
Anderson Silva
Fedor and Aleks
Mark Hunt
BJ Penn
Q. Rampage Jackson
Karo Parisyan
John Fitch
Frank Shamrock
Megaweight
Join Date: Nov 2006
Location: Kansas City, Missouri
Posts: 5,148
i think it was a 7/10

the cro cop and rampage fights went pretty much as everyone saw it. the silva lutter fight was entertaining. and we got to see more fights than ever due to the early finishes.
---
Megaweight

Join Date: Apr 2006
Location: Everett, MA
Posts: 5,961
7.5...CC and Rampage entering the Octogon were worth the PPV price for me
---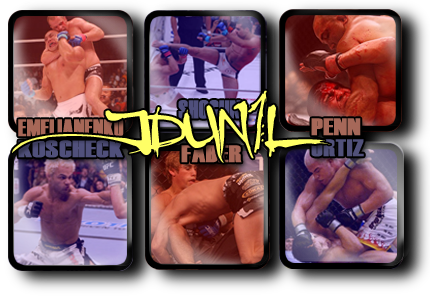 Mancrushes
1.Shogun
2.BJ
3.Fedor
4.Kos
5.GSP
Im in Porno's
i've earned my stripes

Join Date: Jul 2006
Posts: 5,989
I'm tired of seeing TUF guys every card...but it's cool I guess.

I have one word for you: RAMPAGE!

8.5/10
---
i'm a monster
i'm a maven
i know this world is changin'
never gave in
never gave up
i'm the only thing i'm afraid of
7.8/10

i was mildly disappointed up until they showed griffin and edgar.

however, just seeing rampage and cro cop in the cage was enough.
---
GSP Dan Henderson Sean Sherk Tyson Griffin Mark Hunt
Prospects Draft: Dong Hyun Kim & Roger Hollett
I'll go 8/10. I got goosebumps seeing Cro Cop in the octagon. One of the things I never thought I'd see, then I pictured him dismanteling te rest of the HW division. But, the PPV was pretty decent. Lutter did better than I thought and Sanchez stood with Cro Cop longer than I thought. Now i'm looking foward to seeing my first LIVE event here next month!
7/10, not bad overall but could have been better.
---
You can't have everything. Where would you put it?
Favorite Fighters:

Chuck Liddell
Rich Franklin
Diego Sanchez
Currently Active Users Viewing This Thread: 1

(0 members and 1 guests)
Posting Rules

You may post new threads

You may post replies

You may not post attachments

You may not edit your posts

---

HTML code is Off

---