View Poll Results

: Would you like to see Hendo in UFC?

Yes
47
59.49%
I don't care
19
24.05%
No
13
16.46%
Voters: 79. You may not vote on this poll
I love hendo dont get me wrong. Hes on my top 10 list of fighters but what does he have left to prove? Why not go over to strikeforce and help them?
---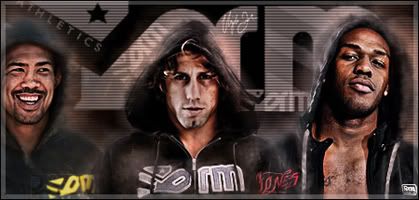 "Im probably better off down there on my knees anyway" -Dick Diaz
Henderson was a top 5 MW (arguably #2 MW of the world) when he left the UFC and the MW division didn't really change since then. In short, yes I want him back, but first I want to see him fight all the Strikeforce MWs.
---
Rookie Hammer Squad 2015
Frankie Edgar - Dominick Cruz - Jorge Masvidal - Cat Zingano - Holly Holm
Megaweight
Join Date: Mar 2007
Posts: 5,499
Yes, Dan Henderson only improves the quality of the UFC MW. Plus he KO'ed Bisping and we don't get to see that highlight too often anymore. Clearly they would show it in his intro's when they talk about his KO power.
Colossal-weight
Join Date: Jan 2010
Posts: 9,844
Yea, I love me some Hendo. Just a legend, tough guy. Love fighters that fight well and are competitive approaching or at 40 years of age.

Go figure I'm only 24. I just respect them. Marquardt, Wandy, Forrest, Thiago Silva...who wouldn't want to see these matchups?

To me he is an American version of Wandy. Pride great, past their prime, but love to put on a show. I still think he could compete for a title at MW if Anderson ever moved up.
Banned
Join Date: Aug 2007
Location: banned
Posts: 0
I voted No, unless Danny gets better in the cage. That will come when he is healed correctly, if he continues on this path he will ruin his career in my opinion...
Quote:
I voted No, unless Danny gets better in the cage. That will come when he is healed correctly, if he continues on this path he will ruin his career in my opinion...
This is true, but if he can get healthy I definitely want Hendo back he's one of the best eva.

Join Date: Apr 2010
Location: Following The Path To Jesus Set By His Disciple Vitor Belfort
Posts: 5,111
I voted yes but i do like him in strikeforce as there are some interesting fights at 185 and 205
---
Amateur
Join Date: Oct 2010
Posts: 173
I put dont care mostly cuz I think there are enough fights outside of the UFC to keep him busy until retirement.

He got released from the UFC due to demanding too much money, He's one of few fighters that will make more money fighting for SF than the UFC.
Quote:
Originally Posted by
KillerShark1985
View Post
Time will tell on that one, there are a ton of good fights for him that are in no way defo wins for him, its a shame the title is in the way of my personal fav one at the moment which is Kyle vs Henderson, but I would love to see him fight King Mo also and the new find Ferguson vs Hendo would be very interesting snd I don't think any of those fights are definite wins for Hendo, throw in Mousasi and OSP who would be another interesting one as would Prangley, add Gracie to the mix then you have well over half the SF LHW division that in now way woudl be an easy win for Hendo making your 99% theory seem very ridiculous.

Anyway out of this I think great fights for Hendo in that division, top 3 in order are

1. Mike Kyle
2. King Mo
3. Prangley or Ferguson


To be honest I kind of hope Hendo loses to Feijao and Mousasi beats Kyle even tho I like all fighters involved in this 4 way equasion, so then I will get the fights I really want to see like Feijao vs Mousasi for the title and Hendo will be free from the title picture at least for enough time to hopefully see him fight fighters from the list above.
Yea time will tell, and i think Hendo is going to do GREAT against those guys, King Mo i dont see what he can bring to the table, Hendo doesn't get held down to much at LHW, and his striking doesn't scare me, i think Mousasi is a interesting fight, and i wouldn't say Hendo would KILL him, but for sure win.
But u have a valid point about Hendo not being able to KILL 99% of the guys, more like 95% lol
---
Sig credit to my Homie! limba!
Uncrowned P4P Kingpin
Jon "Bones" Jones
WAR ANTHONY PETTIS! WAR HENDERSON!
im not a fan of hendo.... everyone knows he just loads up on that right hand yet they still get caught.... i guess he's doing something right though
Currently Active Users Viewing This Thread: 1

(0 members and 1 guests)
Posting Rules

You may post new threads

You may post replies

You may not post attachments

You may not edit your posts

---

HTML code is Off

---