MMA Fanatic
Join Date: Jan 2011
Posts: 1
Matt Hughes helps Penn train for Fitch
---
"In a remarkable turnaround, long time welterweight champion, Matt Hughes is on a plane to Hawaii to help rival for many a year inside the octagon, B.J. Penn prepare for his UFC 127 bout against Jon Fitch at the end of next month."
Posting via his personal site, Penn said:
"One thing is for sure about Hughes!! He's coming to help me train for Fitch!"
-Matt Hughes heads to Hawaii to help B.J. Penn prepare for Fitch | UFC/MMA News In One Place | MMABay: Powered by TapouT
Im not sure how much bj can learn from hughes regarding wrestling when he has a hard time taking bj down, but hopefully hughes work ethic rubs off on bj and trains really hard for fitch .. either that or they might spark another feud lol
---
A complete MMA workout program to develop 1 punch knockout power
. -
Learn More
Interesting to finally see them both put the feud to the side. Over the years Ive grown to hate both of them on a personal level, but as fighters I have much respect for both.

I think both fighters will learn from one another, however I believe Fitch is still the favourite to win this one. His size, strength, grit and cardio will be too much to overcome in my opinion.
---
Always Supporting Fighters That Fight to Finish or be Finished

Edson Barboza
Jose Aldo
Conor McGregor
Nate Diaz
Donald Cerrone
Gabriel Gonzaga
Brandon Thatch

Regardless, Hughes and Fitch wrestle differently and use their wresting in MMA towards different goals.
MMA Fanatic
Join Date: May 2010
Posts: 19
WOW this is remarkable news! Post really caught my eye like none other for a while....I'm looking forward to this fight even more now..I was wondering if BJ was going take this matchup as seriously as its hyped up to be..... I think he realizes that with his win over Hughes & a convincing win over Fitch it will put him right in title contention, and most likely next up to challenge for the belt @ WW
I like Jon Fitch, but as a fighter he really rubs me the wrong way...his fighting style just isn't the kind I like to watch especially because its never any different, he needs to mix things up rather than the safe "grinder" type he is-- that being said I want to see nothing more than BJ Penn coming in hungry and putting a stamp on the 170lb division...GSP and Edgar are the only guys that really have the answer to beating him and lets be honest Jon Fitch is not on that level,, but dont get it twisted Fitch's takedowns are butter.......but only more genius BJ settled things with Hughes and brings him into prepare for the match!
I love this fight, i dont think it will disappoint....
---
Top Fighters
Anderson "The Spider" Silva
Paulo Thiago
Jon "Bones" Jones
Georges "Rush" St.Pierre
Featherweight
Join Date: Apr 2010
Posts: 1,191
i thought it was pretty apparent prior to their rubbermatch that there was no beef at all, not an ill word was spoken and they seemed almost like friends before that. This doesn't surprise me
o.O
nice!
but still...
---
If a law is unjust, a man is not only right to disobey it, he is obligated to do so. ~ Thomas Jefferson
Sig by D.P.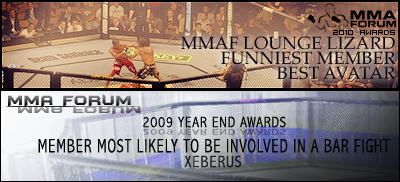 wow that's what i call news, i was predicting Bj to win this one but now with hughes helping him should be a fun fight
Currently Active Users Viewing This Thread: 1

(0 members and 1 guests)
Posting Rules

You may post new threads

You may post replies

You may not post attachments

You may not edit your posts

---

HTML code is Off

---