View Poll Results

: Who will win?

BJ Penn
34
50.00%
Jon Fitch
34
50.00%
Voters: 68. You may not vote on this poll
i used to be much more excited when BJ was fighting, but after seeing how he could not solve the Edgar riddle, it has deflated some.

but if he could pull this off tonight, im sure i will be right back on the bandwagon.

BJ needs to win to win me over completely.
His right leg looks noticeably favored in the weigh ins... and the baggy jeans -- hiding a wrapped leg, perhaps? I f*cking hope not!
All made even weirder by the fact that a couple days ago in Dana's video blog, Penn looked fine walking down the street.
http://www.youtube.com/watch?v=eE9hTaPC4lw
Probably nothing to make a deal out of... cant imagine him doing anything intense enough in the past few days to blow his leg out...
---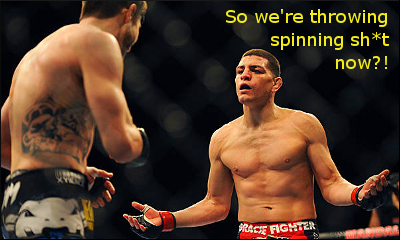 ---
Last edited by SigFig; 02-26-2011 at

08:54 PM

.

Join Date: Apr 2010
Location: Gods country
Posts: 4,524
I had a good friend tear two knee ligaments slipping on a curb and I've rolled my bad ankle just walking incorrectly. Stranger things have happened
I think you guys are making to much about nothing, it just looks awkward cause BJ steps on the guy foot.

I am very intrigued by this bout because BJ looks legit intense like when he fought Florian and Diego, not that false bravado big talk like when he fought GSP and Edgar were it seems he is trying to convince himself as much as anyone else.
---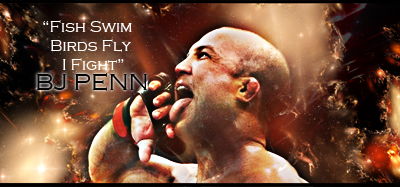 "If you get hit and it hurts hit him back you not knocked out yet."-Joe Doerksen
The Toxic Terrors (FFL)
Demetrious Johnson*Eduardo Dantas*Emanuel Newton*Will Brooks*Michael Page
Agreed Toxic...

I was just looking for any betting edge I could find ;p
---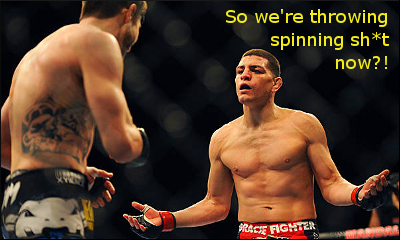 Looking at that GIF, it does look like his right leg is not correct. He's not bending it all when he walks and is keeping it straight.

I really hope the GIF just looks off and it's nothing.
Am I the only one who thinks Fitch is going to outstrike Penn? I don't think he'll rock Penn or anything like that but I do think he will be the better striker. His striking looked amazing against Alves, and Alves is much better standing than Penn.
---
Will make predictions for credits. Please, I'm so broke.
Sitch definitely looks smaller than usual.
At least that's what i think!
I don't thinj he is bigger than 180-182.

If he doesn't get BJ down he could have problems!
---
.
BELIEVE!
Bantamweight
Join Date: Sep 2009
Posts: 651
I have some credits on the line with Fitch. But I wouldn't mind losing them. Not a big fan of his, just making the "smart" choice.

Fitch by decision. He is going to be outweighing Penn by at least 20 pounds I bet.
MMA Fanatic
Join Date: Mar 2010
Posts: 64
BJ's stare is so damn intimidating.
Currently Active Users Viewing This Thread: 1

(0 members and 1 guests)
Posting Rules

You may post new threads

You may post replies

You may not post attachments

You may not edit your posts

---

HTML code is Off

---