View Poll Results

: Who's the P4P best fighter from the US.

Cain
17
26.98%
Fitch
10
15.87%
Shields
6
9.52%
Edgar
16
25.40%
Maynard
0
0%
Penn
14
22.22%
Voters: 63. You may not vote on this poll
I'm protesting this poll till Rob Emerson is given his rightful place on the board.
Homicidal Maniac

Join Date: Apr 2007
Location: Houston, Texas
Posts: 6,193
Quote:
I'm protesting this poll till Rob Emerson is given his rightful place on the board.
all hail
---
Over! 2,000,000 Views!
At first I was like GSP.. north american anyways... x.X
canada is our friendly neighbor to the north, aye. ;D
they gave us pamela anderson, gsp and shitty ketchup
---
If a law is unjust, a man is not only right to disobey it, he is obligated to do so. ~ Thomas Jefferson
Sig by D.P.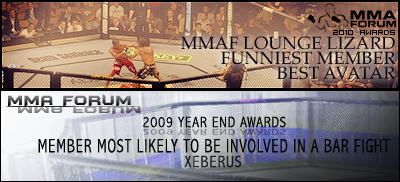 Join Date: Apr 2010
Location: Following The Path To Jesus Set By His Disciple Vitor Belfort
Posts: 5,111
Penn or Edgar Easily.

P4P was originally created for basis on all-around skillset and not many have the set that those two possess.

Maynard = Powerful wrestler with good hands,cardio

Fitch = Powerful grappler with seemingly impenetrable Sub-Defense and striking good enough to stand long enough to get the takedown,Cardio

Penn = BJJ ace with great striking as well as great Defensive(and Offensive when he wants to show it)wrestling.

Edgar = Crisp technical boxing with the best footwork in MMA and a fantastic All-Around wrestler,Cardio.

Cain = Good striker,Great All-Around Wrestling with cardio for days.


Imagine shogun with Edgars skillset darting in and out with his strikes and being able to put more fighters on the ground so he can use his brutal GnP
---
Quote:
While some countries have a clear P4P best mma fighter like Brazil (Silva), Canada (GSP) Netherlands (Reem), Australia (Sotiropoulos), Denmark (Kampmann), South Korea (Stun Gun) or Russia (Fedor).



Other countries are certainly up for grabs like Japan where you can consider guys like Shinya Aoki, Yushin Okami and Hatsu Hioki and England who has Bisping and Daley in pretty good standing.

But for me it has always been hard to determine who the best US fighter is, a while ago Penn had a good argument when he steam rolled his LW competition in Stevenson, Sherk, Sanchez and Florian, but after 2 consecutive losses against Frankie Edgar it's the New Jersey kid the one with a bigger argument and there's also Gray Maynard who has also built a pretty good resume.

A win over longtime WW Contender Jon Fitch would certainly put Penn back on the discusion but Fitch credentials are good enough to make him a candidate for best US fighter.

Jake Shields could also make a bid here, he holds solid wins over both WW and MW fighters and has build a solid streak, if he can topple GSP he certainly becomes number 1 not only in america but pretty much worldwide with Anderson being his only competition.

And last but not least you just can't leave out UFC HW Champion Cain Velasquez, though he does seem to consider himself Mexican....oh well.

So at this point in time, who do you consider the best P4P fighter?
I think right now it's either Edgar or Velasquez.
I voted Edgar purely because his style is less focused on strength, but there isn't much in it.
Quote:
Originally Posted by edlavis88
Reem is technically English... please let us have him!
Quote:
you can have him if we can have lombard because he is aussie-cuban lol
IMO it's all about at how the fighter presents himself.
---
Lightweight
Join Date: Dec 2008
Posts: 1,651
i think based on current records its shields...but cain makes a strong case actually being the HW champ...edgar is also right up there but he still needs to beat maynard
Currently Active Users Viewing This Thread: 1

(0 members and 1 guests)
Posting Rules

You may post new threads

You may post replies

You may not post attachments

You may not edit your posts

---

HTML code is Off

---