MMA Fanatic
Join Date: Feb 2011
Posts: 35
Quote:
He'll never get the title shot, he will face a great opponent next and loose like a woman.
OR
He gets a shot with AS, and then we shall see bisping crying like a baby "MAMA MAMA"
In my experience women rarely ever lose. I would be surprised if Disprin ever got a title shot though. Giving him one would be tantamount to admitting the middleweight division lacks depth.
You know what's messed up.. Bisping looked like he was gonna throw another knee after the first one if the ref didn't stop it..
---
I done wrestled with an alligator, I done tussled with a whale;
handcuffed lightning, thrown thunder in jail;
only last week, I murdered a rock, injured a stone, hospitalized a brick;
I'm so mean I make medicine sick."
- Muhammad Ali, 1974.
I think it looks more like he was keeping his legs away from Rivera so he can't take him down.

No doubt that the knee was both intentional and illegal.

Bisping would have lost that fight if Jorge wasn't such a warrior...Bisping probably knew even an illegal blow like that wouldn't make Jorge quit, unlike Bisping, he has fans that he doesn't want to let down.
---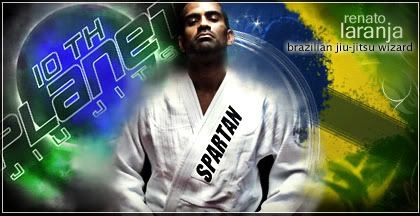 "You have a big word for a guy who don't have a gi right now." - Renato Laranja
Quote:
Hopefully they make Bisping fight Falcao, Marquardt, or Paul Harris next. Tht'd be awesome. & thank god that guy got BAND.
I'd be willing to bet all three of those guys would beat Bisping. If Bisping had trouble with a guy like Rivera, even after that illegal knee, he wouldn't stand a chance against those guys.
---
Will make predictions for credits. Please, I'm so broke.
I'm guessing he'll fight Okami next, assuming Okami doesn't get his title shot and has to wait for Silva vs. GSP.
Quote:
Bisping created false memories...ad=fter the fight he went up to jorge and said "dont ever talk shit about my family" idk where he got that from
I loved him on tuf 3 but after a few fights i started to dislike him and now i bloody hate him after this...I really think he intentionally threw that knew I mean come on he was on the ground for 5 seconds!
The family remark is because Bisping thought that Rivera saying something like, 'Over 80% of the koalas in Australia have chlamydia. So, Michael...' implied that Bisping's girlfriend/fiancée was a koala with chlamydia.
Though honestly, I've jokingly accused people of bestiality lots of times, but it was never about their girlfriends... Just about them being sick enough to have sex with donkeys/pigs/dogs/fish etc. So I'm not sure his conclusion actually follows.
---
Some people think that they can convey either a philosophy on life or a complex political statement using a signature on the internet. I'm not one of them.

Bisping's reaction after the fight was in very poor taste. Ok adrenaline is high and he was clearly euphoric to have beat the guy...but that was it, his fists had done the talking no need what so ever to go over there and say shit in his annoying accent.

Even if he felt Rivera had crossed a line with the things he said, you beat him, finished him at that....punched him so many times he couldn't even defend himself and the ref had to save him. What more can you achieve by trash talking after the fight? You had said everything that needed to be said by TKO'ing the guy, leave it at that.

The illegal knee was bad enough, outrageous and by all rights he could have lost the fight because of it (he should be thankful Rivera manned up and carried on) he put the guy away in pretty convincing fashion at the end...I really don't understand the actions post fight, it was trashy and classless in the fashion Brock did post Mir victory.

Bisping let himself down big time after the fight ended, but truth be told Bisping just raised his profile again, more people will now wanna see him get ko'd which means more people will pay to watch him fight which means he will be a bigger name and bigger draw in the sport (often the 'HEEL' character is equally as important, more so even, than the fan's hero when it comes to promoting and selling fights)
Man i used to dislike dan henderon for landing that second ounch after koing bisping. But now good for henderson, bisping is a punk. If i understood his accent he would be the british diaz.
Now would actually be a perfect time to give Bisping a title shot.

Both him and Silva have just fought so would need similar periods of rest before their next fight.

There is no obvious contender who can beat Silva so the UFC need to look to other ways to sell a Silva fight.

Bisping, having won last night he is on a streak and can at least be sold as a creditable challenger, plus he has a decent fan base in UK and even more people who would pay to watch him get KO'd (something most would assume likely if he faced Silva)

Not to mention Silva has recently commented about desiring a fight with Bisping (showing the Champion respects him and it is a worthy fight etc)

In fact it would not surprise me one bit if the UFC planned Bisping to be Anderson's next defense and this is why they gave him Rivera instead of someone who could beat him, had Anderson talk up the fight to make it seem worthy and sell the Rivera fight with trash talk (even though it was obviously a mismatch)

I would not be at all shocked if the next MW title fight was Sliva vs Bisping in London
Currently Active Users Viewing This Thread: 1

(0 members and 1 guests)
Posting Rules

You may post new threads

You may post replies

You may not post attachments

You may not edit your posts

---

HTML code is Off

---