View Poll Results

: Who will win?

Diego Sanchez
10
34.48%
Martin Kampmann
19
65.52%
Voters: 29. You may not vote on this poll
I don't think 'Nightmare' has enough for Kampmann. IMO, Kampmann is top 10 WW. He is really well rounded, and I still stand by that he was robbed vs Shields! Go Kampmann!
Banned
Join Date: Apr 2009
Location: Manchester
Posts: 5,115
Diegos last two rounds against Thiago were far more impressive than Kampmans 3 rounds against Thiago.

People are under rating Diegos grappling big time here and his scrambles. He's under rated from his back and has great scrambles. Look how well he did against Fitch

Kampmann has a slight advantage in the stand up but not a huge one.

Tough one to call, but i'm taking Diego.
Join Date: Jun 2009
Posts: 20,849
Diego's grappling is hugely underrated. I have to agree there.
---
Gotta go with Kampmann, but if I see a 'yes slam' I'm switching instantly.
---
Quote:
Originally Posted by Sonnen
@sonnench
30 min to cement your legacy. Champ or Coward? I make a lot more than you do... Show up in 8 days I'll give you my purse.
Quote:
Originally Posted by Bisping
@bisping
Jones said he's not fighting chael on 8 days notice. I did. .... Just sayin
MMA Fanatic
Join Date: Oct 2010
Posts: 3
Sanchez will win this. I expect he does. He is mentally ready, he is back on good training with GJ. He wants to prove he can fight, he wants this more than Kampman
I believe the only way for Sanchez to win is to be ultra aggressive with his wrestling and confuse Martin with striking and takes downs each round , if it turns into a striking only battle i believe Martin will end him.
---
Bisping Fan extraordinaire
Velasquez will be back
Got to go with Kampmann here, can;t seehow he loses this.
---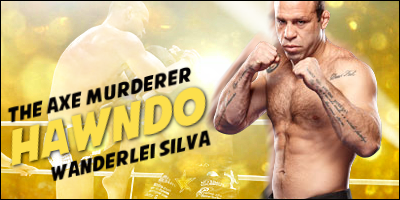 Thanks to Leakler for the sig
Kampmann is better than Sanchez at everything. Sanchez's only hope is to use his ridiculous gas tank to somehow win a decision. Don't see that happening though.
---
Will make predictions for credits. Please, I'm so broke.
Kampann has the worst game plans ever!
1. he had a huge advantage in grappling against Daley and he decided to strike with him = knocked out!
2 he had an obvious striking advantage against Shields + he rocked him a couple of times, send him down with a powerful knee - basically he was dominating on the feet - and he decided to fight on the ground = loss.

Fair to say, Kampmann really did a cr**py job with his game plans!

Diego is pretty unpredictable, but you can't deny the heart and the determination rhus guy posesses.


I expect Diego to take Kampann down repeatedly and work some GnP, en route to a UD.
---
.
BELIEVE!
Banned
Join Date: Aug 2010
Location: Idaho
Posts: 2,848
I agree that Kampmann is better in just about every facet against Diego, except in one huge aspect.

Fight IQ.

I like Kampmann, and I think he has the tools to be a top 5 welterweight physically, but I think only Mike Thomas Brown, Leonard Garcia, and Dan Henderson rival Kampmann is terms of extremely low fight IQ. This is where Diego will win.

I'll never root for Diego, and he's one of my least favorite fighters, but if there is something he does have, it's an iron chin and incredible heart. He'll be able to bully Kampmann with his pace, and Kampmann will play right into the gameplan that Greg Jackson sets to work against him.

I see Diego taking a second round stoppage, or a decision win.
Currently Active Users Viewing This Thread: 1

(0 members and 1 guests)
Posting Rules

You may post new threads

You may post replies

You may not post attachments

You may not edit your posts

---

HTML code is Off

---