Amatuer
Join Date: Nov 2006
Posts: 123
i understand rampage didnt want liddell right away, but he's won 4 fights in a row now, has beaten liddell before and just knocked the **** out of eastman, fought some of the best fighters in the world and now you think he needs time? CMON!, he's a professional, he should have known he would face liddell again sooner or later, he's had plenty of time to work on his striking and if this fight is definate, he has 3 n' a half months to get ready, almost 4 months, thats a lot of time to get prepared...i read somewhere else n' they said rampage must have signed another contract because the ufc doesnt give title shots to ppl who have 1 fight left on their contract (i.e. Brandon Vera) either way, liddell wins and rampage can still come back
Rampage said he wanted another fight before Lidell
I hope this is a false rumor. I want to see Iceman vs. Rampage 2 as much as the next guy, but Rampage needs at least 1 more fight before that.
---

Self-proclaimed leader of the Bao Quach bandwagon
On the Handsome bandwagon
It's Hellga time!

I still think that he needs to have one more fight at least before he gets a title shot. IT seems like the UFC is just giving them out to people that are coming in from other organizations.

I like Rampage and I think that it will be a great fight when it happens. But I would like to see him fight Tito/Vera/Kongo/Babalu first. Something that can help the fans that don't know him see what he's all about and why he deserves the shot at the title.

Let's face it, it's all about money and he's going to bring viewers to the PPVs before he fights Liddell. If he gets KOed by the Iceman, his draw with the UFC fans might not be as much.
---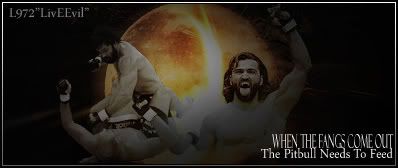 MMA Fanatic
Join Date: Feb 2007
Location: toronto
Posts: 23
I don't personally think rampage can beat Chuck. But if he does I'd like to see the reaction on Dana's face. It probably look like this-
Wow rampage needs one more fight he nneeds 2 more fights... quit making so many excuses. Hes a professional fighter and has been fighting for how long? Dont give me that Cage switch over bullshit either because Cro Cop isnt complaining he would take a title fight if he was given the chance he just said its up the the UFC. Now whe liddel Wins people are gonna make a thousand excuses saying "Rampage needed more fights. Rampage this Rampage that" HES A PROFESSIOAL FIGHTER and has been fighting for how long? If he is so called "Rusty" then he isnt a professional fighter because he should be training and be prepared. Look at Cro Cop hes in the parliament, hes part of a ANTI Terrorist unit and he fights. You dont see him *****ing about needing fights do you?
Currently Active Users Viewing This Thread: 1

(0 members and 1 guests)
Posting Rules

You may post new threads

You may post replies

You may not post attachments

You may not edit your posts

---

HTML code is Off

---