Diego is a warrior. I had him winning the fight as well even though it was very close. I thought Kampmann won the 1st round handily. Sanchez won the 2nd by a small margin and Sanchez winning the 3rd by a little more than the 2nd. He just got stronger throughout the fight while Kampmann got weaker.

Side note did anybody else notice how fat Diego looked. If he is going to stay at 170 he needs to put on muscle not fat. He looked slow and weak out there for half the fight.
---
Top 10 Favorite Active Fighters
Anderson Silva
Jon Jones
Anthony Pettis
Pat Barry
Matt Mitrione
Gunnar Nelson
Mark Hunt
Carlos Condit
Chris Weidman
Rory MacDonald
MMA Fanatic
Join Date: May 2007
Posts: 56
he was a little pudgy for that weight class.

It was a great fight. Sanchez kept coming is what I have been see was the reason he won, but he also was getting tagged and taking some damage. It is like the counter striker argument or the blocked take down is as good as a successful take down. The failed sub attempt vs defense of that sub attempt.
I had KM winning but that is why they tell them not to let it go to the judges.

Still a great fight.
Diego is going to be a bloody mess in just about every fight moving forward now. He now has too much scar tissue on his face to rip open really easily. Between what BJ did to him, and now Kampmann opening up new cuts we should expect to see a great deal of these bloody mess photos moving forward.
Dude looked worse than Rocky in 1-5 all combined !

Definitely seemed a bit lacking condition wise, but not in endurance. He just seemed a bit slower right from the start, his takedown attempts weren't on par with what they have been in the past, speed wise.
Join Date: Jun 2009
Posts: 20,899
I love me some Diego. That guy will NEVER quit.
man that fight was something else.

pure awesomeness by both foghters.

And thanks for the great video. Of ourse he's crazy. After a fight like this you are still pumped up full of adrenalin.

They deserved the bonus big time!
Diego was at 170lbs at UFC 121 versus Paulo Thiago, and iirc, he was much more fit... but ya know what... the added bf didn't seem to affect his unrelenting cardio, so whatever works, I guess. I'm sure Roy Nelson would agree as well ;p
---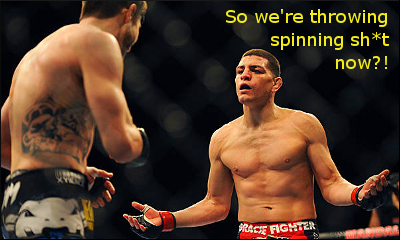 I dunno. Sanchez didn't look like himself in that fight. He was a bit pudgy and didn't seem to have his edge to him. I think he won but he still seemed off. Wish he could get back to his early days where he would just rush people with unrelenting cardio and dominate them =(
---
Favorite fighters
1. Jens Pulver
2. Diego Sanchez
3. Chuck Liddell
4. Dan Henderson
5. Jason Von Flue
6. Chris Lytle
Bantamweight
Join Date: Feb 2009
Posts: 864
amazing stuff. those pictures are absolutely balls!
Currently Active Users Viewing This Thread: 1

(0 members and 1 guests)
Posting Rules

You may post new threads

You may post replies

You may not post attachments

You may not edit your posts

---

HTML code is Off

---