Sherdog Heavyweight Rankings?
---
Anyone think this is a joke?
Quote:
Heavyweight

1. Cain Velasquez (9-0)
The hope was that Velasquez would make the first defense of his UFC heavyweight title in April or May against Junior dos Santos. However, rehab did not mend his torn rotator cuff, and surgery became a necessity. Therefore, the first defense of the new champion will likely come this summer -- or later.

2. Brock Lesnar (5-2)
Recluse? What recluse? The infamously standoffish Lesnar is now in the middle of taping the 13th season of "The Ultimate Fighter," where he will coach against Junior dos Santos. The season will set up a high-stakes heavyweight clash between the two, likely on June 11 at UFC 131, which might mark the UFC's return to Vancouver, British Columbia, Canada.

3. Fabricio Werdum (14-4-1)
Werdum is no longer the only man to have bested Fedor Emelianenko fair and square, but the Brazilian's shocking June 2010 triangle armbar win over the "Last Emperor" remains a momentous achievement. On the mend from elbow surgery since that time, "Vai Cavalo" now awaits a date for his Strikeforce heavyweight grand prix quarterfinal with Alistair Overeem, whom Werdum submitted in 2006. Originally slated to meet on April 9, the match is now rumored to take place June 18 in Dallas.

4. Junior dos Santos (12-1)
Rather than wait for UFC heavyweight champion Cain Velasquez to heal from his rotator cuff injury, "Cigano" has opted to stay active. Dos Santos will coach opposite Brock Lesnar on the 13th season of "The Ultimate Fighter," culminating in a clash between the two heavyweights, tentatively scheduled for UFC 131 on June 11.

5. Shane Carwin (12-1)
Carwin was scheduled to face "The Ultimate Fighter" Season 10 winner Roy Nelson at UFC 125 on Jan. 1. However, due to ongoing spinal problems, he opted for surgery. After a successful procedure, the Colorado native has returned to training and now eyes a purported bout with Cheick Kongo at UFC 131.

6. Frank Mir (14-5)
After a rumored fight with hot heavyweight prospect Brendan Schaub fell through, Mir has signed on to meet former International Fight League champion Roy Nelson at UFC 130 on May 28. The pair has a history, as Nelson previously defeated Mir in a grappling match at a North American Grappling Association event.

7. Antonio Silva (16-2)
When he burst on the scene in 2005, many hypothesized that Silva was the man to topple Fedor Emelianenko. The stakes changed, but on Feb. 12 in the Meadowlands, that is exactly what happened. "Pezao" pounded the legendary Russian, forcing a doctor stoppage after the second frame and punching his ticket to the semifinals of Strikeforce's heavyweight grand prix.

8. Fedor Emelianenko (31-3, 1 NC)
It might go down as the last time we saw "The Last Emperor." On Feb. 12 in East Rutherford, N.J., Emelianenko was battered by Antonio Silva, and the Russian, unable to see out of his right eye, was halted by the ringside physician after the second round. Following the bout, Emelianenko indicated retirement was a definite possibility -- a decision that would end the career of the greatest MMA heavyweight of all-time.

9. Alistair Overeem (34-11, 1 NC)
Having sufficiently terrorized the Japanese scene in both Dream and K-1 -- where he won gold in the world's most prestigious kickboxing tournament last year -- the "Demolition Man" has set his sights on defending his Strikeforce crown in 2011. Overeem has looked invincible of late, with his last eight MMA wins coming inside the first round, many in under two minutes. Looking to halt the Dutchman's streak in the Strikeforce heavyweight grand prix quarterfinals will be Werdum, who forced Overeem to tap to a kimura in their 2006 Pride meeting.

10. Roy Nelson (15-5)
While "Big Country" suffered a decision loss at the hands of Junior dos Santos in his last outing, the "Ultimate Fighter" Season 10 winner's previous two Octagon appearances saw him knock out a pair of the promotion's top heavyweight prospects, Stefan Struve and Brendan Schaub. His contractual hurdles now apparently cleared, Nelson is set to meet former champion Frank Mir at UFC 130 on May 28.
How is Werdum above the guy that knocked him out easily? Not to mention how Overeem is 9 while Mir is number 5. This is all BS.
Even on the P4P list, the number 1 spot switches between GSP and AS depending on who most recently won a fight. What a joke.
---
Top 3 Best P4P List:
1. Anderson "The Spider" Silva
2. Jose Aldo
3. Georges "Rush" St. Pierre

Proud Supporter of:
FW- Jose Aldo
LW- Clay Guida
WW- Thiago Alves
MW- Anderson Silva
LH- Lyoto Machida
HW- Junior dos Santos
You're more concerned with Werdum's ranking rather than Lesnar's............Werdum for one has better wins than Junior and yea while i have Junior ahead its not a travesty , well as Brock being considered the 2nd best HW in the world after his last 2 fights is.
---
Bisping Fan extraordinaire
Velasquez will be back
Lightweight
Join Date: May 2010
Location: Philippines
Posts: 1,669
If (and likely when) Overeem beats Werdum does he shoot up to #2 or #1?

Also, I think Antonio Silva won't last a round with the Reem - like easy first round TKO/KO - his career first.
I'd flip JDS/Lesnar and Mir/Overeem that would make the list okay.

Lesnar is facing his fourth top ten opponent in a row so having him drop below anyone other than Werdum or JDS doesn't seem right to me.
Banned
Join Date: Feb 2011
Posts: 336
Quote:
If (and likely when) Overeem beats Werdum does he shoot up to #2 or #1?

Also, I think Antonio Silva won't last a round with the Reem - like easy first round TKO/KO - his career first.
like cops always say, its not what you think, its what you can PROVE.
Overeem has proven little to nothing at HW except he can beat fringe top 20 guys like Rogers and Duffee.
Meanwhile Silva is is 19-2 (should be 19-1, Pele stopppage was pure bogus) all at HW with a win over a top 5.
Silva is rightfully ranked above Overeem.
Bantamweight
Join Date: Feb 2009
Posts: 864
how is fedor over overeen? wtf.
lol @ Lesnar.

No, just no. No way is he number 2.

Rankings are pretty screwed right there.
---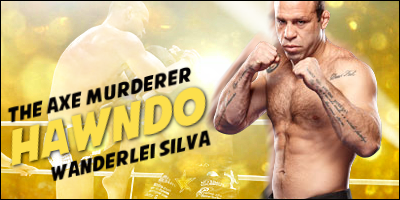 Thanks to Leakler for the sig
Velasquez
Dos Santos
Werdum
Lesnar
Ubereem
Silva
Carwin
Emelianenko
Mir
Nelson

That'd be my Top 10.
---
Proudly Supporting
Dan Hardy
Conor McGregor
Michael Bisping
Donald Cerrone
Chael Sonnen
Demetrious Johnson
Joe Lauzon
Nick Diaz

Flyweight
Join Date: Nov 2010
Posts: 324
Sherdog is a joke. The real rankings should be.

1. Velasquez.
2. Dos Santos.
3. Werdum
4. Overeem
5. Lesnar
6. Mir
7. Carwin
8. Bigfoot
9. Schaub
10. Fedor
---
Always rooting for: Bisping, Shogun, Jon Jones, Daley, Hardy, Sonnen, Fedor, Couture, Jacare.
Currently Active Users Viewing This Thread: 1

(0 members and 1 guests)
Posting Rules

You may post new threads

You may post replies

You may not post attachments

You may not edit your posts

---

HTML code is Off

---