Quote:
Really? I never got that perception from Bloody Elbow. I always assumed they were generally reliable.
They post a lot of links to stories by MMAjunkie, MMAweekly, Sherdog, Yahoo, etc. but their original stuff is crap. And Snowden is by far the worst.
---
Some people think that they can convey either a philosophy on life or a complex political statement using a signature on the internet. I'm not one of them.

Heavyweight

Join Date: Sep 2007
Posts: 3,705
The general public likely doesnt care that the UFC bought out SF, UFC doesn't have the fanabse of the NFL or NCAA basketball yet. ESPN also came into the mix fairly late compared to everyone else, so for them to expect to get first shot on announcements is a stretch.
Featherweight
Join Date: Aug 2009
Posts: 1,297
Really fishy that Dana wouldn't go to ESPN and tell them. It is pretty big news actually lol
Bantamweight
Join Date: Feb 2010
Posts: 780
I certaintly see why they are upset about this, considering here i am just checking in again after another disapearence and had no idea that the UFC had purchased SF...

and does this mean that Dana has finally captured his white whale in Fedor?
---
special thanks to
Matt Hughes
Rashad Evans
Shane Carwin
Anderson Silva
and of course Gray Maynard
NPFFL: JDS, Bisping, Rampage, Kampmann
---
Last edited by Syxx Paq; 03-13-2011 at

08:19 PM

.
Flyweight
Join Date: Mar 2010
Posts: 234
Dana and Zuffa might not want to get Strikeforces name out there any more than they have to. If their plan is to dissolve SF in a year or two, then they don't want to make SF out to be a big deal.
---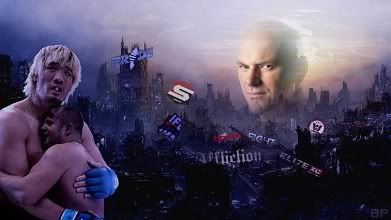 Sig Credit: Unknown
Quote:
Dana and Zuffa might not want to get Strikeforces name out there any more than they have to. If their plan is to dissolve SF in a year or two, then they don't want to make SF out to be a big deal.
Brush up on your photoshop skills Frodo... theres another scalp to tack onto your sig!
( for the record, I dont think they will dissolve them. But thats another conversation. )
As for ESPN. Damn right they are mad. they have thier own sports news programs to take care of. They pay the UFC to show thier shit. They are partners.
To compare it to SKY. If a premier league football team had some huge breaking news, SKY would be fecking pissed if they didnt tell them before announcing it to other news outlets. So they should be. They pay the fecking teams enough money.
Ok, so ESPN are not such a big deal, but they represent the UK market and no doubt pay the UFC a tidy sum of cash. To not get CC'd in the first batch of emails is embarrassing. Basically, this shows that ESPN's standing is not very high and the UFC has other plans for the future.
I hate SKY. Please dont go to SKY. Pleeeeeeeease.
Megaweight
Join Date: Mar 2007
Posts: 5,499
1) ESPN doesn't give the UFC any real TV time to grow it's audience, so why give them a news breaking story that they would just add to their "In other sports" news show.
2) DW is Extremely smart to do it this way because ESPN is ******* slammed right now covering the NFL lockout, Getting ready for March Madness, NBA, and to a lesser extent but better covered than the UFC and MMA, Hocky finishing up it's season. Seriously, the news would have been broken after we found out who won the little league California tournament.
3) I am glad that DW is reaching out to MMA orgs to break news like this. It shows he does care about our fringe, elite, keyboard warrior, etc, people. He knows where we look for MMA news and he went there. I applaud him.

Maybe, just maybe, ESPN will finally give us 15 minutes a day to discuss MMA news and then they will get the big stories. My guess is it is unlikely.
Quote:
heh doesnt suprise me that ESPN would be mad at this, but with how MMA has basically been built by the internet and fan sites... UFC doesnt NEED ESPN, it can benefit for sure, but doesnt NEED ESPN. but yeah had ESPN gotten first dibs they woulda covered the shit outta this story, and woulda been even bigger.... kinda a shame, but what can ya do now.
Thought about it for a very brief second when he was being interviewed by Ariel, however I figured he was dealing with all outlets as well. Think the underlining goal was that he was giving back to the MMA community by not selling out so to speak. Again the UFC is where its at today because the management is very fan friendly and most importantly stick to its roots.
Quote:
Originally Posted by
Sambo de Amigo
View Post
ESPN shows all UFC events and everything UFC in the UK.

I think they kind of do need ESPN , considering that SKY Tv is the biggest sports network and they havent really put any serious offers to the UFC about UK showings. Right now ESPN is the connection to the UK , other than that they would have to go back to cable TV channels that DONT require subscriptions = less money .
ESPN along with other outlets will cover MMA more and more as the years go on. It's an inevitable scenario. It is interesting though how they revealed this breaking news story to Ariel Helwani. Shows how much they respect him. That kid is gonna do big things in the MMA media world...
Currently Active Users Viewing This Thread: 1

(0 members and 1 guests)
Posting Rules

You may post new threads

You may post replies

You may not post attachments

You may not edit your posts

---

HTML code is Off

---