That face says only one thing.

'Anderson Silva retires in 2011.'
Kind of looks like the photo itself is proportioned weird.
---
Will make predictions for credits. Please, I'm so broke.

Join Date: Apr 2010
Location: Gods country
Posts: 4,521
Chael looks big as hell! By the way Shields is standing, I'd say he agrees
Looks to me like it's random photoshops of people - I realise it probably isn't but how it looks to me.

And on topic yes - he looks a lot bigger.
---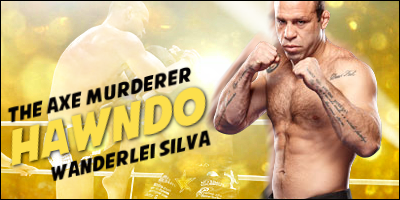 Thanks to Leakler for the sig
Heavyweight

Join Date: Sep 2007
Posts: 3,705
he looks fatter, look at that belly!
Join Date: Oct 2009
Location: Ohio
Posts: 2,719
Looks a lot bulkier but don't know how much is muscle and how much is the long layover and potential, "Can't believe I lost with 2 minutes left." depression.

Kinda looks like maybe there were after effects used on the picture. Kind of looks distorted a bit. Or maybe he was just shooped.
---
Sig courtesy of that photo-matic magician limba
Quote:
I went out the way that I fight. I went out on my shield. Thatís it. Done. --Chuck Liddell
Quote:
My goal is to end my opponent --Carlos Condit
Does look like there is something wrong with the picture.

Looking at the reflections off the matt it doest look photoshoped but what it does look like is someone took a smaller picture on the web and dragged the corners out on the picture to make it bigger.
---
"The fat man flies at midnight"
That's a panaroma lens photograph which is why it looks sort of disproportionate at either end.


But yeah wow Chael looks huge, his arms look 1.5x what they did before and he sure looks mean. I bet he's laughing that he was making that face in the picture, it's so uncharacteristic of him. Maybe he was about to sneeze, haha.


I don't think I've EVER seen Jake Shields in that good of shape either, wow.




edit: I bet Bisping peed a little when he saw this.
---
WAR CIGANO
sig credit to
Limba
lobster train.
Currently Active Users Viewing This Thread: 1

(0 members and 1 guests)
Posting Rules

You may post new threads

You may post replies

You may not post attachments

You may not edit your posts

---

HTML code is Off

---