Flyweight
Join Date: Sep 2010
Posts: 394
GSP isn't going to be able to do what he did to Koscheck and apply it to his fight against Shields. Koscheck limited himself to a standup fight. He nearly didn't go for as many take downs as he should have. That might have been a product of GSP's jab, but I really think GSP will have to let his hands go more because Shields will walk through those jabs. Shields won't shrink mentally like Kos and limit himself to standing up, which is what Kos did.
Bantamweight
Join Date: Mar 2009
Location: Ottawa
Posts: 937
Quote:
Strike with him a bit to make him think that's the plan, then take him down and beat the crap out of him from half guard and side control. Gas him out on the ground, beat him up in the standup some more, then take him back down for more ground & pound. Repeat till the fight is stopped or the 25 minutes are up.
My first thought was like everyone else, that GSP would keep it standing and outstrike Sheilds, but after I thought it over I've changed my mind, something like the above is exactly what is going to happen.
The Jackson camp always gameplans extremely well, and they know very well Sheilds will want to take the fight to the ground, and expects GSP to try and stand. We saw what happens when you surprise someone thinking like that in the Penn-Fitch fight. Fitch himself said he was shocked by Penns aggressiveness taking him down and wasn't ready for it.
Sheilds won't be either, and GSP can easily take him down, and maintain top control. He will not be concerned about Sheilds subbing him, nor should he be. Sheilds is good at BJJ, very good, but if you go back and look at his submission wins, almost all of them are from the top, against guys who suck hard on the ground.
Sheilds will be on the bottom, and GSP is not exactly easy to submit. Sheilds last two subs were Paul Daley and Robbie Lawlor, both are utterly useless on the ground. He couldn't sub Henderson with 4 rounds on top, was literally 2 seconds away from getting choked out by Miller, and should have lost to that ground wizard Kampmann.
GSP can and will outstrike Sheilds, but he won't be afraid to take Sheilds down, and he shouldn't be. If anyone gets subbed, it will be Sheilds.
Keep it standin and jab him the face for 5 rounds.
---
Member of the Anti-Fitching Society. Stop Fitching and Fitchery in MMA now!
-------FREE CHARLIE Z-------
FFL
'Roudy' Ronda Rousey, Fabricio Werdum, Vyacheslav Vasilevsky, Eric Koch, Alexander Sarnovsky
Sprawl and Brawl te first 2-3 rounds. If he doesn't finish him in the second or third, GSP will hit his own takedowns against a very will broken Shields.
Quote:
It wouldn't surprise me if GSP took Shields down like he does everybody else. I doubt he fears his bottom game.
I think the same. And his rolling a lot with Roger right now, his BJJ surely has improved somewhat for this fight. Sad day for Jake.
I could have sworn I commented about this fight already.

Inside leg kicks til he can't shoot or stand anymore. Mix it with jabs going high and low to confuse em. Shields will be worn down, but never out. Five round UD same as usual.
Strike, TD, Strike, TD, TD, Strike, TD, TD.

Shields is a good wrestler, if he knows GSP is gonna strike with him he will get the TD eventually.
Shields has a good ground game if GSP tries to lay and pray he could get swept.

Expect GSP to mix TD's and strikes so much as to frustrate and wear out Shields. Jake should have stayed at MW were he IMO was better suited.
---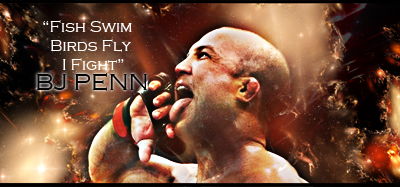 "If you get hit and it hurts hit him back you not knocked out yet."-Joe Doerksen
The Toxic Terrors (FFL)
Demetrious Johnson*Eduardo Dantas*Emanuel Newton*Will Brooks*Michael Page
MMA Fanatic
Join Date: Mar 2011
Posts: 14
Pick him apart on the feet. Mix in a few takedowns to keep him off balance. A lot of fans are predicting GSP to open up and KO him, but I think he's going to be cautious because of how good Shields is in scrambles.
MMA Fanatic
Join Date: Mar 2011
Posts: 14
I basically agree with Toxic. We're going to get to see GSP use more of his tools, but he really does not want to give Shields any openings to get on top.
I think Toxic is right. The problem is Shields is the first guy to have the BJJ and the size/strength/wrestling to reverse GSP's top control on the ground. GSP might end up worried about someone's ground game, who knows how he'll do then.
---
WAR CIGANO
sig credit to
Limba
lobster train.
Currently Active Users Viewing This Thread: 1

(0 members and 1 guests)
Posting Rules

You may post new threads

You may post replies

You may not post attachments

You may not edit your posts

---

HTML code is Off

---