View Poll Results

: Better chance at pulling off the upset?

Matt Lindland
2
13.33%
Matt Serra
13
86.67%
Voters: 15. You may not vote on this poll
Your logic is pretty good in my opinion. I never really thought of the 'cut' possibility (do they allow elbows in BoDog? I just watched the Brown Edwards fight but I cant remember).
serra is much closer to winning i doubt he will but lindland got no chance
---
Rep Me...I Will Rep You Back!
lindland and fedor are fighting? where the **** have i been!?!?! Well, id have to say i think Lindland has a better chance. SImply because he is the best MW and world class wrestler, i think he could give Fedor a little trouble, nothing fedor hasn't dealt with before.But serra is even worse off and wont be able to do s**t against Georges.
---
Favourite fighters:

1. Mirko Cro Cop
2. Rampage Jackson
3. Chuck Liddell
4. Anderson Silva
5. Mark Hunt
no one has beat fedor i dont care if he is the number 1 middleweight in the world it aint gonna happen
---
Rep Me...I Will Rep You Back!
Megaweight

Join Date: Apr 2006
Location: Everett, MA
Posts: 5,961
First off, I dont think Lindland is the best MW in the world. He hasnt beaten any top MW's other than Horn. But his style is a something that could give Fedor problems. But i dont think Lindland will be able to withstand Fedor's initial barage. If Fedor goes at Lindland like he did against Goodridge, I dont see Lindland making it out of the first round. I am not sure if stregnth will play a factor in this fight because Matt did a good job at nuetralizing Rampage's stregnth. I think it will be Fedor's speed and striking that win him this fight. And I cant get the Terrell/Lindland fight outta my head either.

Second, Serra doesnt have the wrestling that Hughes, Sherk, or Trigg have and those guys couldnt get GSP to the mat. Serra wont either. Look for GSP to put on a sprawl and brawl clinic and finish Matt late in the first round.

Thats my take on what will happen in these 2 fights. Anyone else??
---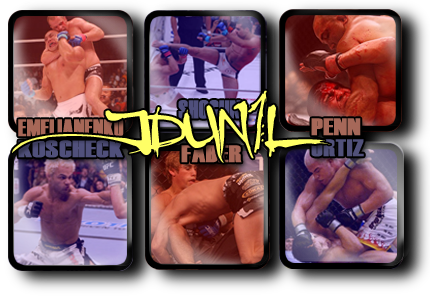 Mancrushes
1.Shogun
2.BJ
3.Fedor
4.Kos
5.GSP
Im in Porno's
Megaweight
Join Date: Nov 2006
Location: Kansas City, Missouri
Posts: 5,148
yeah just because mmaweekly has lindland ranked as #1 doesn't mean he is. i personally think that filho is a better fighter. But that being said, lindland is better than serra. but fedor is better than gsp. i think serra has the better chance of winning...by default. he wont win, but i give him the better chance because if no one has beaten fedor in his own division, what should make me think a middleweight can beat him?
---
Currently Active Users Viewing This Thread: 1

(0 members and 1 guests)
Posting Rules

You may post new threads

You may post replies

You may not post attachments

You may not edit your posts

---

HTML code is Off

---