Starnes vs. Leben set for May card
---
Quote:
Former cast members of The Ultimate Fighter reality series (and current UFC middleweights) Chris Leben and Kalib Starnes will meet in an as-of-yet-unknown UFC event in May, according to a UFCjunkie.com source close to one of the fighters.

Leben (16-3 MMA, 6-2 UFC), a cast member from the show's first season, will likely enter the fight as a favorite over Starnes (7-1-1 MMA, 1-1 UFC), who appeared on the show's third season.

Both fighters are coming off losses — Leben to Jason MacDonald (UFC 66), and Starnes to Yushin Okami (UFC 64).

Leben had actually emerged as one of the middleweight division's top contenders after victories over Jason Thacker, Patrick Cote, Edwin Dewees, Jorge Rivera and Luigi Fioravanti. But he was then dismantled by Anderson Silva in just 49 seconds (UFC Fight Night 5). He bounced back for a win over Jorge Santiago (UFC Fight Night 6) but was then upset by MacDonald this past December.

Leben's now looking to avoid back-to-back losses for the first time in his career.

Starnes (who was beaten by Kendall Grove in an exhibition match on the show) picked up a victory over Danny Abbadi in his UFC debut at The Ultimate Fighter 3 Finale. He then suffered a third-round TKO to Okami this past October.

It's worth mentioning that Starnes actually beat MacDonald (a shared opponent) with a first-round TKO at a 2005 National Fighting Challenge event.

Although the only event currently rumored to take place in May is a Memorial Day UFC 71 event, I wouldn't be surprised to find this rumored bout on a currently unannounced UFC Fight Night card. Leben and Starnes are both marketable names to fans of The Ultimate Fighter/Spike TV.

If and when I get further confirmation of this bout, I'll be sure to post it here on UFCjunkie.com.
This would be an interesting fight. Havent seen all that much from Starnes, but he has beaten Jason McDonald a couple years ago.
This is a good fight, I don't really care for either fighter, both are a little too cocky for their perspective records.
---
You can't have everything. Where would you put it?
Favorite Fighters:

Chuck Liddell
Rich Franklin
Diego Sanchez
I don't know how well this fight matches up stylistically, but I'm excited to see more of Kalib Starnes. He was actually my favorite to win TUF3, but I was probably biased because he's Canadian.
This may end up being a pretty good fight. I wonder if this will be an undercard fight.
Banned
Join Date: Feb 2007
Posts: 3,238
Good Match Up Kalib is ****en deadly and should have a rematch with Grove and we'll see who the Ultimate Fighter really is.
Good fight, believe this one will be entertaining from what ive seen.
It will be a good fight, and i hope Leben loses again.
im not sure who to go with on this one. starnes has more skill but leben is just plain crazy
---
Rep Me...I Will Rep You Back!
Im in the same boat, i got leben in my pool, but i think starnes could win this one. I really liked starnes but then i started to get bored with him,he thought to much of himself, or so i think. Same thing for leben, but at least leben has more wins in the UFC to show for it.
---
Favourite fighters:

1. Mirko Cro Cop
2. Rampage Jackson
3. Chuck Liddell
4. Anderson Silva
5. Mark Hunt
ya true.. but starnes was undeafeated and was doing reall good until his last fight.
---
Rep Me...I Will Rep You Back!
Megaweight

Join Date: Apr 2006
Location: Everett, MA
Posts: 5,961
Kalib is a HUGE MW and he has really good takedowns, and we all saw that Leben doesnt have the best takedown defense(Kos took him down at will). I think this will be a good match up. I give the edge in striking to Leben and edge on the ground to Starnes. Ill take Starnes by UD
---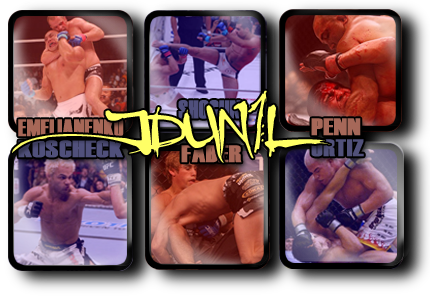 Mancrushes
1.Shogun
2.BJ
3.Fedor
4.Kos
5.GSP
Im in Porno's
Currently Active Users Viewing This Thread: 1

(0 members and 1 guests)
Posting Rules

You may post new threads

You may post replies

You may not post attachments

You may not edit your posts

---

HTML code is Off

---