Quote:
Originally Posted by
Squirrelfighter
View Post
I have lost count of how many times I have gone over this with you.

I have not questioned his ability as a fighter since he fought Bader. I only question the nature of the man behind the fists, something I am growing tired of explaining to you.

In this case I am mocking his horribly transparent smacktalk.
I know man...
I won't go through this again. 2 months was enough.
I just think (AGAIN) that he's not doing/saying anything wrong honestly.
1. if i'm not mistaken, this is the first situation where 2 former teammates will fight for the belt, so soon after one has left the team. That's why, this whole situation is pretty new...and strange. There aren't any famous precedents.
2. any fighter in this situation would react the same. You won't find anyone who will say: "well...he kinda owned me in the training and got the better of me...".
NO F*ING WAY!
And i intend on believing Jones, not just because i'm a fan (big fan), but because i've seen him fight.
Of course there is one case and there's another case.
I'm 100% when Jones helped Rashad prepare for Shogun he was the one getting "owned", just like Rashad was *owned* when helping Jones prepare for Bader and/or Shogun.
Usually the fighter who prepares for a fight gets *to own* all of his sparring partners.
Just like GSP *owned* Rashad in his preparation for BJ, or like Shields was *owning* Davis...
And i remembered this one also: a tired Rashad holding his own against a fresh Carwin!
Yeah right!
3:30-4:15
Conclusion: practice is practice. It won't mean SHIT once the doors to the cage are closed and you have to fight for real.
And from we've seen so far, my money is on Mr. Jones.
Quote:
Haha, I'm sure you'll love. I personally don't like either guy so unless the card is stacked probably won't be ordering that event.

I am a little curious though if Rashad will be able to frustrate Jones a little, the same way Hammil and Shogun did, as well as Bader a little bit. When Jones starts to get frustrated he seems to do stupid things, which I think will lead his undoing if he doesn't mature a little bit with that.
That ended up right for all those guys, right?!
Let Rashad try also. LOL
---
.
BELIEVE!
Bantamweight
Join Date: Feb 2010
Posts: 915
Quote:
Honestly, this doesn't surprise me in any way. In fact, I pretty much suspected as much anyways. I honestly don't see what Rashad brings to the table that would indicated he has any kind of solid chance at this... at least any more chance than any other fighter Jones has crushed/walked through.
All seems like the truth to me. I think JBJ would do whatever he wants to against Rashad.
Believable.

After all, there's no reason to suggest otherwise, when Bones is the one who said he'd have no issue fighting Rashad(because he knows he'd slaughter him) while Rashad was all butthurt.
---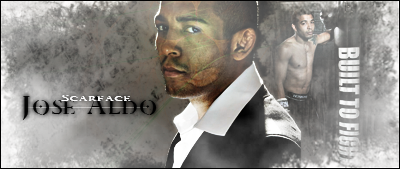 Bantamweight
Join Date: Mar 2010
Posts: 786
It doesn't really matter who owns who in the gym, it's about who can put it together on fight night after cutting 20 pounds and having 20,000 people screaming at you, and all the pressure that comes along with winning/money/fans.

There are a million guys you see at the local gyms that look amazing. As soon as the game starts they disappear. There are a million "after-the-game all-stars."
Quote:
I think Jones is a little bit more credible of a source than unnamed rumors.
Several reliable sources such as Stephen Bonnar on MMA Live have stated hearing for a while that Rashad got the better of him in the gym. I think Jones saying he beat Rashad in training is obviosly going to be biased. Everything I have seen and heard from Jones leads me to believe Rashad out wrestled him in training.
Quote:
I am a little curious though if Rashad will be able to frustrate Jones a little, the same way Hammil and Shogun did, as well as Bader a little bit. When Jones starts to get frustrated he seems to do stupid things, which I think will lead his undoing if he doesn't mature a little bit with that.
What? The only thing frustrating about these fighter to Jones was that their orbitals didn't quite break as quickly as he expected to against his elbows.
If you mean 'stupid things' like throw an illegal elbow (and why would want a fight stopped like that?), then no, but if you mean stupid things like winning by a kneeling guillotine or muay thai super combo, then yeah I'd be interested in seeing those things happen to Rashad too.
If I were rashad I'd do clinch-work, wrestling and cardio like a crack head. I'd bum rush bones and just hold him like scarlet johanson against the cage and just grind him like he just tipped me 50$ and im a cheap stripper. Wear him down, then take him down, then pillow gnp to a decision.
In a real fight bones is probably gonna finish poor rashad
I like both guys, I won't be rooting for either, but I'd kinda rather rashad win, hes close to the end of his time as a fighter.
---
If a law is unjust, a man is not only right to disobey it, he is obligated to do so. ~ Thomas Jefferson
Sig by D.P.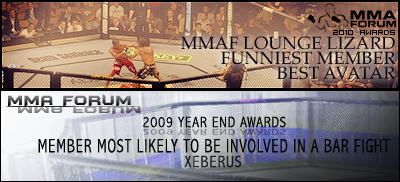 Quote:
He didn't have to say anything at all.

It's not like what he's saying is exactly surprising either, he's looked better than Rashad in his fights in just about every area.
Agreed, I think rashad is in trouble here.
Banned
Join Date: Oct 2009
Posts: 7,811
I heard something different Jonny
Super Heavyweight

Join Date: Jan 2010
Location: Latvia
Posts: 4,108
limba, you should really stop taking things said against Jones personally. No need to get all riled up just because someone doesn't believe the words of Jones, when in fact, they aren't actually proven to be true. It's all good though.
btw, you shouldn't take a Primetime episode scene as proof too. Primetime is made to hype up the fight. If the fight is Rampage-Rashad, they are obviously gonna hype up Rashad, where he trains with Carwin, not where GSP takes him down.. just like they won't show GSP getting beat up in a GSP-Penn fight.
And yeah, practice is practice either way..
Currently Active Users Viewing This Thread: 1

(0 members and 1 guests)
Posting Rules

You may post new threads

You may post replies

You may not post attachments

You may not edit your posts

---

HTML code is Off

---