UFC 129 Facebook video streams all five preliminary card fights on April 30
---
Quote:
Do you "like" the UFC on Facebook?

If so, you'll be entitled to a free stream of all five of the preliminary card fights at the upcoming UFC 129: "St. Pierre vs. Shields" event on April 30 in Toronto.

The promotion brought word of the good news via its official Twitter account.

The largest show in the company's history (55,000 fans have sold out the Rogers Centre) is being treated as such with this historic occasion.

This marks the first time the UFC will broadcast every fight on a card, with five fights streaming via the popular social media site starting at 6 p.m. ET before two bouts air on Spike TV at 8 p.m. ET leading right into the five-fight pay-per-view broadcast, which airs at its new start time of 9 p.m. ET.

The Facebook "Prelims" special will feature a bevy of interesting match-ups.

In featherweight action, Yves Jabouin will make his Octagon debut after an exciting, albeit slightly unsuccessful, run in the WEC against Roberto Garza.

"The Scarecrow" scored a "Knockout of the Night" in his UFC debut, which also happened to be the first featherweight fight in company history, back in December 2010.

Lightweight John Makdessi will get the chance to fight in front of his home country when he takes on Kyle Watson. "The Bull" was expected to face Jonathin Brookins, but the Ultimate Fighter (TUF) winner was pulled from the bout and the Canadian will get the chance to run his win streak to 9 against Watson, instead.

Watson, a 31 year-old H.I.T. Squad member, will make his second appearance in the cage for the world's largest fight promotion since his time on TUF 12. The Illinoisan hasn't lost in five fights.

Jason MacDonald makes his return to the cage for the first time since his excruciating loss to John Salter back at UFC 113 in May 2010. "The Athlete" shattered his leg during a takedown attempt and has been on the shelf ever since.

His opponent, Ryan Jensen, is 2-5 throughout his scattered time inside the Octagon and is coming off a loss to TUF 11 winner Court McGee. The Greg Jackson fighter is just 2-3 in his last five contests.

Savvy submission specialist Daniel Roberts will square off against Canadian jiu-jitsu ace Claude Patrick. "Ninja" comes in on the strength of three straight victories while "The Prince" hasn't lost since 2002, a span that includes 12 consecutive victories (2 inside the Octagon).

Finally, Ivan Menjivar and Charlie Valencia will throw hands in bantamweight action. "The Pride of El Salvador" will make his return to the UFC after seven long years away.

As for Valencia, he'll be making his debut with the largest fight promotion in the world after a nine-fight run in the now defunct WEC. Before succumbing to a submission at the hands of Miguel Torres, Valencia was poised to break into the upper reaches of the 135-pound division.

Can he get back to his winning ways in the Great White North?

UFC 129 is set to feature a main event between Canada's own Georges St. Pierre, defending his welterweight title against fresh challenger -- and former Elite XC and Strikeforce champion -- Jake Shields.

The event will also include the final appearance of UFC Hall of Famer Randy Couture, defying the odds once again to take on Karate master Lyoto Machida.

Jose Aldo is set to make his Octagon debut in the first defense of his featherweight title against 145-pound knockout artist Mark Hominick.
MMA Mania
F*CK YEAH!!!
And congrats to
Canadian Psycho
and Hixxy, among others
Quote:
Originally Posted by
Canadian Psycho
View Post
I have to say, great idea by Dana and the UFC. I hope this becomes the norm (5+ prelims), because I feel as though I've already been treated to a full night of fights, and the main card hasn't even begun! The prelims shouldn't be missed to begin with... some seriously exciting fights thus far.
Quote:
I can see all the undercard fights being put on facebook in the very near future
---
.
BELIEVE!
I am probably a complete retard, but I was unable to figure this out last time. I searched UFC of facebook but couldn't find the official page and missed all the prelims.
Bloody hell you have a good memory mate! Before re reading my comment i didnt have a clue what you were on about when you said congrats lol.

This is great news, i really cant see them going backwards on this now, i do believe that every event proceeding this one will air all the prelims.

Im away next weekend, a lads weekend is Blackpool on the lash, gutted im gonna miss this..
Quote:
I am probably a complete retard, but I was unable to figure this out last time. I searched UFC of facebook but couldn't find the official page and missed all the prelims.
http://www.facebook.com/UFC?sk=app_4949752878
You have to "like" them, and then click the live video tab on the left-hand side of the page. Might require you to install Microsoft Silverlight player as well (can't recall). After that it's pretty smooth sailing...
---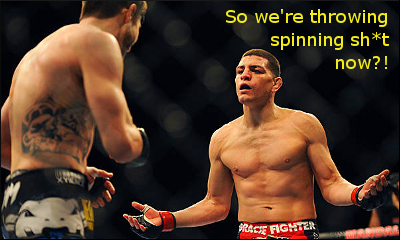 Currently Active Users Viewing This Thread: 1

(0 members and 1 guests)
Posting Rules

You may post new threads

You may post replies

You may not post attachments

You may not edit your posts

---

HTML code is Off

---