Lol Akiyama lost to Leben then he gets Bisping he loses to Bisping he gets Vitor, if he loses to Vitor he will get Anderson Silva
This makes sense but not logically.
Bantamweight
Join Date: Feb 2010
Posts: 780
For his sake, i hope Greg Jackson has Aki fighting the way he should, with his strengths. If he shows up and dosen't go full retard headhunter, and actually, i don't know, uses his Judo, he could make it a good fight. if not its gonna be another fun to watch 3 round boxing show.
---
special thanks to
Matt Hughes
Rashad Evans
Shane Carwin
Anderson Silva
and of course Gray Maynard
NPFFL: JDS, Bisping, Rampage, Kampmann
Vitor should have gotten bisping
---
If a law is unjust, a man is not only right to disobey it, he is obligated to do so. ~ Thomas Jefferson
Sig by D.P.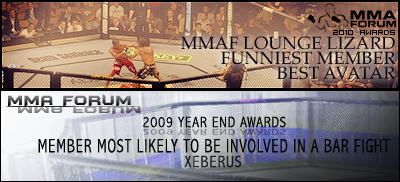 Very strange matchup. Why not Give Sexy a break? & why not just put Belfort against Bisping?
---
Does this imply that Sonnen and Bisping are likely being matched up?
---
WAR CIGANO
sig credit to
Limba
lobster train.
Quote:
Bad match-up for The Sexy one ..Belfor going to dominate him .
I wouldn't call it a bad match-up exactly. Sexy can win if he turns this in to a judo match and dislocates Belforts shoulder.
Quite frankly, both men have to prove something here. Let's see what happens if Belfort's hands don't get a Rd 1 KO and it goes the distance.
Flyweight

Join Date: Feb 2011
Location: Pnw.
Posts: 247
Quote:
Does this imply that Sonnen and Bisping are likely being matched up?
This is what I'm hoping..
Vitor may not have won a MW fight in the UFC but regardless, he is coming off a title fight and Akiyama shouldn't really be fighting him, he's lost his last two fights but a win over Vitor would propel him strongly.

Not saying I think he'd beat Vitor, but Akiyama has more to gain from this than Vitor does, undeservedly.
---
Judging by Akiyama's showing in the UFC so far, he is not going to be able to handle the striking of Belfort. He hits too hard and too fast...

On the other hand, we really haven't seen much of Belfort for a while. He was waiting for the Silva fight for a long time, and then we didn't see very much from him in that fight either due to the death kick.

If the Belfort that fought Franklin shows up, Akiyama is getting KO'd.
---
Currently Active Users Viewing This Thread: 1

(0 members and 1 guests)
Posting Rules

You may post new threads

You may post replies

You may not post attachments

You may not edit your posts

---

HTML code is Off

---