I am so happy to see him back in the UFC. Solid, well rounded fighter, and a great personality to boot. I hope the UFC lets him keep his show...maybe we'll even see some UFC guys on Bully Beatdown now?
Miller may not be a top 10 MW at the moment, but I certainly think he has the potential to be. Remember when he pretty much choked out shields but shields got saved by the bell in Rnd3 of there fight?

He had a RNC on JAKE SHEILDS.

He may not be top 10 right now because of lack of quality opponents, but I do see him being top 10 after a few wins in UFC, hopefully he'll start vs Bisping.

Not to mention he's one of the most entertaining fighters to watch imo.
---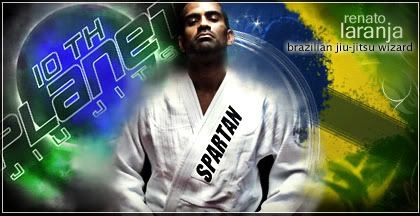 "You have a big word for a guy who don't have a gi right now." - Renato Laranja
woooooooooooooohoooooooooooooo

I hope Mayhem follows in King Mo's footsteps and mixes up his training a bit, while sticking with Ryan Parsons as his main coach. I am really stoked for this, and I piss on all of the haters.
I don't see all this "the guy is exciting, but overrated" talk. His BJJ is just awesome and he's definitely good enough to hang in there with great strikers. When Jake Shields gets saved from a RNC only by the bell you know you have yourself a beast on the ground. He also easily submitted Sakuraba which is not an easy thing to do, even nowadays. WAR MAYHEM!!!
---
Rookie Hammer Squad 2015
Frankie Edgar - Dominick Cruz - Jorge Masvidal - Cat Zingano - Holly Holm
lol. of course mayhem signed. it's not like he was holding off the ufc's advances out of pride or something. this is a major opportunity for him.
---
Everybody good, plenty of slaves for my robot colony?
Banned
Join Date: Aug 2010
Location: Idaho
Posts: 2,848
Dan Miller or CB Dollaway seem like appropriate starting opponents.
Quote:
Bisping and Miller as TUF 14 coaches. Bank on it!

Great news he's in the UFC though!!
---
If a law is unjust, a man is not only right to disobey it, he is obligated to do so. ~ Thomas Jefferson
Sig by D.P.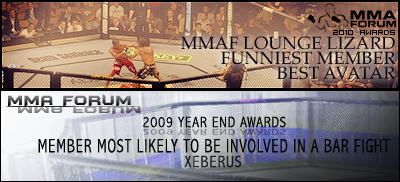 Im thinkin belfort for a first fight?
---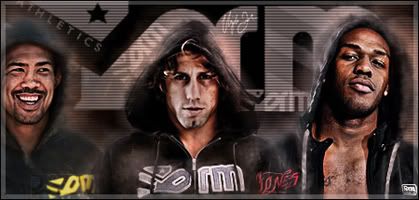 "Im probably better off down there on my knees anyway" -Dick Diaz
Quote:
Dan Miller or CB Dollaway seem like appropriate starting opponents.
Dan Miller vs Mayhem Miller seems like a fun fight!
I wouldn't mind seeing Mayhem fight Brian Stann either, but the Bisping idea might 'take the cake'.
Stann and Belfort are both taken. Dan Miller would be good (miller vs. miller lawl) but I don't want Miller to get cut anytime soon.
---
WAR CIGANO
sig credit to
Limba
lobster train.
Currently Active Users Viewing This Thread: 1

(0 members and 1 guests)
Posting Rules

You may post new threads

You may post replies

You may not post attachments

You may not edit your posts

---

HTML code is Off

---