Where Couture is concerned, Machida NEEDS to keep distance and just pepper him with shots. No doubt Machida has a good base and coupled with his footwork this lets him keep the fight standing, but unlike Lyoto's past opponents, Couture will be looking primarily for the takedown.

Lyoto's clinch work is good, especially in a moving clinch he manages to land many shots very quickly, mainly knees. On the fence though he is quite inactive and if Randy can get him there he will be working relentlessly, with little risk of taking damage.

I believe Chinzo Machida said that although Lyoto has a good BJJ game, he needs to strongly avoid hitting the mat with Couture and avoid the clinch. I think Lyoto has great TDD but Couture can make it a grappling match without it hitting the ground, he can make Lyoto too wary of tying up, cut him off and make him uncomfortable. A war of will. Rampage did it because Machida was wary of his hands, Couture doesn't pose that problem but he poses bigger problems against the fence, where Rampage managed to put Machida several times, and from there he landed quite a few strikes and even secured a takedown.
---
---
Last edited by SM33; 04-24-2011 at

10:28 AM

.
I think Machida's TDD is very good. It is not his defensive wrestling alone, but the combination of that and his elusive striking that makes him very hard to get a hold of.
Quote:
Originally Posted by
TheLyotoLegion
View Post
The only time I can ever recall him being taken down in the UFC was the one time Rampage got him down.
Check out Machida's fight with Sokoudjou. Sokky took him down from the clinch a few times without too much trouble.
Join Date: Oct 2009
Location: Ohio
Posts: 2,719
Machida's TDD is very good in both theory and application. He can lower center of gravity and control his opponent's posture extremely well in the clinch. On the outside his style lends itself perfectly to defending a takedown because he's always moving away form his opponent as they move in, setting up the counter. He also has a very deep sprawl. He showed this to an extent against Ortiz. As others have said, he made Ortiz look like he'd never shot a takedown in his life.

On top of this ability is his top notch ground game. While it's only been showcased a few times for an extended period of time in the UFC, its extremely crisp. Machida's position control is excellent, he mounted Rampage, and say what you will about Ortiz, no one has EVER put him in a mounted cricifix, except for Machida. Something very striking about Machida's JJ and wrestling is that he's always moving for the finish on the ground. Against Rampage in less than 60 seconds went from a cross-body kimura from side control, to the mount, to an armbar, to a triangle when Rampage picked him up, before abandoning the position for safety.
---
Sig courtesy of that photo-matic magician limba
Quote:
I went out the way that I fight. I went out on my shield. That's it. Done. --Chuck Liddell
Quote:
My goal is to end my opponent --Carlos Condit
Bantamweight
Join Date: Feb 2010
Posts: 915
Quote:
Do we know for sure how good it is?

I've always been one to say it's very good not because he's had a top wrestler shoot on him 5 times a round, but more because how easy he has shrugged off 95% of takedowns. The thing is, who has tried to take him down continuously - only Ortiz?

Rampage isn't really known for offensive wrestling, Rashad didn't shoot on him and got KOd quite quickly, Ortiz has mediocre wrestling and T.Silva isn't a wrestler/likes to strike.

I'm interested to see how Machida does with Randy trying to drag him to the mat over and over again. I suspect his TDD is as good it's hyped up to be, he's looked impossible to move so far but Randy is superior to Tito or Rampage in the wrestling department.

Will Randy get him down?
Machida's TDD is different than alot of fighters who use the sprawl as their primary TDD. Machida simply stays out of "shot" range and moves laterally alot, and picks his chances carefully to move in to counterpunch, then moves quickly out of range again. I think Rashad's shots are quicker than Randy's and he wasn't taking Machida down(maybe not in Randy's prime, but the 48 year old Randy), so Randy will have to figure out a way to get Machida against the cage to take him down, imo.
Quote:
Randy Lovers forget that this is the worst stylistic matchup for Randy.. but no they say it's the other way around lol
No, Bobby your neglecting the obvious fact that this is probably the worst stylistic match up for Machida in the UFC. If Randy wasn't so old this wouldn't even be competitive.
Quote:
Also another important part which people tend ot forget is, what happens if Randy somehow does take Lyoto down?
Do you guys really believe he could keep him there? It won't look much different then as Rampage got him down for 2 seconds. Right back up
Are you realy implying that Randy Freaking Couture's ground game is not better than Rampages? Really? I am not even sure that justifies a response considering anybody who payed any attention through out either guys career should know the answer.
---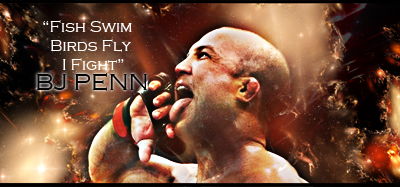 "If you get hit and it hurts hit him back you not knocked out yet."-Joe Doerksen
The Toxic Terrors (FFL)
Demetrious Johnson*Eduardo Dantas*Emanuel Newton*Will Brooks*Michael Page
Heavyweight

Join Date: Sep 2007
Posts: 3,705
Quote:
Randy Lovers forget that this is the worst stylistic matchup for Randy.. but no they say it's the other way around lol
Rampage was able to clinch Machida fairly easily and that is Randy's game. I dont really think one fighter posses a huge advantage over another, but if Randy will be able to grab hold of Machida, I think he can squeak out a decision.
Depends also on which Machida comes, is it the one that sits back for 2 rounds? or is it the one we saw in round 3 of the Rampage fight.

Join Date: Mar 2010
Location: NC.
Posts: 9,815
Don't worry Bobby SUMO will once again prove it's worth in the Octagon.


---
Randy is old and slow. Why this fight is even a debate escapes me. I appreciate Randys skills... but this fight'll be over before you can say "greco roman" let alone implement it.

War Lyoto!
Banned
Join Date: Oct 2009
Posts: 7,811
That won't ever happen! Lyoto 1 Round KO
Currently Active Users Viewing This Thread: 1

(0 members and 1 guests)
Posting Rules

You may post new threads

You may post replies

You may not post attachments

You may not edit your posts

---

HTML code is Off

---