Oops I didn't realize we were talking about Greg Jackson instead of Quinton Jackson.
---
WAR CIGANO
sig credit to
Limba
lobster train.
I'm not even a big Rashad Evans fan, but damn... that's some horrible luck. He waits on an injured Shogun for a titleshot, then gets hurt himself, so his training partner steps in for the title shot, then HE gets hurt, and now Rashad is left with a huge layoff and a fight with Phil Davis. And like others have mentioned - that's not even a very interesting matchup for him. If he loses people will start to write him off, and if he wins people will say 'big deal, who has Phil Davis beat?'. He'll pretty much have to dominate to make any sort of headway here.
Imagine how funny it will be if Rashad loses.

All of the talk, all of the crying, all of the insults, all of the bullshit....for nothing.
Man i dont like rashad at all but he is getting the shaft on this whole title thing.
---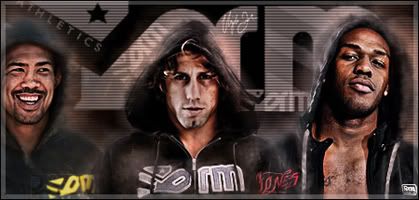 "Im probably better off down there on my knees anyway" -Dick Diaz
Quote:
Man i dont like rashad at all but he is getting the shaft on this whole title thing.
Dana proving again he hates people who wait around for a title shot.
---
WAR CIGANO
sig credit to
Limba
lobster train.

Join Date: Apr 2010
Location: Gods country
Posts: 4,521
Quote:
Dana proving again he hates people who wait around for a title shot.
That he also refuses to fight teammates is another negative against him in Danas eyes too boot.
In the words of Dave Chapelle "Rashad is fawkin up!"
Sorry for Davis, but I'd actually like to see Rashad completely inialate him, just to give JBJ something to think about for when they do eventually meet. Everybody thinks JBJ will run through Rashad (or atleast do), but it'd be fun to see him dominate Davis, just make their eventual meeting that much more interesting.
Quote:
So much for Davis taking the rest of the year off like planned. Should be a good fight, but Rashad's game is probably too much for Davis's athleticism to overcome.
This exactly. Would've liked to see Davis take some time off to further evolve his game, but gotta give him props for taking this gigantic fight. Unfortunately I don't see him beating Rashad at all, I actually see Rashad TKOing him in the first couple of rounds.
---
Thanks to limba for this AWESOME sig
Quote:
Also, if Jones injured his hand in the title win, why has it taken until now for all this to occur ?
Well, he was actually
suspended indefinitely
for a hand injury after the fight.
Quote:
Jon Jones: Suspended indefinitely pending X-ray, MRI and orthopedic clearance of right hand
According to
Jones' manager
the MRI was only done recently:
Quote:
"Jon hurt his hand in the 'Shogun' Rua fight," Kawa today told MMAjunkie.com (
www.mmajunkie.com
). "He hurt his hand really bad, but it's also something that's been bothering him for a long time – all the way back to his wrestling days in college. On his right hand, his thumb and forefinger and the area in between becomes very, very swollen. It gets to the point where he can't even make a fist.
"As the week after the fight with 'Shogun' went by, his hand started to feel a little bit better. The UFC immediately had the hand X-rayed because they thought it might be broken, and the results came back negative. He was told just to rest the hand, and it would probably get better. Unfortunately, the pain remained, and even shaking people's hands was starting to hurt him very badly. He told me how bad it was hurting, and I was in the middle of discussion with the UFC for the Rashad Evans fight, which was expected to take place in Philadelphia."
The UFC had targeted August's UFC 133 event as a host for the much-anticipated Jones-Evans matchup, but Kawa and the world's biggest mixed martial arts promotion wanted to be doubly sure.
"Jon was supposed to start training camp next week, but he admitted his hand was still really bothering him," Kawa said. "I explained to the UFC what was happening, and we were hoping we could push the fight back a little bit, maybe September or so, to let the hand heal through the month of May. This was about two or three weeks ago.
"The UFC suggested we get an MRI done because there must obviously be something wrong with the hand if it was still in pain. We got that done with one of the UFC's doctors, and we just got the results back last week, and he has a torn ligament."
Of course, for the 23-year-old title holder, that news wasn't enough. He wanted a second opinion, then a third opinion. Jones searched desperately for anyone that would give him some good news, but it just never came.
"Jon wanted to fight the fight with a torn ligament, but I was completely against it," Kawa said. "We called a bunch of doctors all across the country – people that he knew, people that I knew – and all the doctors confirmed the same thing: If he's got a torn ligament in his hand, then he needs surgery or it will not heal correctly. At 23 years old, Jon is talking about taking cortisone shots and trying to deal with it as best as he could without really repairing it.
"It's not like this fight is next month. If that was the case, maybe he could push through it. We're talking about a full training camp and then a very tough fight with Rashad Evans. I was against it. Doctors were against it. Every doctor we spoke to said the only thing that could happen is the injury could get worse. There's no way it was going to get better, so there was no upside to staying in this fight.
"It took a lot of convincing, but Jon finally realized he has to consider his long-term career – not just one fight right now."
It doesn't really apply here, though it was my initial thought when I heard about this. Plenty of surgeries are only done after a follow up test weeks after the initial injury for swelling to go down and to see if they're healing naturally from rehab.
So you get stuff like this from
Cain Velasquez
all the time:
Quote:
"[The injury] happened in the Brock fight," Velasquez said. "After the fight, I felt fine. Later that night, my body starting cooling down, and my shoulder was jacked up. I knew something wasn't right. I saw the doctor and got an MRI, and he said I had a torn rotator cuff. They said, 'We'll try to do rehab first. We'll rehab it for six weeks and see how it's going.' I did that, and finally when the six weeks was up, we had another MRI. The muscle was still torn, so that said, 'We've got to have surgery. The rehab didn't help it.'

"We tried to do it without surgery so I could get back as quickly as possible, but that didn't work, so we'll do the other stuff. ... I thought I was doing the right thing by trying to get the rehab done and get healthy that way and go ahead with training. I thought I was doing a good thing."
Fighters are always upset when physical rehab doesn't work, because they feel like they wasted their time. But if a doctor were to schedule invasive surgery on an athlete without even trying rehab first (when rehab is legitimately possible) they'd be pretty irresponsible.
---
Some people think that they can convey either a philosophy on life or a complex political statement using a signature on the internet. I'm not one of them.

Rashad's fight to lose. He should be able to match Davis in the grappling department and his striking is on another level.
Currently Active Users Viewing This Thread: 1

(0 members and 1 guests)
Posting Rules

You may post new threads

You may post replies

You may not post attachments

You may not edit your posts

---

HTML code is Off

---