Banned
Join Date: Aug 2010
Location: Idaho
Posts: 2,848
How do your favorite, and least favorite fighters match up? (In each weight class)
---
My favorites being on the left, least favorite on the right

Heavyweight
Cain Velasquez vs. Antonio Rodrigo Nogueira-
We all saw this in Australia, and to this day it remains one of my best MMA memories. I'm a huge fan of Velasquez and I absolutely despise Nogueira. Watching Nogueira get dominated like that was remarkable.

Light-Heavyweight
Rich Franklin vs. Jon Jones-
Obvious result. Franklin would get mauled worse than Brandon Vera or Matt Hamill did. Rich is tough, but he's old now and the game has largely passed himby. When Forrest Griffin makes you look slow, you need to evaluate your career and training. I love Franklin, but he would die against Jones.

Middleweight
Yushin Okami vs. Michael Bisping-
Okami has really stepped up his game by training with Sonnen as well as improving his stand up by leaps and bounds. Bisping is a punk who has survived by beating mid-tier opponents. Okami would outwrestle and pound Bisping easily.

Welterweight
Rick Story vs. Matt Hughes-
A few years or so ago, I would have picked Hughes any day. I've never liked Hughes, but there is no question he's one of the best of all time. Now, I would have to pick Story. Hughes has slowed down. A LOT. He's still got some left in him, but Story would just be too strong, and too powerful for Hughes to handle at this point.

Lightweight-
Jim Miller vs. Melvin Guillard-
I think it would be fairly competitive in the opening stages, but once Miller gets Guillard on the ground, I think it will be over. Guillard has always had abysmal submission defense, but is fairly good in other areas. I think Miller will be just too strong, too versatile for Guillard to handle, and would choke him out in the second or third.

Featherweight
Mike Thomas Brown vs. Jose Aldo-
Another no brainer. We've already seen this one happen. Brown was competitive with aldo in the opening round, but everything fell after that. Aldo seemingly has no holes in his game. Brown has the fighter IQ equivalent to Martin Kampmann, and a questionable chin.

Bantamweight-
Brad Pickett vs. Scott Jorgenson-
The first fight was much more close than it appeared on the scorecards. I think that a second fight would swing in Pickett's favor, but the fight could go either way in my opinion.
---
Last edited by TanyaJade; 04-25-2011 at

02:22 PM

.
HW: Brock Lesnar vs Fedor Emeliwhatever
Lesnar via gorilla ****.

LHW: Lyoto Machida vs Jon Jones
Machida via late submission.

MW: Chael Sonnen vs Maiquel Falcao
Sonnen via one sided decision.

WW: Josh Koscheck vs Dan Hardy
Koscheck via EASY submission.

LW: Gray Maynard vs Clay Guida
Maynard via decision.
---
Will make predictions for credits. Please, I'm so broke.
How could anyone hate Aldo? What's wrong with you?


On topic.

Alistair Overeem vs Fedor Emelianenko -
Fedor can't deal with size, Ubereem gives Fedor his first KO loss and sends him into retirement.

Shogun Rua vs Rashad Evans -
Depends on many different factors. I'd figure, that Shogun can KO him on account of Rashad's glass chin, but you never know with Shogun. He could gas and get wrestled to death.

Anderson Silva vs Chris Leben -
"The debut of Anderson Silva lasts less than one minute!"

BJ Penn vs Georges St.Pierre -
Competitive fight if Greasy isn't using Vaseline. A wipeout otherwise.

Shinya Aoki vs Frankie Edgar
Aoki would need a bit of luck to pull this one out. Could be a lot like the Gil Melendez debacle.

Jose Aldo vs Chad Mendes
Aldo would beat him down, probably a sustained beating since Mendes at least seems reasonably durable.

Miguel Torres vs Joe Benavidez
Obviously Torres got mashed up in the first fight, but I'd definitely like to see a rematch.
---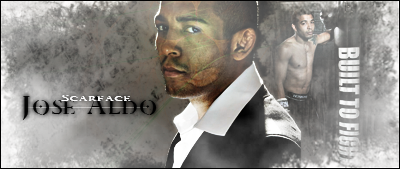 Cool thread idea.
Favs on left.
Heavyweight
Alistair Overeem v. Brock Lesnar
It comes down to whether Lesnar can secure the takedown (like all his fights). I don't think he can. Reem via brutal Uber-knee!!!
Light Heavyweight
Shogun Rua v. Tito Ortiz
I don't think Tito can take down anybody anymore, even Shogun. Like my HW fight it's a complete mismatch on the feet. Shogun via TKO.
Middleweight
Dan Henderson v. Michael Bisping
Welterweight
Matt Hughes v. Josh Koscheck
Sorry Matt. Hughes can't get the takedown and eats some big shots before getting TKO'd.
Lightweight
Jim Miller v. Gray Maynard
Very intriguing match-up. Maynard beat him the first time, and I suppose he wins another razor close decision. Miller is plenty game though.
Featherweight
Jose Aldo v. Cub Swanson
Aldo via double flying knee and punches TKO.... say 8 seconds into the fight.

Bantamweight
Michael McDonald v. Joseph Benavidez
Very close. Benavidez via submission. I think McDonald will eventually be champ, but right now Benavidez is just better.
---
Sig credit: MC
~ Lifetime Membership sponsored by RustyRenegade ~
HW Cain Vs Lesnar- Cain beats him down again
LHW Rampage Vs Tito- Tito gets KTFO
MW Bisping Vs Sonnen- Bisping gets outwresteled
WW Hathaway Vs GSP- Hathaway gets beat in every aspect
LW Edgar Vs Maynard- We will see
FW Aldo vs Manny Gamburyan- Aldo by KO
BW Brad Pickett Vs Scott Jorgenson- Pickett by desision
Heavyweight
Junior Dos Santos vs. Fabricio Werdum
..Well, we already know how that one played out..

Light-Heavyweight
Lyoto Machida vs. Thiago Silva...

Middleweight
Chael Sonnen vs. Michael Bisping
I think Bisping gets layed on and punched if Chael finds the stand-up suspect; Hopefully Chael can avoid a quick triangle though.

Welterweight
John Fitch/Sheilds vs. Carlos Condit
Ever since Condit beat Rory McDonald, things just went downhill for me and Condit.. plus he KO'd my boy.

Lightweight
Gray Maynard vs. Kenny Florian
...

Featherweight
Frankie Edgar (should be) vs. Jose Aldo
Be a superfight for sure. Great match-up. I like Frankie in this one though. I think Aldo has the capacity to be layed on by an elite wrestler if push comes to shove. I guarantee frankie's the stronger of the two and he can prorably avoid the sub.

Bantamweight
Urijah Faber vs. Dominic Cruz
As long as Faber doesn't mess around too much in the stand-up and can mix it up with some takedowns, he's fine in this one. Stay tuned...
---
"...I don't care whether you're happy, sad, scared or indifferent ...When my music hits those speakers, I will make that walk - and I will make it EVERY SINGLE TIME"
---
Last edited by AceCombat; 04-25-2011 at

03:04 PM

.
Light Heavyweight
Join Date: Nov 2008
Location: NC
Posts: 3,059
Shane Carwin vs Roy Nelson
I see Shane absolutely obliterating Roy into dust. Would be great to watch actually.

Rich Franklin vs Rampage
I don't see this one working out in Rich's favor. I see him wining the first two rounds and getting dropped for the loss in the third. Rich has been cleanly landed on in most of his last fights. Rampage only needs to land once though.


Wanderlei vs Bisping
Already happened


BJ Penn vs Nate Diaz
Nate Diaz being my all time most hated fighter. I would hope to see BJ maul him. Diaz poses no submission threat to BJ and I see BJ walking right through his weak girl punches.

BJ Penn vs Maynard
Maynard who always talks about KOing people (even though his last 7 fights were decisions), will definitely get KO'd. His ground game won't be enough considering BJ can hang with Fitch. His striking is amateur and BJ can drop him standing pretty easily
---
Attero Dominatus.
Heavyweight

Cain Velasquez vs Frank Mir
- Mir would have nothing for Cain, although he is dangerous off his back but I don't think this would pose a problem to Cain who would probably keep it standing and KHTFO
Light Heavyweight

Rashad Evans vs Tito Ortiz
- The first fight was a draw but I don't think it would be anywhere near that now. Rashad outclasses Tito everywhere and would smash him into oblivion
Middleweight

Michael Bisping vs Maiquel Falcao
- I assume most people would think Falcao would light Bisping up standing and KO him.. but I think Bisping is too smart for that and I think he'd keep his distance and grind out a UD
Welterweight

GSP vs Josh Koscheck
- Well we all know how that went
Lightweight

Frankie Edgar vs Gray Maynard
- After the first round scare of the last fight, I'm sure Edgar will come back even better and outpoint Maynard!
Really surprised to see some of you guys' least favorite fighters. Nogueira, Werdum, Nelson, Condit, Aldo... weird. These guys are gentleman and always bring it but whatever an opinion is an opinion.
---
WAR CIGANO
sig credit to
Limba
lobster train.
Brock Lesnar vs Frank Mir - Brock will use Frank's head as a basketball and dribble it on the mat again and again and again.

Jon Jones vs Rashad Evans - Another quick KTFO on Rashad.

Mark Munoz vs Michael Bisping - A repeat of the Henderson/Bisping fight Michael runs around the ring for 12 minutes and Mark hits his Hail Mary Heavy right hand of doom for the KO.

Georges St. Pierre vs Nate Marquardt - It'll never happen but I see the ol G grinding it out on Nate for the decision.

Jim Miller vs Sean Sherk - This is a pick em for me, I'll ge with Sherk via judge robbage.
Currently Active Users Viewing This Thread: 1

(0 members and 1 guests)
Posting Rules

You may post new threads

You may post replies

You may not post attachments

You may not edit your posts

---

HTML code is Off

---