Scarface Is much cooler than Predator! Even in the movie world
---
Aldo can be scary.
I once said, he is the guy i would be most scared of fighting. Even though i am bigger than him.
But i believe that would only make him more vicious.
Jose Aldo pre-fight, when he does this ---> that's scary:
---
.
BELIEVE!
Aldo must be a scary man to stare at across the cage. When he gets in there the smiling young man just disappears and is replaced by somthing mental. Love this guy, let's go headhuntin'!
WAR Aldo!
---
Banned
Join Date: Apr 2009
Location: Manchester
Posts: 5,115
Quote:
Dude this reminds me of the Anderson Silva animation with him sitting on the throne with the heads [vanquished opponents] on the side.

Except Aldo actually has tats of his opponents' heads. That's twisted...lolz!
LOL, that's the first thing that popped into my head too!
After just watching the countdown show and reading this, I'm officially an Aldo fan. The kid is ****in' wild, love his personality.
I wonder what type of video games he's into.
BJ also claims that he's some semi-pro on Street Fighter lol.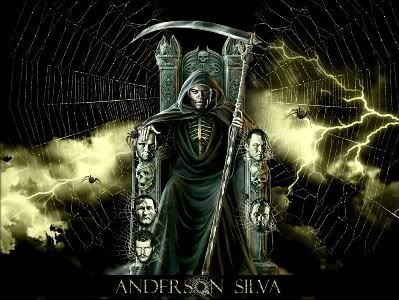 Jose is awesome, I can't wait until he becomes a true UFC superstar.
Currently Active Users Viewing This Thread: 1

(0 members and 1 guests)
Posting Rules

You may post new threads

You may post replies

You may not post attachments

You may not edit your posts

---

HTML code is Off

---