José Aldo reveals his "head colection"!!!
---
Quote:
...In todays magazine "megazine", a several pages article about Aldo talks, among others, about Aldo´s gaming addiction and explains his tattoo. The fighter has a cross on the shoulder with several heads, representing the opponents he has defeated troughout his career.
"Every time i win a fight, i put another head in here. I´m gonna put another head on Saturday, but don´t write that down, or it will become creepy." he said in a joking manner...
lol, this dude rocks!
p.s. Sorry if my translation sucks.
Source
---
Lyoto Machida, former UFC LHW hamp
Future UFC MW Champ
Benavidez, Barao, Aldo, Nate, Nick, Lyoto, TBD, JDS
Forever hanging in Anderson Silva nuts
Wow that is VERY interesting. I bet it will have an impact on his opponents mentally now.
---
WAR CIGANO
sig credit to
Limba
lobster train.
lol, that's hilarious.
What a wild dude.
Only young people do this type of ****.
Also, what the hell is up with MMA fighters and video games?
Fedor, Aldo, Fitch....
I know Anderson plays but I doubt he plays much.
Aldo is even more surprising considering he seems the type that just started playing recently because he was too poor to afford them in his childhood. When he started training initially at Nova Unaio he wasn't even eating regularly.
---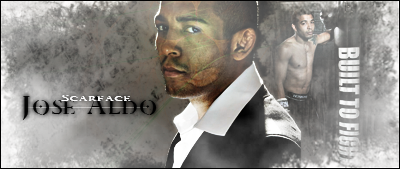 ---
Last edited by Roflcopter; 04-26-2011 at

06:16 PM

.
Dude this reminds me of the Anderson Silva animation with him sitting on the throne with the heads [vanquished opponents] on the side.

Except Aldo actually has tats of his opponents' heads. That's twisted...lolz!
Megaweight
Join Date: Mar 2007
Posts: 5,499
At the rate he is going he is gonna need a bigger tattoo.
Quote:
At the rate he is going he is gonna need a bigger BODY.
Fixed.
---
Thanks to limba for this AWESOME sig

Join Date: Apr 2010
Location: Gods country
Posts: 4,521
Awww...To be young and careless, and kicking peoples ass
That's awesome.
Quote:
Originally Posted by
Indestructibl3
View Post
Fixed.
Win.
That's really cool that he has that tattoo though. Always wondered if any fighters would do that.
Curitiba Food and Liquor

Join Date: Dec 2006
Location: NY
Posts: 16,176
Too bad Cote beat him to the "Predator" handle.
---

Sig Credit to Toxic

Currently Active Users Viewing This Thread: 1

(0 members and 1 guests)
Posting Rules

You may post new threads

You may post replies

You may not post attachments

You may not edit your posts

---

HTML code is Off

---