I had it 49-46 for GSP. Seems like they gave Shields every round he wasn't dropped.
Quote:
That was...semi bad...but the worst was 50 43 for Aldo Vs Hominick....

Ok WHAT!!?? two 10 - 8 rounds ??

And Hominick not winning the last round ?? anyyywwaayyss
I'm guessing that was a mistake. Both MMAJunkie and Sherdog list the official scorecard as 48-45, 48-46, and 49-46.
---
Some people think that they can convey either a philosophy on life or a complex political statement using a signature on the internet. I'm not one of them.

MMAFighting went back on their report that it wasn't a 50-43... wish they would've asked about it at the presser.
The judges had monitors for this event too.
Judges suck. We all know that... they love visual shit -- mouse under GSP's eye -- give the round to Shields... Some gnarly and pretty (but not very damaging) suplexes by Rory, give him a 10-8 round on Nate... par for the course. We all know better.

And for the record, Rory won me some coin, but 10-8 on that? It did look hella impressive, but none of those slams even stunned Nate. That's why fools like Leonard Garcia and his flailing (and exciting looking) punches steal decisions. Judges are like dumb pets with visual crap. Feed 'em a treat, and they are in your pocket. F*ck effective octagon control, aggression, and all that other garbage.
---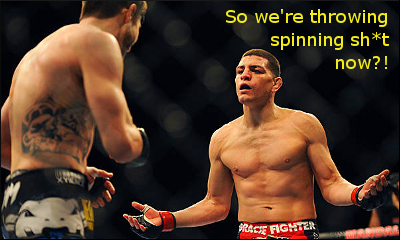 MMA Fanatic
Join Date: Mar 2009
Posts: 13
Quote:
I had it 49-46 for GSP.
so which roud You got in Shields favour? I had it 50-45 easily for GSP...
Fights should be scored mfor most effective strikes and ground control, not aggression. Aggression's the only way Kampmann lost his fight with Sanchez.
Currently Active Users Viewing This Thread: 1

(0 members and 1 guests)
Posting Rules

You may post new threads

You may post replies

You may not post attachments

You may not edit your posts

---

HTML code is Off

---