I can't stand Mike Goldberg and Joe Rogan....
---
Over the course of the past several years, I've really grown tired if Goldberg and Rogan. Hell, it's gotten to the point that I would pay $5 more for a PPV for the ability to turn off the commentator audio.
During the Aldo/Hominick fight, I was losing my mind how the two idiots would describe how Hominick was outclassing and outboxing Aldo. All the while, Aldo was bobbing and weaving, slipping almost ever single punch with ease.
Yeah, Hominick did way better standing with Aldo than I thought he would (which I attribute almost entirely to Aldo's cardio/tough weight cut), but lets not get it twisted. The only time that Aldo was even really taking much damage or eating and significant shots was the last 2.5 minutes of the fight on the ground.
It was awesome hearing them say how Hominick was dominating Aldo on the feet at the exact same time that Aldo drops hominick with a solid punch. I hope the judges don't have an audio feed of the commentators. If they did, hominick would have won.
/end rant
---
I like Rogan. Goldy on the other hand makes my ears bleed. I can't stand him. His tone of voice and mannerisms are so fake and cheesy it makes me want to punch him in the face and then cut off my ears. God I hate that guy.
I feel you - especially during that fight. I mean hominick barely landed any decent hits and the commentators were raving about him, and then you have aldo dropping him and no credit??
---
2012 FFL Team : Hector Lombard, Jake Shields, Demian Maia, Ed Herman, George Sotiropoulus

MMA Fanatic
Join Date: Mar 2011
Location: canada
Posts: 38
The UFC needs to get Jerry the King Lawlor and JR to commentate.
Flyweight
Join Date: Sep 2009
Posts: 302
Let Mir and K-Flo provide color alongside rogan when they aren't fighting.
I couldnt hear commentary during the fight, but excluding the 5fifth round aldo was outclassing hominick in the striking department the entire fight. It was clear his striking was on a different level, even when he gassed and his strikes were alot slower and sloppier his striking was still outclassing the ungassed hominick.
---
If a law is unjust, a man is not only right to disobey it, he is obligated to do so. ~ Thomas Jefferson
Sig by D.P.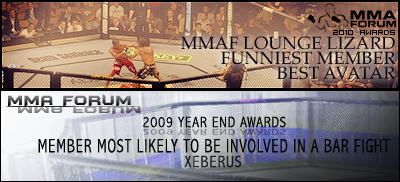 Agreed. They were gushing endlessly about Hominick. Aldo was endlessly punching him in the face during the gushes. R&G to busy wanking to notice.
Takedown, Dominate & Destroy


Join Date: Dec 2006
Location: Hawthorn, South Wales
Posts: 2,060
They just get a bit excited dude. Regardless EVERYONE has flaws and you would complain about something no matter who was doing the job. Joe does a fine job of commentating and pointing things out in fights. Goldie is far from an expert but that dude can free flow and promote without breaking a sweat.

Sure he says some dumb things but dont take it so seriously dude. it's just entertainment at the end of the day and i find it funny as hell when they get ranty.

UFC wouldn't be the same without Joe, Goldie or even Buffer for that matter. they're part of the family.
---
Top 7 Favorite Fighters at the moment
1. Forrest Griffin
2. Clay Guida
3. Shane Carwin
4. Jon Fitch
5. Chuck Liddell
6. Wanderlei Silva
7. Chris Leben

Join Date: Mar 2010
Location: NC.
Posts: 9,815
Joe and Goldie both were kissed by the career fairy. Without the UFC Joe would have peaked on fear factor.

And while joe has grown into it and capitalized on it perfectly, Goldie... I have a hard time imagining anyone else paying Goldie to speak.

I would think that soon there will be too many fights for the 2 of them to cover.

Bonnar and Florian are both pretty good.
---
Currently Active Users Viewing This Thread: 1

(0 members and 1 guests)
Posting Rules

You may post new threads

You may post replies

You may not post attachments

You may not edit your posts

---

HTML code is Off

---