Anthony Pettis Guaranteed ATitle Shot If He Beats Clay Guida
---
Quote:
Things didn't go as smoothly for his entrance into the UFC as he had hoped, but Anthony Pettis still has a title shot in his future with a win in June.

The final WEC lightweight champion was on a collision course with the winner of Frankie Edgar and Gray Maynard for his first fight in the Octagon, but an unexpected draw forced Pettis to wait on the sidelines.

Not wishing to sit out for an extended period of time, Pettis opted to accept a fight against Clay Guida in the main event of "The Ultimate Fighter Season 13″ finale coming up in June. The division has also continued to develop new contenders as well.

Jim Miller has staked his claim as possibly the top lightweight in the UFC not named Frankie Edgar or Gray Maynard, while Melvin Guillard is on an impressive winning streak, including a first round drubbing of Evan Dunham in January.

Add to that list, with Strikeforce now under the Zuffa umbrella, Gilbert Melendez, who has climbed to the top of the MMAWeekly World MMA Rankings, has also said he's hoping for a shot to prove he's the best 155-pounder by facing either Edgar or Maynard in the future.

As impressive as that list is, Pettis won't get pushed to the back of the pack. The terms are the same as they were a few months ago. Beat Clay Guida and he will get the next lightweight title shot.

"It's Pettis." UFC President Dana White confirmed when asked who would be getting the next crack at the championship.

The confirmation obviously gives Pettis extra motivation going into the June fight with Guida. A win guarantees a title shot, likely towards the end of 2011.

Pettis won't focus on the title shot at this time though because the business at hand is beating Clay Guida. Without that, White's declaration of his title shot doesn't even matter.
MMA Weekly
Ok. Nice to hear something clear about the LW title picture.
I would absolutely love to see Pettis vs Edgar honestly. That fight would be on of the most high paced fights in a long time imo.
I don't think Guida gets the shot if he beats Pettis tbh.
If Pettis doesn't beat Guida, i believe it's Jim Miller shot next.
---
.
BELIEVE!
I don't see Pettis subbing Guida, I also don't see him KOing Guida.

Will be a good fight but i think with Guida's chin and wrestling he's going to be a very, very tough opponent for Pettis.
---

Banned
Join Date: Apr 2009
Location: Manchester
Posts: 5,115
Yes!!!! So glad to hear this. Pettis vs Edgar will be sick!

Ben Henderson is better than Clay Guida in every single aspect of MMA.

Pettis has ever evolving take down defense, which is now very solid, top tier stand up, some of the best scrambles in the game and dangerous submissions of his own.

Guida is a tough customer for any fighter out there, so I'm not expecting Pettis to steam roll him, but I expect him to win decisively.
Im expecting pettis by decsion in this one. The lw devsion is just so stacked right now everyone deserves a shot. Heres the matches i think should happen.

Melendez vs Gullard
Miller vs pettis
ben henderson vs guida

Im really suprised henderson hasnt dropped down and guida hasnt dropped down yet to avoid this mess.
---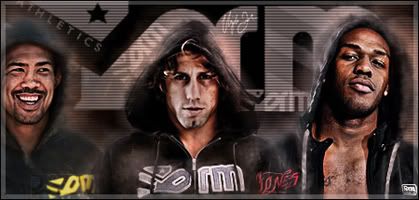 "Im probably better off down there on my knees anyway" -Dick Diaz
Sweet - imagine the speed in a Pettis/Edgar fight, the Maynard/Pettis fight intrigues me also - Pettis is an extremely dynamic fighter.
Quote:
If Pettis doesn't beat Guida, i believe it's Jim Miller shot next.
Man, this guy needs the next shot. Hands down.
---
Thanks to limba for this AWESOME sig
Man, I hope Guida doesn't screw this up. I want Edgar/Pettis!!!
---
Rookie Hammer Squad 2015
Frankie Edgar - Dominick Cruz - Jorge Masvidal - Cat Zingano - Holly Holm
You're not terribly important to me

Join Date: Jul 2010
Location: Sell me this pen
Posts: 15,507
i want jim miller to get the shot, he is very very good and i think he is the best lw in the world even if he hasnt won the title yet, maynard is my number 2
---
Jim Norton
Nick Dipaolo
Dave Attell
Dave Chappelle
Bill Burr
Joey Diaz
Colin Quinn
Bob Kelly
Rich Vos
Patrice O'Neal
Louis CK
Flyweight
Join Date: Jun 2009
Location: England
Posts: 453
LW is stacked (probably the most stacked in the UFC at this moment in time). It doesnt really matter what happens, we are going to see great fights.

Maynard v Edgar is a toss up even though i truly believe Gray will emerge the victor. Pettis SHOULD beat Guida, probably by a UD - that sets up an awesome title fight.

Even if Guida ruins this little dream - enter Jim Miller. Really, he has earned a shot and is looking incredible as of late.

After Miller - The man who i believe to be the best LW in the world in Melendez. And remember, another win for Guillard and he is arguably in contention, as with Soto who could easily rebound. There is an absolute plethora of incredible fights just waiting to come to fruition and i am extremely excited for them.

At the moment i'm really hoping to see Melendez v Miller and Pettis v Edgar (though i am torn between wanting to see this fight ASAP but also i'll be firmly on Maynards side in the upcoming bout - i guess there will be silver lining either way!).
---
FOREVER SUPPORTING

Brock Lesnar
The Reem
Frank Mir
Matt Mitrione
Shogun
Rampage
Matt Hughes
Vitor Belfort
Rousimar Palhares
Gray Maynard
Jim Miller is more deserving , but if they give it Pettis i think it shall be a one sided Wrestling clinic.
---
Bisping Fan extraordinaire
Velasquez will be back
Doesn't sound like a guarantee at all. Guida is a changed fighter since switching to Greg Jackson's camp. He could be a real show stopper. The guy has been a long time gate keeper for a reason, he's a tough out for for anyone, even more so lately.
Currently Active Users Viewing This Thread: 1

(0 members and 1 guests)
Posting Rules

You may post new threads

You may post replies

You may not post attachments

You may not edit your posts

---

HTML code is Off

---