Flyweight
Join Date: Jul 2008
Posts: 399
Ask the Fight Doc: Should Mark Hominick's hematoma have prompted a stoppage?
---
http://mmajunkie.com/news/23459/ask-...a-stoppage.mma
Quote:
It was one of the more grotesque images coming out of this past weekend's UFC 129 event, but was it dangerous?

When title challenger Mark Hominick fell short to featherweight champion Jose Aldo in a spirited UFC 129 co-headliner, the Canadian's forehead ballooned up to epic proportions with a noticeable hematoma.

In our latest "Ask the Fight Doc" installment, MMAjunkie.com medical columnist Dr. Johnny Benjamin discusses the nature of hematomas, whether officials made the right call to let the fight continue, and how such injuries are treated.

* * * *

With the massive swelling on Mark Hominick's forehead, should his UFC 129 "Fight of the Night" with Jose Aldo have been stopped?

As soon as I saw the enormous and rapidly expanding "alien" erupting from the forehead of Mark Hominick, I knew that my inbox would be overflowing.

In a sport as action packed and violent as MMA, there are several topics that are extremely difficult for passionate fans to navigate logically: weight-cutting, performance-enhancing drugs, flash KOs, retirement due to accumulation of trauma, and doctor stoppages, just to name a few.

I often must harness my inner fan and limit my comments to those hot-button issues that are medically related within my field of expertise.

Once again, as I have stated many times, there is a significant medical difference between injuries that are visually compelling (and even grotesque) as opposed to those that may be life, limb, neurologically (paralysis) or sensory (vision, hearing etc.) threatening.

Visually compelling injuries (many cuts/lacerations, abrasions, contusions, hematomas/bruises etc.) need to be properly inspected by properly trained and seasoned cageside medical staff, observed by vigilant referees, and managed by well-trained, experienced corner men. These injuries can provide amazing theater and crowd reaction, but when properly handled, they pose minimal risk to the affected athlete. These types of injuries are minor and do not put the fighter at a significant increased risk.

In these instances, the fight should continue.

An enlarging forehead hematoma (bruise or collection of blood) that does not significantly affect an athlete's vision is not dangerous. The ring side physician made the proper call on a huge stage. Job well done, sir!

FYI: Post-fight after a thorough cleansing to decrease the chance of infection, a large-diameter needle (since blood is thick) will easily evacuate the collected blood. Ice and a pressure dressing are then applied to retard the re-accumulation of blood. This minor procedure should happen without delay before the blood clots and before the blood is more difficult to remove and becomes possibly disfiguring (think cauliflower ear). Channeling Rocky and "just cut me Mick" between rounds is not an option.

On more than a few occasions, I have been critical of promotions, state athletic commissions, referees, medical personnel and even fighters for their medical decision-making processes that seemed to be flawed. (Yeah, I didn't win a lot of friends with those articles and interviews.) And, I've also sung the praises of those that get it right even when their decisions were almost certain to be viewed as very unpopular. (And those pieces got me labeled a suck-up or far worse.)

In my opinion, the UFC and most MMA far exceed other major sporting leagues (NFL, MLB, NBA, NHL and professional boxing) when it comes to athletes' safety during competition.

Unlike professional boxing, the cut men are consistent, all superbly skilled, experienced and supplied by the UFC. They are not the fighters' cousins or uncles like we commonly see in boxing. If a fighter gets injured, he can rest assured that he will receive exceptional care between rounds – every time.

The referees are experienced, exceptional and consistent. (Welcome back "Big" John McCarthy.)

If we could just do something with some of the judges (did I say that?).

In the UFC unlike the NFL, NHL and MLB, physicians (team doctors) who evaluate the athletes are not paid consultants of the team and viewed by the athletes as having a potential conflict of interest.

Now, if the UFC would just institute Olympic-style year-round drug testing...

For complete coverage of UFC 129, stay tuned to the UFC Events section of MMAjunkie.com.
I thought it was the right call too, but man I thought for sure that thing was gonna pop. lol
Bantamweight
Join Date: Jan 2011
Posts: 926
I thought that Fight Doctor did an excellent job. He went through the whole process nicely to see if Hominick was really ok and his vision was not obstructed. You could say at times it was a little overboard compared to places like Australia where the guy just glimpsed at the cuts, and said ok. He was very careful and thorough.
I often notice that the most important thing for continuing a fight with borderline injuries is the fighter's will to continue. How many times have we heard the Doc say 'I'm going to end it' and the fighter say 'No, no, no' and then have the doctor say 'ok, then'.

I'm pretty sure they're just checking to see if the fighter's wants to keep going when they do that. They understand that for injuries which are not really that serious but could still be damaging, its up to the fighter's to decide for themselves.
The OP lacks a pic.
---
McCall, Faber, Aldo, Nate, Nick, Lyoto, TBD, Hunt
Forever hanging in Anderson Silva nuts
I was sitting on the couch with a really into-it MMA newcomer who had never really watched fights with guys who knew anything, jsut saw it as a fun slug fest.

We were sitting there almost giddy/grossed out wanting/not wanting that thing to explode under another elbow. It would have been an absolute bloodbath.

Oh, and GOOD CALL by the doc!!

Join Date: Mar 2010
Location: NC.
Posts: 9,815
That was a very ballsy correct call in front of 55k critics. I'm sure we'll see that doc again.

I'll admit that since I'm NOT a trained medical professional, if I had been in Mark's corner I would have thrown in the towel, shirts, flags, tackled Aldo, what ever it took. I would not have risked him getting kicked in that thing.
---
I have had two hematoma. Neither was quite as big as Hominick's but they are relatively painless and for the most part harmless. The danger comes from when it impairs your vision. Rogan said about it popping. That was funny.

The worst hematoma I have seen was the one Hasim Rahman suffered a few years back in a boxing match. I believe that fight was stopped. It was so large it was casting a shadow and impairing his vision. Google it.
Amateur
Join Date: Jan 2009
Posts: 169
Jerome Le Banner a few years back after a K1 bout with Cyril Abidi (I think)
---
In the words of Rampage.
"I aint never wrote a check my ass couldn't cash"

Join Date: Apr 2010
Location: Gods country
Posts: 4,524
My friend was asking me if I thought they would stop it and honestly wasn't sure til I saw the doc. As soon as I saw he was asian I told him "no way they're stopping this fight. That guys grandfather probably flew his plane into an enemy warship. He'll let it go on as long as it takes."
The Rahman and JLB ones were pretty sick. But the one that disgusts me the most is Fernando Vargas. When it is both above and below the eye, it's just a little creepier than the forehead.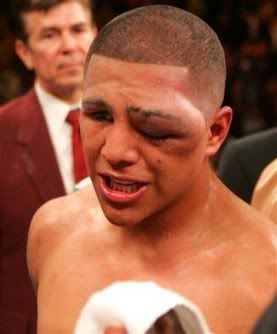 ---
Some people think that they can convey either a philosophy on life or a complex political statement using a signature on the internet. I'm not one of them.

Currently Active Users Viewing This Thread: 1

(0 members and 1 guests)
Posting Rules

You may post new threads

You may post replies

You may not post attachments

You may not edit your posts

---

HTML code is Off

---