View Poll Results

: GSP = Best P4P

Yes. GSP is the Best P4P! GSP GSP GSP!!! (and i also believe in Benny Hinn)
36
41.38%
No. GSP doesn't have phenomenal striking or submission skills to finish fights.
51
58.62%
Voters: 87. You may not vote on this poll

Join Date: Oct 2006
Location: Wa
Posts: 2,550
Quote:
I was reading this whole thread thinking that Anderrson Silva was DOMINATED by Chael Sonnen for 4 and a half rounds and people seem to forget that. GSP han't even shown weakness since his loss to Serra.
The difference is that GSP lost badly. Anderson was losing badly, but WON. That shows greatness, so it can't be held against him, imo. I find it more impressive for a non wrestler to be so dominate, which puts AS in front for me.
---
_________________________________________________
_________________________________________________
Amateur
Join Date: Mar 2011
Posts: 180
Quote:
You're the biggest TROLL i've ever seen.

I believe your only purpose is to talk crap and create a lot of unnecessary smack-talk around here.
You are the biggest GSP nuthugger ive seen
(well actually you and someone called "UFC is GSP" in other forum). I just think GSP is way overrated and definately not the best p4p in the world.. i feel sorry for ya like i do towards Benny Hinn followers.
I'm not gonna waste my time looking through all the old thread to find GSP weight is 200-205. (they were posted in this forum few times and not by me)
Fact remains AS and GSP can easily fight at similar weight, simply by AS cutting bit more and GSP cutting bit less. GSP would have challenged AS long time ago if he thought he could beat AS.
Quote:
How can you even say something like that, after posting numerious times in another thread regarding GSP's weight - a thread in wich the OP posts an interview with GSP's coach, Firas Zahabbi, in wich he clearly explains how big GSP is the fact he can't get bigger without affecting him.
Well "THE WISE ONE", don't you think it's bit fishy that GSP's trainer suddenly make public statement saying GSP isn't big enough for MW just after he beat Shields?
For me Id go with silva by a fair margin. He doesn't just beat people, he dominates them and stops them. Gsp dominates fighters like Anderson dominated Maia and leites. Silva moved up and stopped two lhw fighters and one was a recent champion. Gsp has been beaten twice in the ufc, dominated and brutally stopped by a sup par fighter but finished twice.

If gsp doesn't step up his game I see Aldo taking the #2 spot in a year or two.
---
If a law is unjust, a man is not only right to disobey it, he is obligated to do so. ~ Thomas Jefferson
Sig by D.P.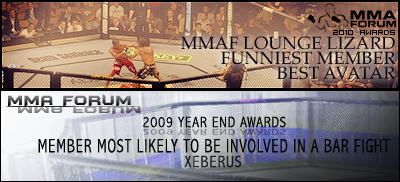 Bantamweight
Join Date: Jan 2011
Posts: 926
People keep saying that a fight with Nick Diaz will restore the faith of Fans towards GSP. I think that even a Nick Diaz fight, nothing will change. Here is why.

Even if Nick Diaz does move forward looking to engage in a slug fest, we all know that GSP would be a fool in doing so, thats not his style, he doesent fight with reckless abandon and he fights methodically by using his entire repertoire of skills. He is going to take Nick Diaz down at will, posture up and ground and pound his way for likely a decision victory. Casual Fans have this idea that one person wants to engage in a slug fest, the other person should be expected to as well. They hope that this is what will happen. They are going to be severely disappointed that GSP doesent trade bombs with Nick Diaz for more than a minute straight.

An experienced MMA fan would say that GSP fought the smart and right way. They would also say that GSP just took down a top fighter and made him look outclassed and GSP really is that good. The casual fan would just say that fight was boring (like BJ Penn 2 and Thiago Alves (which I would easily disagree, GnP dominance =/= boring LnP) and that GSP failed to once again "fight" his opponent and once again failed to finish. They would also question who was Nick Diaz and why did he deserve to fight GSP? At this point, the victory does not matter, only how they win or lose has become more important.

No matter what, even if GSP does not finish Nick Diaz with some crazy right hand or submission, which is damn hard to do, he would still be criticized (plenty of it unjustly, like right now). It takes two to tango, yet GSP is the one getting almost all, if not all, the heat. Their is very little to gain from beating Nick Diaz (unless he magically finishes Diaz) but their is more to lose for GSP victory or defeat.

The funny thing is Sherdog expects Nick Diaz to lose to someone like Jon Fitch, so instead Nick Diaz deserves to fight GSP instead of a tuneup fight and can win. So he cant beat Fitch, but he can beat someone better than Fitch? Yea ok. Thats why I push for an Anderson Silva superfight instead. Its going to be alot closer, and their will be plenty of action and intensity everywhere. Even if GSP beats Silva in the same fashion, no one can deny his top place in the World or his methods to win that fight because of Silva's stature. GSP needs to overcome overwhelming odds to regain the Fan's love, Silva had that against Sonnen. This mainstream superfight needs to happen against the Top 2 P4P Kings.
---
Last edited by Buakaw_GSP; 05-05-2011 at

02:30 PM

.
GSP being the best P4P fighter is a LAUGH! JBJ or Anderson would beat his ASS DOWN
---
Sig credit to my Homie! limba!
Uncrowned P4P Kingpin
Jon "Bones" Jones
WAR ANTHONY PETTIS! WAR HENDERSON!
Banned
Join Date: Oct 2009
Posts: 7,811
There is absolutely no way you could put GSP in front of Silva these days. But he is certainly still the number two.
Quote:
GSP being the best P4P fighter is a LAUGH! JBJ or Anderson would beat his ASS DOWN
JBJ? JBJ is a LHW while GSP is a WW, of course he would beat his ass. If they would be physically identical, would you give Jones much of a chance against GSP? I wouldn't.
Jones would have to beat some more top competition to be considered a top P4P fighter.
He's one of the best, but definitely not the best, or the GOAT.
---
Sjung för gamla Djurgår'n
Lock the gates, make them watch...
Quote:
GSP being the best P4P fighter is a LAUGH! JBJ or Anderson would beat his ASS DOWN
Thats ignorant, JBJ is WAY bigger then him.
P.S even given the size difference I would take GSP over your precious Machida.
---
Quote:
GSP being the best P4P fighter is a LAUGH! JBJ or Anderson would beat his ASS DOWN
What are you even talking about? JBJ vs GSP? They're separated by 2 weight classes. When did we go to crazy town? This isn't 2005 and JBJ isn't Hong-Man Choi
Currently Active Users Viewing This Thread: 1

(0 members and 1 guests)
Posting Rules

You may post new threads

You may post replies

You may not post attachments

You may not edit your posts

---

HTML code is Off

---