Great Interview with Jeff "Duke" Roufus (by MMA Mania)
---
Quote:
Duke Roufus has quickly jumped into the spotlight as one of the most sought-after instructors in mixed martial arts (MMA).

The Wisconson-based MMA coach was given a major boost after his fighter, Anthony Pettis, pulled off the "Showtime kick" in the fifth round of his WEC 53 title fight against Ben Henderson. In his post-fight interview, Pettis gave his trainer all the credit in the world for helping him.

Roufus, a distinguished kickboxer, retired with a career record of 33-4-1. Duke won five major super heavyweight kickboxing titles during the 1990's.

The Muay Thai specialist began training mixed martial artists after stepping away from competition and, alongside Pettis, currently trains top UFC stars Alan Belcher, Erik Koch, Pat Barry and Matt Mitrione.

On top of training top MMA fighters full time, Duke also promotes for a smaller fighting league, North American Fighting Championship, which is based in his hometown of Milwaukee. He has an event this upcoming Friday (May 6, 2011) which is headlined by UFC fighter and Roufus-trainee, Danny Downes.

We caught up with Duke to discuss his upcoming event as well as Anthony Pettis and his fight with Clay Guida in part one of this exclusive interview with MMAMania.com.

Check it out.


Brian Hemminger (MMAMania.com): You've been a part of the North American Fighting Championship promotion for a while now. What's it like promoting an event that your own fighters commonly participate in?

Duke Roufus: It's one of those things. If you don't promote them, they're not going to get opportunities. The nice thing is we're regulated by the state, we have a matchmaker and things like that and I've always tried to match my fighters with top guys that will help them get to the UFC fast. If you don't fight anybody, you're not going to become anybody. I have a prospect that's 7-0 and he's fighting UFC veteran Sean Salmon in his eighth pro fight. I believe in always testing my guys. You want to find out right away where they're at, not later.

Brian Hemminger (MMAMania.com): One of those fighters is Danny Downes, who is coming off a big win against the Mongolian Wolf at WEC 53. Can you talk about how he's progressed since his WEC debut against Chris Horodecki and why he chose to take a fight outside of the UFC?

Duke Roufus: The roster, the lightweights are pretty swollen up right now and there's kind of a wait for fights and Danny's really putting hard work into getting better. He's actually a very good kickboxer but he's really been putting in the time with his jiu-jitsu and he just wanted to fight. He's looking to fight again in the fall. If he wins this fight, he'll be back in the UFC.

This isn't the first time we've done this with the UFC. When I first brought Red Schafer into the UFC, they gave me a chance to get a couple fights in other organizations because they liked him as a fighter. Dan reminds me a lot of Red. He's a witty guy, he's funny, he brings a lot to the table and he's a fun guy to watch. He's a guy that could potentially be a marquee guy in Ireland with his name.

Brian Hemminger (MMAMania.com): Rashad Evans has been completely down on his luck lately after choosing to wait nearly a year for a title shot. With hindsight 20/20, are you guys glad that Anthony Pettis decided to fight again against Clay Guida instead of sitting on the sidelines and waiting for a the Edgar/Maynard winner?

Duke Roufus: Oh yeah. You either believe you're the best or you're not. I push these guys hard and I push them so hard it gives them the confidence to fight anybody, anywhere, anytime, anyhow. I mean, Dan Downes took a fight with Chris Horodecki on four day's notice just because of that mindset. My ancestors are from Greece and I believe in the Spartan code. You're either a fighter or you're not a fighter. I hate to sound "Dana White-ish" but do you want to be a fighter or not? If you can't beat Clay Guida then don't fight Frankie or don't fight Gray Maynard. I'm really looking forward to the fight with Clay.

Brian Hemminger (MMAMania.com): Speaking of Pettis, Clay Guida will be the third consecutive tough wrestler that he's faced. What do you think it is about matching Anthony up with the strong grapplers?

Duke Roufus: That's all they got in the lightweight division. There's no one in the lightweight division that's purely a great striker. My favorite other strikers in the lightweight division are Edson Barboza and Anthony Njokuani. Other than that, there's a couple guys who can bang but the slickest, most athletic strikers in the division are those guys right now.

Everyone's talking about Clay Guida and how great of a wrestler he is. Well, is he better than Shane Roller and Benson Henderson at wrestling? I don't think so. Don't forget Danny Castillo. Four of Anthony's last five fights have been wrestler training camps.

We've got our secret weapon, Ben Askren as a coach down there and he's training with us tonight with Anthony. Anthony is regularly wrestling with high level guys and taking them down. I look forward to watching Clay get his ass kicked. It's funny when a wrestler gets taken down. That's the biggest insult. Anthony took Shane Roller down who wrestled at Oklahoma State.

I'm excited about the fight. I respect Clay. I think he's fights at high energy and he's a great guy but I think Anthony is better at every part of the game and more dynamic.

Brian Hemminger (MMAMania.com): The sport of MMA has been completely taken over by highly credentialed wrestlers that have made the transition. Your fighters are primarily known for their flashy striking and their submissions. How have you been able to compete with the top control grapplers and stay on top?

Duke Roufus: It takes one to know one. If you can't beat Ďem, join Ďem and then beat Ďem. We wrestle a lot. There's wrestlers in the corners everywhere. We have guys who wrestled at Oklahoma and we have a guy in our gym right now that wrestled at the Olympic training center. I've got guys stopping through left and right. Sergio Pettis, Anthony's younger brother, wrestled two years in Florida and I've got a gym full of kids. Most of my jiu-jitsu classes are full of wrestlers and it's just a really big sport here. I wrestled when I was a boy. It's a big sport here in Wisconsin.

Brian Hemminger (MMAMania.com): Guida utilized some absolutely ridiculous head movement in his last fight against Takanori Gomi. Do you think Anthony will have any problems keeping up with his movement and his pace?

Duke Roufus: The one thing that a lot of people don't realize about my students, three of them that are doing really well, Erik Koch, Alan Belcher and Anthony Pettis, they are childhood martial artists. People kind of freak out when I say this but in martial arts tournaments when I was a kid or even as a teenager, I had to fight like eight different styles in one day. They all move differently and they all did different things and you had to learn to adapt at a very fast speed to win these matches. That's what Anthony and Eric and Alan are very good at.

They're not your atypical orthodox fighters. I do bring a little bit of a philosophy of the Machidas of this sport too. I've been doing martial arts since I was four. Just because I was published in Muay Thai videos and I had some success in that genre, a lot of people don't realize that when you train martial arts, you're very adaptable. That's the one thing that I really focus on, learning to adapt to the opponent in front of you. Don't worry about what you do, worry about what they do and if they can't do what they do good then it's game over.

Brian Hemminger (MMAMania.com): Your gym has a ton of buzz surrounding it especially after the "Showtime kick." Have you experienced a dramatic rise in interest from athletes since December?

Duke Roufus: Absolutely. Itís been a wonderful wave. There are still guys out there that donít take us seriously because weíre in Milwaukee. I like that. I like being the underdog, it works. We just recently got a house now where guys can rent, come in and stay and train. Weíve had a huge influx of people wanting to come train at our gym which is a really cool honor.

At the end of the day. My guys have just been with me, the whole program for a while now. This isnít something that just picked up short term. Itís a long term program. Look at Erik Koch. When he lost to Chad Mendes, he wasnít training here full time but once he made the move here, he was able to adapt to the philosophies we teach and heís been unstoppable since then.

Brian Hemminger (MMAMania.com): Anthonyís kick wasnít the first time a Duke Roufus-trained fighter has used the cage as a springboard to launch an attack. Alan Belcher pushed off the cage for a superman punch at UFC 100 against Akiyama. Can you talk a little bit about seeing the cage as a tool of attack and maybe why your fighters are more successful at utilizing it than others?

Duke Roufus: Maybe I have ADD with striking? Something a lot of people donít realize is I do a lot of boxing. I was a pro boxer. My older brother was managed by Ray Leonard and my amateur boxing coach was the USA Olympic boxing coach in 2000. Iíve always kind of explored different arts of the sport that have been mastered. I went to Holland and trained, I trained in Thailand, I trained in Japan.

The cage in MMA was just a new way for me to find a way not to be bored. Stuff started coming up. I love the movie Ong-Bak and the next thing you know, we have all these new techniques. It was fun. I have a very cavalier, fun group of guys. Kinda like the old school Chute Box, these guys really go at it when they train. I think the reason the top guys are the best, like boxing, Manny Paquiao, he practices fighting before he fights. In MMA, you gotta get in the gym and, while not killing each other, if youíre going soft on your opponent, youíre not practicing to win. If your opponent has to go soft on you, that means your defense sucks. If you canít defend yourself, you get your ass kicked. Itís that simple.

At our gym, because the guys throw so hard, theyíre so relaxed that they just donít care. They try new things in the gym. Especially the way our academy is set up, the fighter training room is 64x22 feet so most of the time, you'll have two walls surrounding you and the guys are kicking, punching, kneeing. Theyíre using the walls for defense. Thatís why my guys are so good defending takedowns too, because theyíre always on walls and cages defending. Even Anthony when he fought Shane Roller, he did a mount escape by using the cage.

Brian Hemminger (MMAMania.com): One of the most fun-loving guys in your group is Matt Mitrione. I spoke with Matt and he said the key to the originality of the fighters from your gym is not that you promote thinking outside the box, itís that you donít stifle creativity. Can you talk a little bit about your training process?

Duke Roufus: Each guy has his own way. The one thing that I love about Thailand is the discipline, the heart and the courage but sometimes what I hated about Thailand was they forced the fighters to fight the exact same style as everyone else.

Each fighter has different trick, a different skill, a different asset that he brings to the arena and thatís what I try and do ... Some guys have flashier stuff and some guys are going to have more subtle differences. Itís the subtle differences that win fights, honestly.

Fighting is a game spades and inches. Another thing our fighters are good at if you noticed is, to the untrained eye, you see all the striking these guys do. When do you see my guys get beat up? I work a lot of defense, a lot of head movement and footwork. Great basics, leads to great innovation. Itís like "Pistol" Pete Maravich in basketball. The way he could move that basketball and the way he could move his feet with the ball made him where he could shoot from anywhere and pass from anywhere. Same thing in fighting. If you canít move on the ground, canít move on your feet, you canít reposition yourself and you canít take the big shots.

Iím the biggest guy about making my fighters go to jiu-jitsu and make them awesome at wrestling because once theyíve mastered those disciplines, they can throw crazy strikes because they donít care about going to the ground and they can pull off the craziest moves. If a guy lacks at one thing, he wonít be able to camouflage it with the other. Itís hard to takeguys down if you donít punch people a lot in the face. Everyoneís like, ĎGSP is an awesome wrestler!í No, GSP is an awesome MMA wrestler. He punches you, gets you worried about getting punched and then you give up an easy takedown. Heís a true martial artist. He knows how to blend the techniques together.

Brian Hemminger (MMAMania.com): Ok, Iíve got a couple more questions for you about some of your other fighters. First is Erik Koch. Heís really been on a nice run with three straight first round stoppages in the featherweight division. How impressed have you been by his recent performances?

Duke Roufus: Heís really good. Another thing I love about my guys is that theyíre great students. Each of these guys could run their own teams and be their own general. Theyíre really open minded and great disciplined students and willing to try their own things.

Erik is a phenom though. He loves this sport so much, he dropped out of high school to become a fighter. Thatís straight-up crazy commitment. Iím not saying, "kids go run out, drop out of high school and become a fighter," but thereís a different type of drive in him that Iíve seen in a lot of other guys in the UFC.

He doesnít have anything to fall back on. People always say, "you need something to fall back on" but I was the same way. At 18, I knew what I was gonna do. I wanted to be a fighter and be in the martial arts. I had this mind-set of "succeed or die." Like that 50 Cent movie, "Get Rich or Die Tryin," Erik is special in that way. He grew up in Iowa and wrestled. He has a very underrated jiu-jitsu game and obviously his striking his phenomenal.

Heís the youngest fighter on our team, but heís the most mature fighter in that fighting doesnít bother him at all. Heís not a nervous fighter, heís just like , "oh yeah, Iím going to fight -- cool." Heís the most relaxed guy in the locker room because heís got ice in his veins. Erikís great but we were really able to maximize all of his tools. I really see him giving Jose Aldo a lot of problems.

Brian Hemminger (MMAMania.com): That's a bold statement.

Duke Roufus: If you donít think you can win the championship then why are you fighting? I lived the first part of my adult life with no one thinking Iíd ever amount to a hill of beans and now Iím four championships later. Actions, not words. Itís all about getting it done. Thatís one thing I do. I train my guys hard so they go into their fights with the utmost confidence. If you want to be Muhammad Ali, the G.O.A.T. (greatest of all time) and you donít believe youíre the greatest, then donít play.

Brian Hemminger (MMAMania.com): Let's talk about Alan Belcher. I heard he was looking to get a fight this fall, do you have any updates on his condition and how heís looking in his recovery?

Duke Roufus: Heís looking good, feeling good. The nice thing Iím really proud of him is, you talk about not having anything to fall back on but what he did was he turned lemons into lemonade. He really focused on developing his martial arts school well and the Alan Belcher MMA Club down in Milwaukee. He just moved into an incredible place. Alan is an incredible coach as well as a fantastic competitor. Thatís why Iím really proud of all my guys. Theyíre great at seminars, theyíre great at teaching people and theyíre great role models. Iím always happy with my guys.

Heís doing phenomenal. He just loves fighting. You find out what guys are made of in the UFC. All these tough guys walking around, staring guys down but you sit them down in the locker room and theyíre shaking like a leaf just like the movie "Gladiator" when the guy pisses on his leg. My guys are more like Maximius. They actually like to swing that sword.

Alanís just very talented. Something people donít realize is heís a natural right hander but in his last two fights, he actually won them in his southpaw stance which was great. Heís actually beating guys in his weaker stance and knocking them out mind you. Hereís a guy thatís constantly trying to evolve his game.

Brian Hemminger (MMAMania.com): Lastly, the fans would kill me if I didnít ask this. Without giving away anything in the gameplan, have you been working on anything mind-blowing for Anthony Pettisí upcoming fight?

Duke Roufus: (laughs) Yup, Iíve got two of them. The "Showtime 2" and the "Showtime 3." My guys are always ready to try new things. Even in Pat Barryís last fight with Joey Beltran, everyone missed Patís jump knee in there for single-leg defense. He did the Urijah Faber special. Thatís really impressive for a big-ass dude and a lot of people missed that. You never know what to expect from my guys.
MMA Mania
---
.
BELIEVE!
I would give my left nut to train there.
---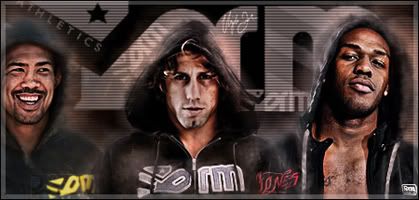 "Im probably better off down there on my knees anyway" -Dick Diaz
Currently Active Users Viewing This Thread: 1

(0 members and 1 guests)
Posting Rules

You may post new threads

You may post replies

You may not post attachments

You may not edit your posts

---

HTML code is Off

---