Bob Reilly Questions Motives Behind Zuffa's Accident Insurance
---
Quote:
Mixed martial arts' most vocal critic in New York acknowledges that Zuffa's new accident insurance for its fighters is a positive move but won't go as far as saying it will help get MMA legalized in the Empire State.

MMA Fighting contacted Assemblyman Bob Reilly to discuss whether Zuffa's new insurance policy could help pave the way for the legalization of MMA in New York, and while he at first admitted to not hearing the news, he offered -- for perhaps the first time -- a compliment to the MMA promoters.

"I certainly wouldn't disparage that," Reilly said. "I think that's a good thing."

The praise ended there, though, as Reilly quickly questioned the motives behind the decision.

"What immediately came to my mind was, What's the need for insurance? Because advocates for MMA have been touting how safe this sport is and that no one is ever injured, and in fact, the testimony here is that the worst that ever happened was a broken arm. But I don't think that insurance is going to do anything for the very prevalent brain damage that fighters will suffer.

"I think what MMA should be doing is, instead of providing insurance for injuries, is to do away with injuries."

When I explained to Reilly that the UFC fighters were already covered for injuries suffered in fights and the new insurance would cover injuries, suffered in or outside of the gym, while training or not for an upcoming fight, Reilly added:

"It's certainly not a bad thing that they provide this insurance, but it really does little or nothing to solve the problem of what will happen to fighters financially, of the physical damage done to fighters or the fact that this violent sport begets violence in our society. So it does nothing to address the systemic problems of MMA.

"I think it's a positive thing, but I don't think it's a positive step. In the sense that it doesn't address the systemic problems of MMA. But it's certainly not a negative thing."

Prior to Monday's announcement, Zuffa provided a $100,000 policy to each of its fighter to cover injuries sustained during a fight. However, if a fighter injured themselves in training or at home, they were not covered by this policy. As of June 1, though, Zuffa will pay 100 percent insurance premiums for all its fighters and will assign a full-time employee to work on claims.

The insurance policy, which will be underwritten by Houston-based specialty insurance group HCC Insurance Holdings, will offer $50,000 to each fighter in worldwide, 24-hour medical-life insurance and dental coverage, as well as emergency medical evacuation to the fighters.

"Our athletes are some of the very best in the world and we've committed significant financial resources to provide them with insurance that complements the gold standard we have set for event-related coverage," UFC CEO Lorenzo Fertitta stated in a press release. "We're pleased to provide coverage that enables our athletes to seek and receive treatment for injuries sustained while preparing for bouts."
I hate this guy. I bolded the dumbest logic I've ever heard. What is he a doctor now? He is seriously one of the most misinformed people I have ever come across.
I have decided there are two possibilities:
1) Bob Reilly actually believes what he is saying, making him a complete idiot.
2) He is a corrupt politician accepting a bribe to keep MMA out of New York.
Either way it makes me sad that he is in a position of power. smh
---
Sig credit: MC
~ Lifetime Membership sponsored by RustyRenegade ~
Join Date: Oct 2009
Location: Ohio
Posts: 2,719
This is the same guy who said he won't allow MMA to be legalized in New York because he doesn't like Dana White.

F*cking prick through and through.

Edit: People like him are why I support waterboarding, and why I think it should be a punishment for stupid.
---
Sig courtesy of that photo-matic magician limba
Quote:
I went out the way that I fight. I went out on my shield. That's it. Done. --Chuck Liddell
Quote:
My goal is to end my opponent --Carlos Condit
I love his mischaracterization of the argument that MMA is as safe or safer than sports New York already allows into "advocates are touting... that no one is ever injured."

It's the kind of statement only someone with no interest in logic could make.
---
Some people think that they can convey either a philosophy on life or a complex political statement using a signature on the internet. I'm not one of them.

"I think what MMA should be doing is, instead of providing insurance for injuries, is to do away with injuries."
Wow this moron is insane, a cyclist died in the Tour of Italy just a few days ago, football players get paralyzed or suffer multiple career ending concussions, race car drivers die all the time, boxers die every year, surfers drown, skiers break their legs, I could go on all day.

Does this idiot propose we abolish ALL competitive sports and just live out our lives like houseplants?

This is why I despise the "progressive" idea that society should be governed not by elected representatives who are sworn to defend our freedoms and liberties and the constitution but "leaders" who will replace our choices for theirs because they are out betters and know what is best for us including how much we can make, what sport to follow, how to behave in the privacy of our own home, what we can consume etc.

This clown is just another Nanny state supporter of excessive regulation that kills jobs and eliminates freedoms.

This just pushes me further towards the Libertarian fringe.

More people die in 1 day due to obesity and unhealthy lifestyles than in 100 years of MMA. Hope this fool loses his State Assembly seat.
This kind of stupidity doesn't even make me mad. It reminds me of those christians that don't believe dinosaurs were real, that instead their bones were put in the ground by god to give us oil. I'm only mad that he's in a position of power, besides that this is something that makes me pity the guy.
---
If a law is unjust, a man is not only right to disobey it, he is obligated to do so. ~ Thomas Jefferson
Sig by D.P.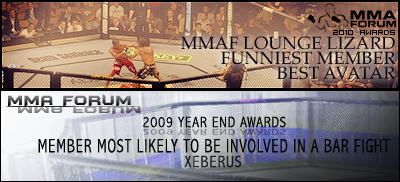 MMA is safer than Boxing FACT
Insurance is there for financial reasons and worse case scenario's , its a fight not a ballet you can get hurt.
This guy is a Goon.
He will question the fighters pay next , suggesting that they are like Prostitutes being paid to fight by the PIMP Dana White.
---
Bisping Fan extraordinaire
Velasquez will be back
I hope Bob Reilly chokes. Not to death, but just kinda of for a while in an alarming fashion, to make him maybe rethink his dickish ways.
---
Everybody good, plenty of slaves for my robot colony?
Seriously? Who gives a **** what their motives are, all that matters is that it's there.

Some people always have to find the shittiest ways to look at things.

Injuries happen in every sport. All of them, even non-contact sports like baseball. The players should get insurance. I, too, hope Rielly chokes on a dick.
Bantamweight
Join Date: Jan 2011
Posts: 926
I find it sad that the Empire State is the last state that has not yet legalized MMA. The last State that not only has an Athletic Commission, but is perhaps the biggest potential market state in the USA for MMA. As a current Canadian living in Ontario, I feel their pain. But our goofball Ontario Premier was able to see the light, I dunno if this Reilly guy will even let go of his stance, even just a little. He just seems too hardline.
---
Last edited by Buakaw_GSP; 05-12-2011 at

11:17 PM

.
Reilely is a f*cked up retard!
Quote:
"What immediately came to my mind was, What's the need for insurance?
When i read stuff like this it makes me wanna smash his head with a baseball bat!!!
(not encouraging violence here)
Stupid ignorant politician...in that case --->
What's the need for getting an insurance for your car?!? What's the need for health insurance?!?! What's the need for getting an insurance for your house?!?! What's the need for LIFE insurance?!?!
Does this retard have any knowledge about the principles about how insurances work?!
Typical politican trying to make a name for himself, trying to get some attention = free publicity.
PS: waking up and reading stuff like this makes me wanna hide in the mountains, away from retards like this one
---
.
BELIEVE!
Currently Active Users Viewing This Thread: 1

(0 members and 1 guests)
Posting Rules

You may post new threads

You may post replies

You may not post attachments

You may not edit your posts

---

HTML code is Off

---