Herb Dean, what the heck were you doing!
---
Come on he stopped that fight way too early. Even as a Shamrock hater myself I thought that fight should have went on more and given Shamrock a chance. I mean if it was Big John that reffed that match he would have let Tito throw ten more elbows and make Ken bloody as heck before he should have stopped it. And Ken was going to block the next elbow with his arms if I'm not mistaken. Complete bull****. This fight was a huge let down because of terrible Herb Dean. This is not the first time he's done something like this. As I can recall he stopped the first Tanner and Franklin fight way too early. Herb Dean should be fired.
Flyweight
Join Date: Jun 2006
Posts: 302
If someone gets elbowed 4-5 times and he isn't able to defend himself, the fight should be stopped. Saying he was about to defend the next elbow is a weak argument when he's already eaten 4-5 without blocking those. I wanted to see Ortiz beat on Ken some more, but it's too bad Ken's defense sucks.

And it's the same thing with the Tanner/Frankling fight. Except Tanner was already dazed when he went down and was getting beat by Franklin. Bent over with your hands placed on your head is not a good defense, it should be quite obvious he wasn't completely focused at that point. I have no idea why anyone would say Tanner/Franklin was a bad stop.
Megaweight

Join Date: Apr 2006
Location: Everett, MA
Posts: 5,961
Tanners Face Was A Mess In That Fight..he Looked Like The Elephant Man...and Last Night, It Might Have Been A Lil Early But Ken Was Eating Sum Hard Elbows And He Was Gonna Eat Some More If Thazta Fight Wasnt Stopped, If I Was Ken I Would Be Happy I Was Saved The Embarrassment Of Getting My Face Pounded Into A Bloody Pulp
---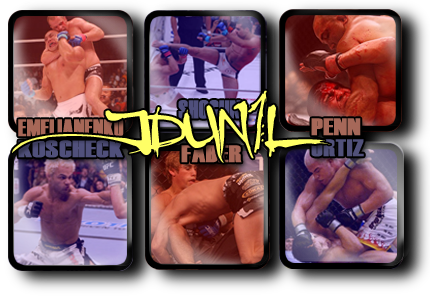 Mancrushes
1.Shogun
2.BJ
3.Fedor
4.Kos
5.GSP
Im in Porno's
Quote:
Originally Posted by jdun11
Tanners Face Was A Mess In That Fight..he Looked Like The Elephant Man
That was the rematch at UFC 53 that was four rounds. The first match Franklin and Tanner had I can't remember which PPV it was but it was stopped in the first round by that fool Herb Dean. Tanner was pissed and wanted the fight to resume like Shamrock did. Big John would have let both of those matches go on longer. Complete ****. I can't believe anyone is pissed about this.
Megaweight

Join Date: Apr 2006
Location: Everett, MA
Posts: 5,961
Im A Lil Pissed It Was Stopped Early, But Im More Pissed Thatthis Fight Even Made It To A Headline Ufc Ppv..everyone Knew Wat Was Gonna Happen, We'vre Been Sayin It For Months And Than When It Happens Like We Said, Everyone Wishes It Was Longer...well Thats Wat Happens When U Make A Main Event Where One Fighter Stands No Chance...this Fight Shouldnt Have Happened It Was A Joke
---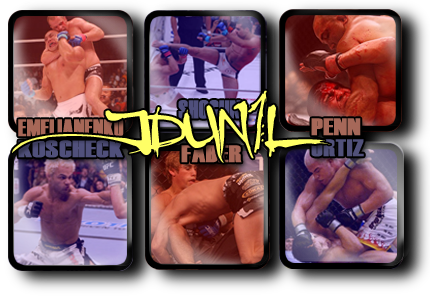 Mancrushes
1.Shogun
2.BJ
3.Fedor
4.Kos
5.GSP
Im in Porno's
MMA Fanatic
Join Date: May 2006
Posts: 22
It was a correct stoppage,but I wanted to see Shamrock carried out on a stretcher. Shamrock has been fighting longer than anyone,so he should know the rules and defending elbows with your face is not one of them! He should know you have to intelligently defend yourself and he wasn't! It kills me when the fans disagree with the ref and boo the fighter like it is his fault! Tito was not to blame because Herb Dean didn't let Shamrock get ravaged again! It would have been over shortly anyway. Shamrock looked hurt after the first elbow to me,but he should be happy now!! He has yet another excuse as to why he lost!
MMA Fanatic
Join Date: Jul 2006
Posts: 9
Shamrock was a beaten fighter. Did you notice his body go slightly limp with one of the first big elbows (Tito also confirmed this in his interview). Shamrock wasn't trying to improve his position and was eating 5 or 6 solid elbows as Dean stepped in. Are you looking for Tito to put a hole thru Shamrock's skull?? Shamrock has poor ground defense as witnessed in their first fight. Shamrock better kiss Dean's feet for stopping this when he did or he might have been waking up this morning in a hospital room with permanent brain damage
Tito owns Shamrock.
That would have been cool if Tito put a hole in Shamrock's head just to end his career for once and for all. Or it would have been funny if Shamrock broke Tito's leg which was not going to happen. Ken should retire. He hasn't won a single fight except one against Kimo in the last four years. But still Herb should have let that fight resume.
MMA Fanatic
Join Date: Jul 2006
Posts: 9
I can understand your emotions and the big letdown of the fight. But wishing permanent damage on a fighter is not in my mindset when I watch these matches. I prefer to see a battle between two evenly skilled opponents which this was not. Shamrock and Gracie have proven that their MMA skills are no match for today's elite fighters.
hERB dEAN iS A MORON,dID ANYONE SEE WHEN nATE qUARRY FOUGHT THAT GUY FROM MATT SARA'S gYM??Nate hit him once then went down with one more weak punch the guy wasn't out....And Herb Stopped it the guy is way to over protective.

I still Think Tito Was kicking his ass and that may have been the end,I just wanted it to be proven more
Currently Active Users Viewing This Thread: 1

(0 members and 1 guests)
Posting Rules

You may post new threads

You may post replies

You may not post attachments

You may not edit your posts

---

HTML code is Off

---